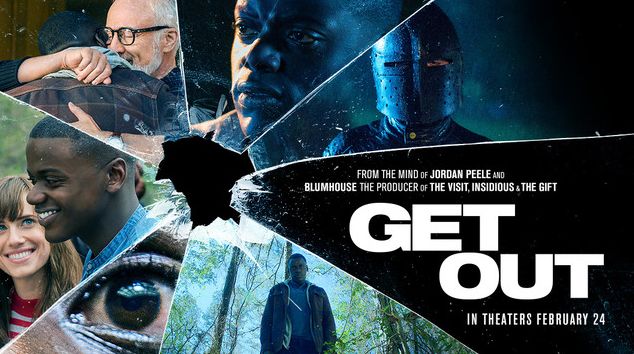 SHRIEK: GET OUT + Happy Hour
Sun, Aug 13, 2017 from 7pm - 11pm
21+
concessions available during event; no outside food or drink, please
discounted $5 tickets available at the door for seniors 65+, vets, students, and teachers/professors
SHRIEK continues our new Summer/Fall season with one of the most successful and truly groundbreaking horror films fresh from theaters: GET OUT! We cannot wait to watch and discuss the world's most successful horror film directed by, written by, and starring Black talent! This film is so intricate and powerful, we don't want to spoil it by showing you the trailer. But if you must view it, you can find it here.
Join Heather, Evan and our special guest, filmmaker, writer, and actress Abie Ekenezar to discuss this controversial film. The protagonist may be male, but at SHRIEK we recognize the power of intersectionality and the power of all female characters. To honor the groundbreaking success and audacity of this film, SHRIEK is donating 50% of our ticket sales to LANGSTON Seattle's African American Film Festival.
Doors: 7:00pm. Opening Talk & Film: 7:30pm
SHRIEK is a community class merging film with education and offering an accessible forum outside of academia. The goal is to offer low-cost opportunities to learn about film and women's studies and to inspire more diverse filmmakers to get involved as creators in the genre. Sponsored by Scarecrow Video and Crypticon Seattle!
The Naked City screening room is 21+. Food and drinks are available on site. Please do not bring outside food or drink. We reserve the right to refuse admission to anyone under the influence of extreme drugs or drunkenness.
General Admission: $10 per session (register here in advance)
Teachers/Professors, Seniors 65+, Veterans, and Students with ID: $5 per session (register at event)
Low Income Housing / No Housing patrons: free entry
Day-of and point-of-sale registration also welcome!
Naked City Brewery and Taphouse is located at:
8564 Greenwood Ave N
Seattle, WA 98103
Phone: 206.838.6299
Contact wordmercury [at] gmail.com for more info.
Evan J. Peterson is a college professor, author, and journalist. His latest book is The PrEP Diaries: A Safe(r) Sex Memoir (Lethe Press). He is a Clarion West alum, and he received his MFA from Florida State University. His writing has been featured in The Stranger, BoingBoing, Weird Tales, Queers Destroy Horror, andThe Rumpus. Evanjpeterson.com can tell you more.
Heather Marie Bartels is Seattle's Film Maven. She is the Genre Program Coordinator for Walla Walla Movie Crush, Film Judge for Crypticon and Bleedingham, former Managing Director of the Rainier Independent Film Festival, former Assistant Programmer for SIFF Cinema and alumni of the University of Washington Cinema Studies department. Email her at heathermbartels@gmail.com for projects, collabs, and hosting!
SHRIEK promotional images designed by Marc Palm
SHRIEK is sponsored by Scarecrow Video and Crypticon Seattle