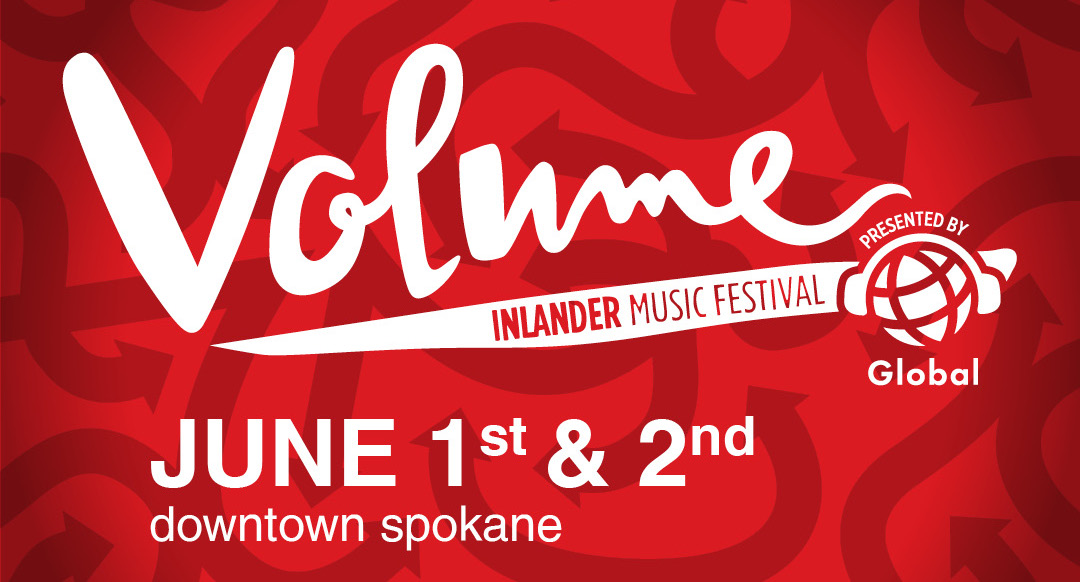 Volume 2018: The Inlander's annual music festival in downtown Spokane
Featuring up-and-coming performers from around the region, VOLUME, the Inlander's annual music festival, returns this year with some 80 acts taking over downtown Spokane on June 1-2. A weekend pass, selling for just $25, gets you into all eight participating venues to see local favorites (including Super Sparkle and Marshall McLean), the hottest acts (including Ryan Caraveo, BRONCHO and Wild Ones) and Northwest icons (including The Helio Sequence).
The festival website: Details, photos, schedules
— What Volume is like in a 2-minute video.
— Follow Volume on Facebook.
— Particiatping venues: Baby Bar (all ages until 9), The Bartlett (all ages), The Big Dipper (all ages), Mootsy's, nYne, The Observatory, Red Room, Washington Cracker Co. Building (all ages)
— Hour-by-hour schedule: Venue schedules released in May.
— Pick up purchased weekend passes at the festival: Pick up your previously reserved wristband at the Washington Cracker Co. Building (304 W. Pacific Ave.) 4:30 pm-9 pm on Friday, June 1, and 4:30 pm-8 pm on Saturday, June 2.
THE 2018 LINEUP:
Advertisement
All Star Opera
Bad Motivator
Bad Yoshi
BaLonely
Bar Talk
The Berries
Blake Braley
Blues Lawyer
Boys Night
BRONCHO
Brotha Nature!
Buffalo Jones
Casual Hex
Cathedral Pearls
Chris Molitor
The City Hall
Clarko
Collate
Deer
DJ C-Mad
DJ Croquet
DJ Soul1
DJ Unifest
DJ X
Donna Donna
Drunk On False Enlightenment
ExZac Change & Matisse
Fake News
Fat Lady
Feed
Flee The Century
Gen Pop
Great Spiders
Gun Outfit
The Helio Sequence
The Holy Broke
Indian Goat
Jenny Don't & The Spurs
KALAJ
Karate Chad
Karmaknows
Laminates
The Lavender Flu
Lavoy
Maidenhair
Mala Vida
Mama Doll
Maps & Atlases
Marshall McLean & The Holy Rollers
Meat Sweats
Mini Murders
Nat Park and the Tunnels of Love
Newman
The Paranoyds
Pat McHenry
Peru Resh
Rik and the Pigs
Runaway Octopus
Ryan Caraveo
Sentient Divide
Seven Chains
Silver Treason
Skellee
Soul Man Black
Stares
Stiff Fish
Stiff Love
Summer in Siberia
Super Sparkle
Supercrush
SUS
Travesura
Trego
Valen
Vernita Avenue
Water Monster
Wild Ones
Yung Crown
A small sampling of acts at VOLUME 2018: