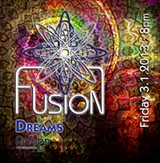 Fusion:Dreams
A multidisciplinary event themed around dreams. See our Facebook page for more information.
$11 advance, $16 at the door.
Event Info
:::PDX Fusion Proudly Presents:::
www.facebook.com/pdxfusion
Join us in a celebration of different modalities of expression. We will bring together the finest in Portland's art, music, science and performance nexuses to create a truly memorable "dream"-themed night, headlined by Birds of Paradise. Expect to dance, learn, create and play!
*We are a community oriented and supported event; a portion of our proceeds will be donated to KBOO Community Radio: http://www.kboo.fm/*

╚MUSIC
|||Birds of Paradise|||
http://soundcloud.com/birdsofparadise
Birds of Paradise is California-based producers Torin Goodnight (Bird of Prey) and Tyler Gibson (Gibson). Each has a decade of experience behind him, and has been steadily making waves in the electronic music scene. Having a similar aesthetic but still maintaining an individual approach, they combine forces in a new symbiotic project to work towards a common vision and master the art of collaboration. The duo plays to its strengths- patience, beauty, and depth to offer a truly original sound of rolling percussive breakbeats, progressive melodies, incredible sound design and twisted psychedelic layers. Their fusion of elements, both natural and synthetic, create an engaging bio-digital landscape that leaves little to the imagination. It will take your ears only a moment to realize that you have uncovered something special.
|||IG88+Nueva Forma|||
http://soundcloud.com/IG88
http://www.facebook.com/IG88music/info
Ambient Lucid Dreaming Music
|||Device Grips (PDX)|||
http://soundcloud.com/device-grips
http://www.facebook.com/DeviceGrips
By seamlessly combining the ethereal elements of sultry blues, conscious hip-hop, groovy funk and grimey EDM, Device Grips conjures up an alchemical energy that destroys dance floors everywhere.
|||Subaqueous|||
http://subaqueousmusic.com/
Subaqueous music is a sound-submersion that paints complex crystalline caverns in the mind. The music dances between dreams and the depths of the soul.

╚PERFORMANCE
|||MUSE Revival Family Band – Masters of Freedom & Let Me Rise|||
The MUSE Revival Family Band is a collective of songwriters and performers who fuse music, dance, and spoken word in a theatrical melting pot where the sublime and the ridiculous make sweet love to the Mysteries.
|||Niira Daniella - Hanuman Awake|||
A sunrise in a lucid dream in the desert welcomed in a new personal dawn of peace, strength, and hope - to be represented by visual art, dance, and music by Niira Daniella
|||The Echo Principle - Crossing Over|||
A fusion of live electronic dance music and avant garde performance art.
||| Erica Belfiore and Luna Labelle of ShadowPlay, Sky of Hipnautica Musica – Dance of Infinity|||
Two dancers navigate through a composers' fantasy dream scape.

╚INTERACTIVE and VISUAL
|||Bea Ogden of cloud.break – Somnia Arboresque |||
Crafted from paper mache, wire, and yarn, Somnia Arboresque invites you to create a dream leaf to help refoliate this time-based interactive sculpture.
|||Melinda Essig – Wildlife Dreams |||
A wildlife prayer flags art piece and altar space that brings together the dream worlds of animals with our own.
|||Julia Lancaster – Henna Haiku|||
|||Arun Joseph Ragan – WallFlower|||
|||Narayani Matson, Michael Miller – Astral Adventure|||

╚PRESENTATION
||| Jiro Isetani, MACFOC & Elva Redwood, Dipl. PW, MAPW – The Art of Dreaming|||
This presentation on theory and practice of Process Work Dreaming Awareness, developed by Arnold Mindell and others from Jungian, Taoist and Shamanic roots, will include visual representations of dream theory, demonstrate practical work in our relationship, as well as give the audience a brief opportunity to explore inner work.
Dreaming is a fluid and creative way of being in the world. Everything is dreaming all the time. When we follow dreaming signals with our awareness, we can find deep individual fulfillment, more intimacy in relationships, and greater sense of belonging in our communities.
REFUGE
Doors @ 8 (presentation to begin at 8:30)
21+ with valid ID
$16 at the door / $11 Pre-Sale
Tickets at: http://www.strangertickets.com/events/7105875/fusiondreams
A portion of the proceeds donated to KBOO Community Radio: http://www.kboo.fm/
---