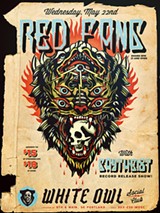 May

22
Wednesday, 5/22 at 9pm
Red Fang
The odds of seeing Red Fang in a venue the size of White Owl Social Club are slim to none. The world is your oyster!

Gaytheist: (Record Release Party)
In support of this rather intimate gathering are fellow Portlanders Gaytheist, who will celebrate the release of their latest studio output. Stop reading this and buy a ticket!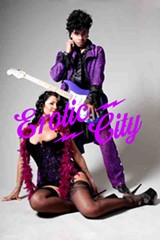 Jun

1
Saturday, 6/1 at 9pm
Julian Stefon, who has spent more than a decade performing as a Prince tribute artist, says it's easy to see why people would be confused between him and the real Prince. From the purple sequined suit with the white ruffled shirt to the 1980s big hair, Stefon looks a lot like Prince. In a picture which features Stefon and the members of his band positioned around a chopper, the band looks a whole lot like The Revolution, which was Prince's band during the mid-1980s. The decision to perform as the "Purple Rain"-era Prince, Stefon says, was easy.
Those albums, — "1999," "Purple Rain," "Around the World in a Day," "Parade" and "Sign O' the Times" — established Prince as a pop superstar on the order of Michael Jackson and Madonna. Erotic City performs songs from Prince's earlier albums as well as the records the performer released in the 1990s and the current decade, and is sought out all over the country as the premier Prince Tribute Show. DJ Mikey Lixx handles intermission.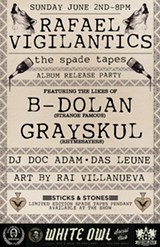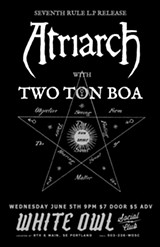 Jun

5
Wednesday, 6/5 at 9pm
Atriarch
Atriarch is a living entity comprised of four parts, offering catharsis through sonic ritual. Our aim is to tear a hole in the veil that blinds us from our true selves. We are bombarded with ideals of a superficial shallow lifestyle, that we are enslaved to maintain. This veil, has become so powerful and overwhelming that we ignore our spirits to worship our shells, as money stokes the fires that burns our immortal souls. Greed corruption fear and hate is the true face of this Self Serving way of life that we have come to call "normal"
TwoTonBoa
Two Ton Boa was created by Sherry Fraser, who penned songs using only her bass and voice, and performed her first shows solo or accompanied by a drummer. Slim Moon released the first properly issued collection of Two Ton Boa songs on Kill Rock Stars in 2000. It was lauded by the New York Times and landed at #4 on Anne Power's "Undeservedly Obscure" albums of the year list (View Press)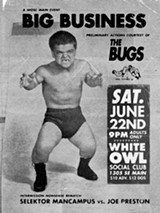 Jun

22
Saturday, 6/22 at 9pm
BIG BUSINESS Big Business is a loud 3-piece rock band from sunny Los Angeles. They tour, make records, and pretty much do whatever they want. But they do it CLASSY.

THE BUGS A two piece to be reckoned with to say the least. A fusion of the cramps, doo rag, the urinals, just about any real good-time rock band and a gorilla love-in.
SELEKTOR MANCAMPUS AKA JOE PRESTON
Joe Preston is a rock bass guitarist and a former band member of Earth, The Melvins, Men's Recovery Project, The Need and High on Fire. Preston has also played with Sunn O))), and has a solo project called Thrones. None of that matters though right? Tonight's your chance to hear what makes Joe tick.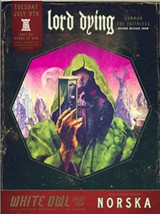 Jul

9
Tuesday, 7/9 at 9pm
Lord Dying
Hailing from Portland, Oregon, a place over abundant with purveyors of the heavy riff. A region where the inhabitants are plagued with nerve and joint damage due to lack of sunlight. In a time where everyone is trying to out-sludge or out-doom each other Lord Dying gives something less than a fuck. Lord Dying are here to pummel and promote simpler things like Cold brew-Hot Shower.

Norska
Portland, Oregon doom / sludge titans NORSKA (members of YOB) unleash their mind-altering debut release. The 5 song, 40 minute eponymous LP was recorded by Adam Bradley Pike (BLACK ELK, RED FANG) at Toadhouse Studios in Portland, OR. Mixing heavy, meditative riffs and a thundering rhythm section with psychedelic flourishes, NORSKA prove that they are true masters of their craft. For fans of: YOB, ELECTRIC WIZARD, HIGH ON FIRE —