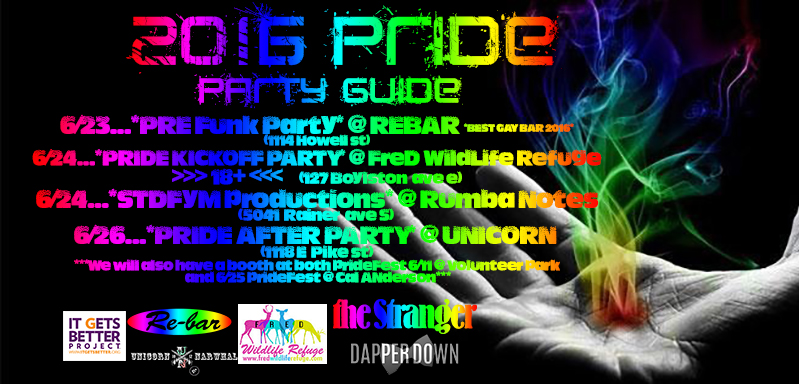 Dapper Down KINGS PRIDE WEEKEND 2016!!!!!!!
Thu, Jun 23, 2016 at 8pm - Sun, Jun 26, 2016 at 2am (Pacific)
21+
Gender Neutral Bathrooms
Wheelchair Accessible
We are kicking it off BIG!!!!!!! We have TWO OUT OF STATE HEADLINERS. Come out before all the craziness. Before all the traffic . Not to mention see this BEFORE ANYONE ELSE. We are PROUD to bring you two names that have yet graced ANY stage here in WA. Coming over from Arcata CA we have TUCKER NOIR. All the way from Orlando FL we have for YOU the WORLD RENOWNED MALE IMPERSONATOR aka drag king ......SPIKEY VAN DYKEY!!!!!!!! This weekend is sure to leave you quite satisfied ;) You can either pre purchase each show ticket individually or get our weekend pass!!!!!!! Please pay attention to what ticket/s you purchase. We are also selling raffle tickets as well. We will be holding a huge raffle to benefit, "It Gets Better Project." Stay tuned for more details soon!!!! dates to save are as follows:
*6/23....REBAR PRE FUNK PRIDE PARTY .....21+.... ALL proceeds will be donated to the families of the victims from the recent Orlando shooting
feat. Dapper Down Kings, Spikey Van Dykey, Dj TRINITRON
*6/24....FRED WILDLIFE REFUGE KICK OFF PARTY ....."KINGS 4 KIDS" 18+
feat. Awol brigade, Dapper Down Kings, Tucker Noir, Spikey Van Dykey, And Dj Fred Eddison
*6/24.....RUMBA NOTES LOUNGE ..."LOVE IN THE WET HOLE" ...21+.... (yes we have 2 shows on Friday)
feat. Dapper Down Kings, STDFYM, Spikey Van Dykey ( If you have already purchased tickets for this event on another site do not purchase again here)
*6/26.....UNICORN PRIDE AFTER PARTY ....21+.....
feat. Dapper Down Kings, Spikey Van Dykey , and Dj TRINITRON