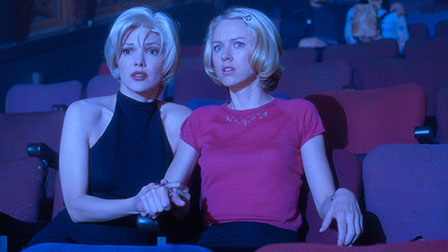 Queer Film Series: Mulholland Drive
Named by BBC Culture's critics' poll as the best film of the century, MULHOLLAND DRIVE is a highly stylized, neo-noir, mystery film written and directed by David Lynch.
After a car wreck on the winding Mulholland Drive renders a woman amnesiac, she and a perky Hollywood-hopeful search for clues and answers across Los Angeles in a twisting venture beyond dreams and reality. Starring Naomi Watts, Laura Harring, Justin Theroux, Ann Miller, and Robert Forster.
The film will be introduced by Three Dollar Bill Cinema board member, Jen Kilchenmann. Arrive early for drinks at the NWFF bar!
MULHOLLAND DRIVE David Lynch; 2001; USA; 147 min.