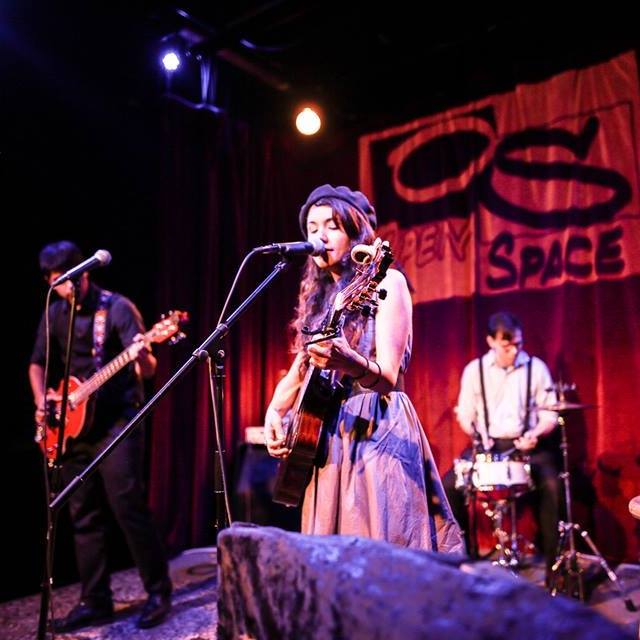 Eva & The Vagabond Tales w/ Speakeasy Jazz Cats
The Central Saloon Presents:
Eva and the Vagabond Tales ⎮⎮ https://www.evaandthevagabondtales.com/
‍
From the alleyways of old town Riverside come the sounds of old world folk-pop that broke free from the early ages of music and skipped through time to find it's way into our modern world. Along the way, stories were turned into songs, forming 'Eva and the Vagabond Tales'. The Vagabond Tales is a multi instrumental music project that is centered around the songwriting of Eva Mikhailovna. The songs combine western, old folk, and ragtime into a musical melting pot, creating an alluring sound that "transcends time and continents." Since the start of the project in 2011, Mikhailovna released a full length album entitled "Letters From the Moon" in the fall of 2013, and an EP in 2016, titled "La Douleur Exquise". The music project has been interviewed on NPR radio shows, featured numerous times on NPR's variety show American Parlor Songbook, and played on stations across the west coast. Along with her musicians, Mikhailovna appeared on LATV's the Zoo in 2016.
In 2017, Eva and the Vagabond Tales were nominated for the best outdoor video for "Desks in the Wild" during NPR's Tiny Desk submissions. Mikhailovna has also teamed up with artists such as Lonesome Wyatt and the Holy Spooks, singing on his 2017 album, "Grim Weepers". More recently, Mikhailovna has teamed up with music producer Charles Newman of New York City's Mother West to record and produce the Vagabond Tales' next album. The music has often been described as nostalgic and close to the heart, and the songs are known for their melancholy, "feel of old Europe"- David Fleming, NPR.
Born to a musical family in Russia, lead singer and song writer Eva Mikhailovna began writing songs and lyrics at a young age. "Music has been part of Mikhailovna's life for as long as she can remember — her first musical memory is hearing a piece of classical music and walking to the piano where her aunt was playing it. She learned how to play the piano before she could read or write…. the whole family would play folk music and sing when they would come together for meals." (Vanessa Franko, Press Enterprise) While growing up in California, Mikhailovna would sit at the piano for hours and write out ideas for melodies that she thought could fit in with films she's seen. Wanting to create music for herself that was honest and simple, Mikhailovna started completing songs and adding her own old poems to them. The music was never intended to reach other people's ears, but rather to therapeutically express feelings and emotions that had no words attached to them. After an invitation to play some of her music at a local college, Mikhailovna put together a small band and along with help from friends, arrangements to songs were completed and ready to be performed live. After encouragement from friends, relatives and help from musicians that she looked up to, Mikhailovna arranged a series of songs to be released as the album "Letters From the Moon". The entire album was recorded by Mikhalovna in a 1920's back house. A local newspaper mentioned the unique packaging of the album, which was printed on envelopes, suiting the theme of the album's title. A later article said the album contained the "best unconventional percussion," with Mikhailovna tap dancing on one of the tracks. For a few years after the first album's release, Mikhailovna played with a band, calling themselves "Eva and the Vagabonds." Together, the band worked on arranging an appropriate set of songs for the La Douleur Exquise EP. With the Vagabonds already being notorious for their "sad, melancholy songs," "train beat," and using what they have to get their ideas done, the EP was completed and released in February of 2016.
Throughout the existence of Eva and the Vagabond Tales, many people have expressed gratitude for music that people can relate to. "It is often the hardest music to express on a daily basis, and not too many people want to feel these emotions or connect with that part of themselves, but when they do want to, it is incredibly important that [this kind of music] is available to them."- Eva Mikhailovna.
During live performances, Mikhailovna is accompanied by a group of musicians whom are known as the "Vagabonds". The Vagabonds consist of accordion, bass, percussion, trumpets, violins, piano, and other various instruments, although more commonly the band can be found playing as a four piece group. Currently, Mikhailovna is accompanied by long time members Alan Arteaga, Jasmine Capitulo (accordion) and Jacob Pflum (percussion). The band continues building it's sound from the foundations of old time music and melancholy story-telling, bending the laws of traditional songwriting and sound. "The main intriguing factor about The Vagabond Tales is the inexplicit chameleon effect of ageless mood," writes Independent Feedback Blog. The music is continuing to extend its fan base across the United States, while Mikhailovna is writing and arranging more pieces for the future, touring, and performing all around the west coast. "The natural evolution of their sound will be one to look out for, because they are one sleeper hit group that can go somewhere." (Independent Feedback Blog)
with special guests...