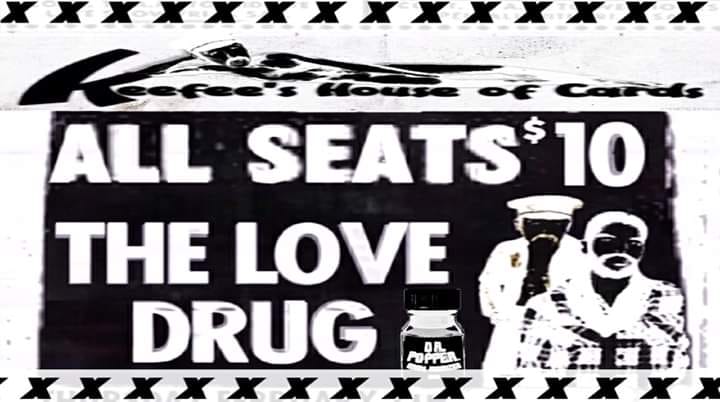 Keefee's House of Cards - The Love Drug
Open a bottle of Dr Popper and love is always in the air. Come join Keefee and special guest Valerie Moseley (as the mysterious 'Betsy') for some blackjack, some drinks, some laughs and some other things too probably.
Imagine that the Late Late Show (w/Craig Ferguson) and Pee Wee's Playhouse got drunk together one night and played blackjack....then kept on drinking and ended up making a baby together. Keefee's House of Cards would be that baby..
"(Stephen Hando) spends the entire show as the titular character, a hilarious, emotionally erratic blackjack dealer from Tallahassee. Last month, from the moment Keefee arrived on stage dancing excitedly in Daisy Dukes to muffled music from an uncooperative PA system, I could tell I was in for something special.- Travis Vogt, CityArts

(read the full interview) http://www.cityartsmagazine.com/man-who-would-be-keefee/

"by the time keefee had dealt two or three hands, i felt like i was 17 and hanging out in mbest friend's den...this is brilliant theater."

— patrick hogan - facebook fan
Keefee's House of Cards is an improvisational, interactive, blackjack theater experience that takes place on the 1st Thursday of every month.
During the show, Keefee and four audience members will sip cocktails while they play blackjack and chat and this hilariously unpredictable evening will go wherever it wants to go. Nothing is pre-planned and literally anything could happen.
Join the Player's Club and play with Keefee on stage or you can sip a cocktail and watch the action from the comfort of your "General Admission" seat. Whichever way you go, smart money says Keefee's gonna show you a good time. (Just to keep the Gambling Comish' off our backs, let's be very clear. No money is won or lost. It's all for pretend.)
NOTE- This month , he show takes place in the Red Velevet Loungue located in the upstairs section of the Rendezvous. Liquor will still be served so audience is restricted to those 21+.
Here's a little taste of what you can expect at the show: