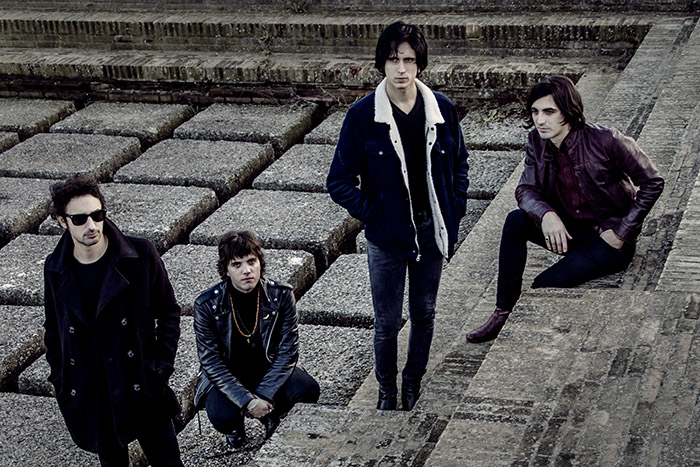 New Candys • Steal Shit Do Drugs • Bloods • [b r a c k e t s]
The Central Saloon Presents:
New Candys ⎮⎮ Steal Shit Do Drugs ⎮⎮ [b r a c k e t s]
New Candys (Venice, Italy)
http://newcandys.com/
"The new record, Bleeding Magenta, I can't recommend it enough."
— KEXP's John Richards, 2018
"Mixing brooding psychedelia with post-punk stylings, the record captures the full intensity of their live show with devastating results."
— Drowned In Sound, 2017
Venice, Italy based New Candys announce their 2019 US Tour. Their 2018 USA debut tour included a live performance on KEXP and shows in New York, down the West Coast and Mexico, resulting in a solid an growing fanbase thanks to their intense and hypnotic live shows. This was preceded by their fourth European and first Australian tour, where they headlined both Sydney and Melbourne Psych Fests. Their new LP "Bleeding Magenta", mastered by Grammy Award winner Giovanni Versari, was released by Fuzz Club and Portland based label Little Cloud Records in 2018. They recently landed some major syncs for three of their songs on episodes of Showtime's hit show Shameless.
Described as dark modern rock'n'roll, the band combines noisy, brooding sounds with distinct melodies and has developed a notably dynamic and symbiotic connection between their music and meticulously crafted visual imagery. The band consists of Fernando Nuti on vocals and guitar, Andrea Volpato on guitar, Alessandro Boschiero on bass and Dario Lucchesi on drums. Released in 2012, their first studio album "Stars Reach The Abyss", mastered by Jon Astley, brought the band on tour in England and Italy. The song "Meltdown Corp." was included in the annual compilation "The Reverb Conspiracy", co-released by Fuzz Club and The Reverberation Appreciation Society (Levitation Austin). In 2015 their second studio album "As Medicine", mixed by John Wills of Loop, was released through Picture In My Ear and Fuzz Club and distributed by The Committee To Keep Music Evil. In the next two years the band toured Europe three times, also performing at the Secret Garden Party and Liverpool Psych Fest. They recently supported The Brian Jonestown Massacre on their Italian Tour and they shared the stage with Slowdive, The Vaccines, Savages, Jon Spencer Blues Explosion and The Warlocks among others.
Steal Shit Do Drugs (Seattle)
https://stealshitdodrugs.bandcamp.com/
Bloods (Sydney, AU)
https://bloods.bandcamp.com/
[b r a c k e t s] (Seattle)
https://bracketsseattle.bandcamp.com/music