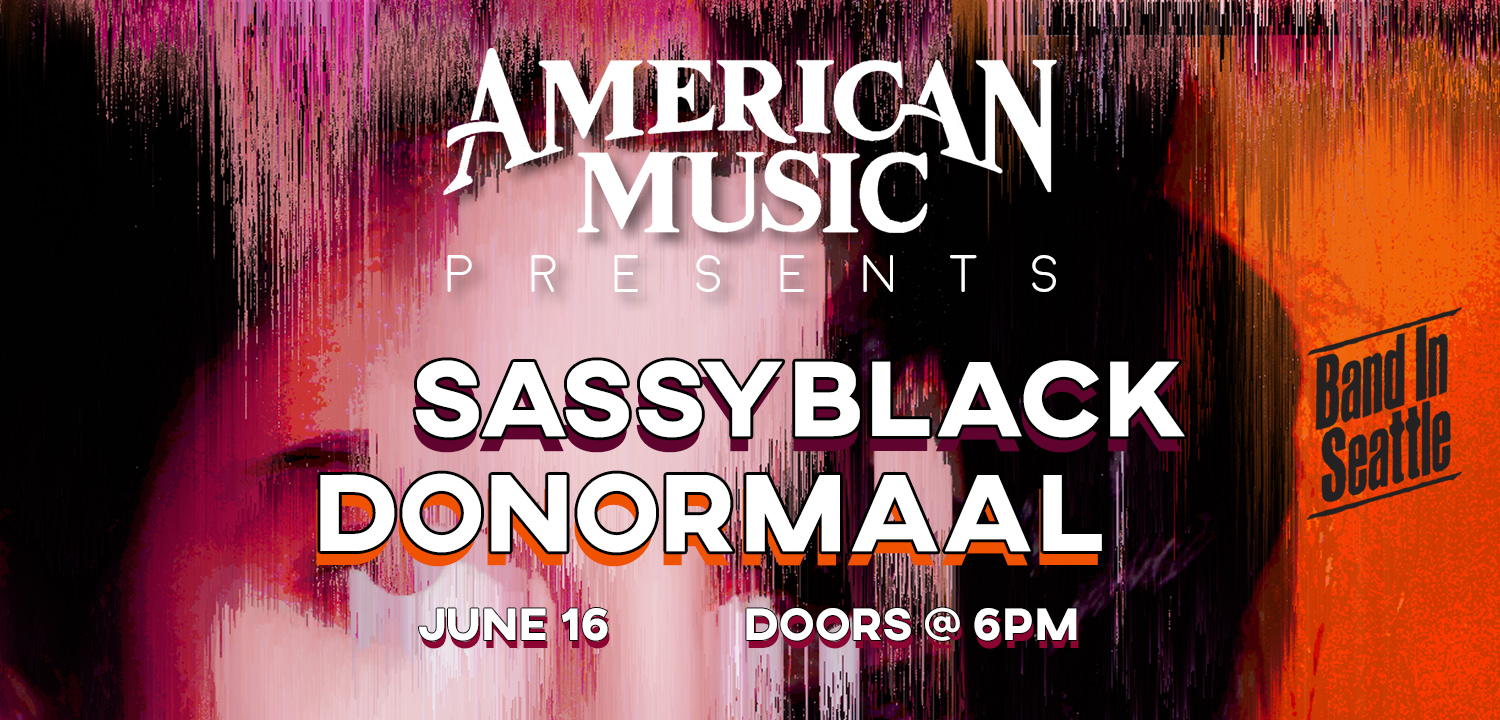 Sassyblack and DoNormaal presented by Band in Seattle
Fri, Jun 16, 2017 at 7pm
All ages, live music, free beer, snacks, hip hop
What's more Seattle than supporting your local businesses? Supporting your local musicians, that's what. So be a responsible Northwestern-er and get yourself down to Victory Studios for the taping of our next episode of Band in Seattle with Duke Evers and Snuff Redux on February 10th. Front doors open at 6PM at Victory Studios, 2247 15th Avenue West (near the Interbay Golf Center).
Sassyblack:
SassyBlack is a space aged singer/songwriter & producer based in Seattle, Washington. This Goddess of "electronic psychedelic soul" & "hologram funk" explores the concepts of sound through deep compositions. With roots in classical & jazz, her voice is often compared to Ella Fitzgerald, Sarah Vaughan, Erykah Badu & Georgia Anne Muldrow. Her production value and creativity is reminiscent of Roy Ayers, Pharrell & Herbie Hancock. Graduating with a Bachelors in music from Cornish College of the Arts in 2008, Black has traveled the world performing in cities such as Berlin, LA, Madrid, Barcelona, New Orleans, Lisbon, Manhattan, Milan, London, Brooklyn, Rome, Shanghai, Washington DC, Sydney & more.
DoNormaal:
In the male-dominated world of hip-hop, it's not easy to be a woman. It's even harder if you're a woman of color who identifies as queer.But that's exactly the position Christy Karefa-Johnson — aka Seattle-based hip-hop artist DoNormaal — finds herself in.
"Being a woman rapper is hard," explains Karefa-Johnson, 24, sitting in a booth at Hattie's Hat in Ballard. "Most of the spaces are male spaces. It's even harder when you are somebody who is doing well, because I think that it can be threatening."
And Karefa-Johnson, who plays Tuesday (Aug. 16) at Chop Suey, is doing well. She recently performed a coveted in-studio session at KEXP, her record "Jump Or Die" was described by The Seattle Weekly as "sonically and lyrically distinctive," and she's made the rounds of the important summer shows, including Capitol Hill Block Party and West Seattle Summer Fest.