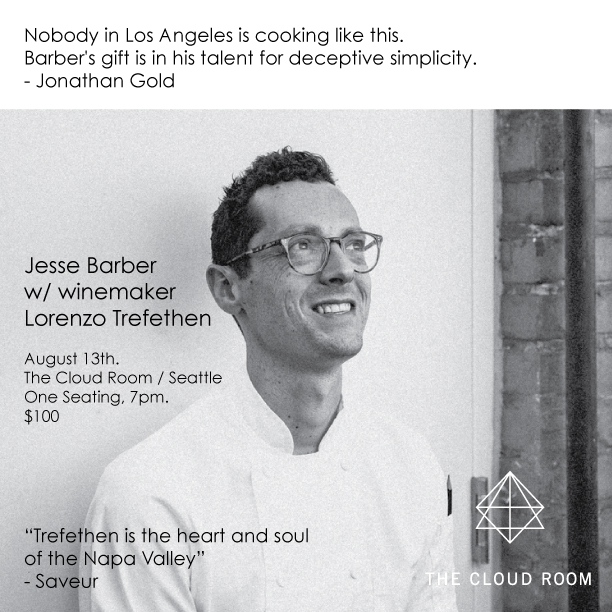 An evening with Chef Jesse Barber and Vitner Lorenzo Trefethen
Celebrated LA Chef Jesse Barber joins Napa Valley Vintner Lorenzo Trefethen in Seattle for an evening of remarkable food and wine hosted by Michael Hebb and The Cloud Room.
August 13th, 7pm, $100/person
Includes multiple courses of resplendent food and wine.
Barber, Trefethen and Hebb have been hosting dinners together for the past decade, in fact they even built a table together from the historic Trefethen oak tree after it was toppled by a storm. The dinners have occurred on several continents, but August 13th is the first time these three friends will gather a table in Seattle.
Jesse Barber has cooked and helmed the stove in the most renowned restaurants in the U.S., The French Laundry, Per Se, The Tasting Kitchen, clarklewis - and opened his own establishments in LA - always receiving absurd amounts of adoring praise. His passionate food stands outside of the run-of-the-mill farm to table genre and has a personality and style that is timeless and always pushing at the edge of what we know about food.
Lorenzo Trefethen may be the most joyous person in the wine business and he has every reason to be. The third generation family-run vineyard that bears his name has won countless awards, famously triumphing over the French in 1979 at the Gault Millau Wine Olympics and earning the distinction of "Best Chardonnay in the World". In a valley of jacked-up overly-oaked international-style wines, Trefethen continues to craft wines that showcase restraint and a sense of place. Led by Lorenzo and his sister Hailey, Trefethen has quietly become a pioneer in sustainability, adding people, not chemicals, and without fanfare converting all winery operations to solar power.
*We will have an outdoor table, weather permitting, and this option will be offered to the first 14 ticket holders.