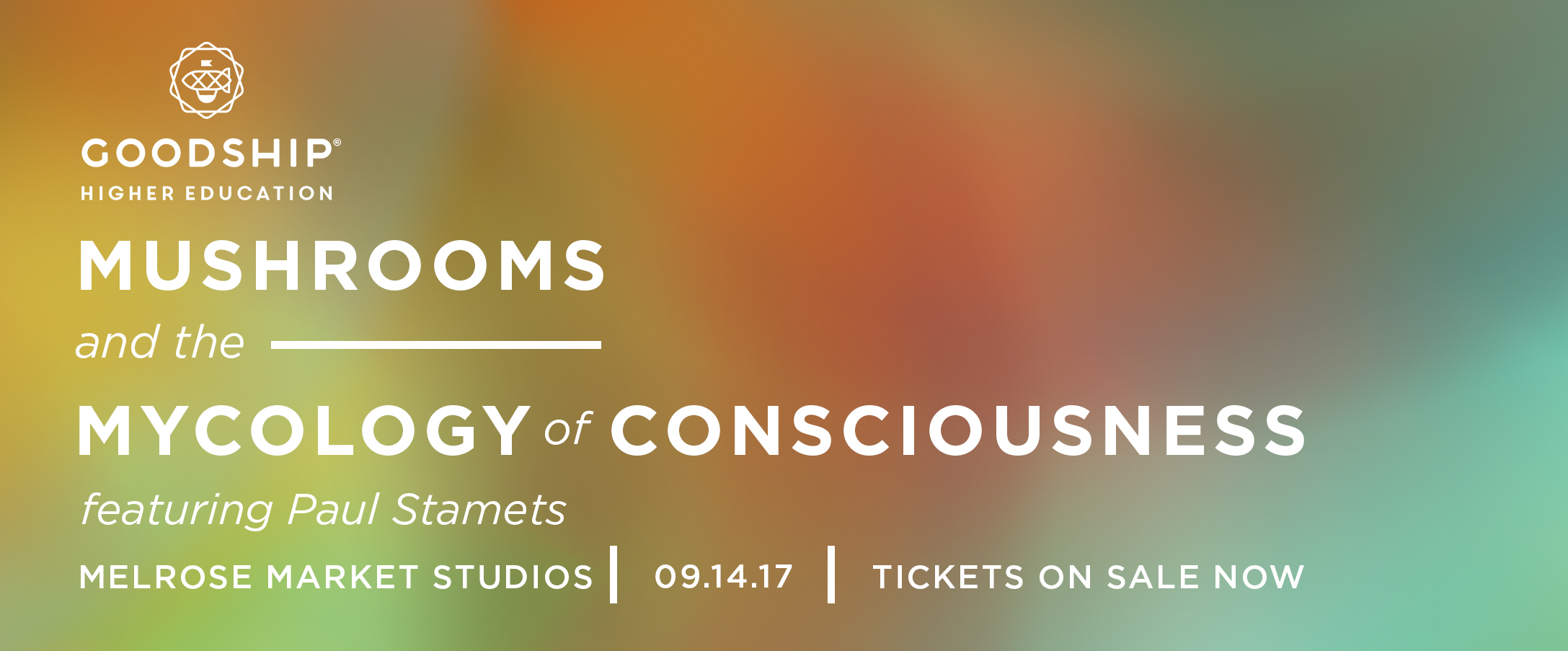 Goodship Higher Education: Mushrooms and the Mycology of Consciousness
Thu, Sep 14, 2017 from 7pm - 10pm
Speaker: Paul Stamets
Date: Thursday, September 14, 2017
Time: 7-10 PM
Price: $20 + taxes/fees
Location: Melrose Market Studios @ 1532 Minor Ave, Seattle, WA 98122
Must be 21+ for admission
MUSHROOMS
and the Mycology of Consciousness
We hope you've enjoyed your summer because Higher Education is back in session. And this time, we have the long-awaited, frequently-requested mushroom expert, Paul Stamets, to steer our ship to brave new heights. Paul, mycologist and author of Psilocybe Mushrooms and Their Allies and Psilocybin Mushrooms of the World, will be unearthing answers to all of your wildest questions.
Psilocybin mushrooms have attracted the interest of pharmacologists, evolutionary biologists, ethnomycologists, artists, writers, and more recently, addiction and trauma specialists, and computer language coders. The interest in the benefits of psilocybin mushroom use, particularly for microdosing, ushers in a new era for potential societal benefits across many scientific disciplines. Paul will examine the Stoned Ape Theory, recap some significant historical milestones, and describe some of the more significant psilocybin active species, discussing the future beneficial impacts of psilocybin use in our continuing evolution.
ABOUT GOODSHIP HIGHER EDUCATION
A heady lecture series under heady influence
In partnership with the Strange, Goodship Higher Education presents intimate conversations with some of our region's most brilliant minds, covering topics from space travel to re-animation to modernist cuisine. Our goal is to present some of the most innovative, mind-bending, revolutionary and extraordinary ideas happening in art, technology, science and philosophy. And we encourage both the audience and speakers to "pre-board on the Goodship." It allows us to look at the world through a different lens, and we think that it is a fun and enlightening experiment to partner heightened states with big ideas.
ABOUT THE GOODSHIP
The Goodship is a maker of legal, adult use cannabis-infused edibles. Founded by Jody Hall, the owner of Seattle's most celebrated collection of cupcake bakeries and cafes, Cupcake Royale, The Goodship brings decades of experience and great taste to their baked goods, chocolate, and confection. And of course, a clean, balanced ride on the Goodship. To find out more about the Goodship and the Higher Education series, visit www.thegoodship.com/higher-education.
You must be 21+ to attend. NO CONSUMPTION OF CANNABIS ON VENUE PREMISES. Goodship events may be video recorded. Goodship reminds you to consume responsibly, and to never consume cannabis and drive.