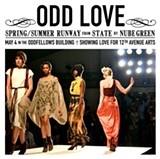 May

4
Friday, 5/4/2012 at 6pm
NuBe Green Presents
ODD LOVE
Spring/Summer Runway from STATE by NuBe Green
Showing Love for 12th Avenue Arts
Launching the Spring/Summer collection of STATE by NuBe Green with an oddly inspired runway show, layered with tees and totes from our Oddfellows Building friends, modeled by your favorite Molly Moon's scoopers, Oddfellows Cafe cocktailers, and NuBe Green shop girls.
$12 ticket includes a champagne toast and a donation to 12th Avenue Arts.
Tickets available at StrangerTickets.com, NuBe Green, and cash at the door once online sales have ended.
See the collection at NuBeGreen.com