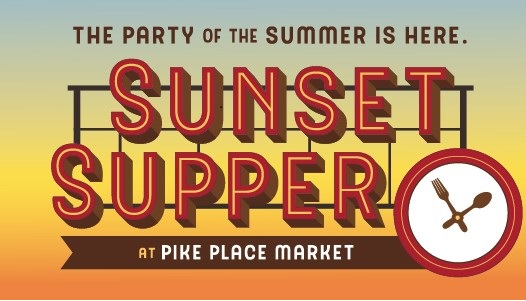 Sunset Supper at Pike Place Market
General Admission
more info
7:30PM General Admission. Enjoy food, wine, spirits and dancing under the stars on the new MarketFront!
Patron Table (10 seats)
more info
Reserve a table for 10 guests! 7PM Admission. A place for you and your friends and family to retreat under a tent or in the MarketFront Pavilion, with exclusive beverage and wine service.
Individual Patron Seating
more info
Reserve seats at a table for you and your guests! 7PM Admission. A place for you and your guest(s) to retreat under a tent with exclusive beverage and wine service. We will assign you a table and send you more information as the event approaches. Enjoy impressive waterfront views on the new MarketFront! Please indicate upon checkout if you would like us to seat you with specific guests and we will do our best to accommodate.
At the height of summer in Seattle, we invite you to celebrate the 111th Anniversary of Pike Place Market when you join us for this special evening. Sip and savor your way through many of the region's best restaurants, wineries, breweries and distilleries while meeting local chefs and winemakers.
After Sunset, dance the warm August night away under the stars to live music and join the Golden Raffle with chances to win fabulous prizes!
We are thrilled to expand this event onto the new MarketFront again this year, complete with impressive, unobstructed sunset views of Elliott Bay, the Great Wheel and the beautiful Seattle skyline. Come see the incredible craftsmanship, or visit your Market Charm, on the new Pavilion and plaza, the first expansion of Pike Place Market in over 40 years!
All food and drink are included with ticket purchase. Proceeds benefit The Pike Place Market Foundation. By helping our low-income neighbors who work, learn and live in and around the Market, the Foundation helps the Market you love remain a thriving, caring community.
We are actively recruiting vendors for Sunset Supper! Join Seattle's top chefs, artisans and craft beverage producers for the Party of the Summer - a favorite of chefs and guests alike. For information about being a food or beverage vendor at Sunset Supper or other Pike Place Market Foundation event, please contact tiffany.swanson@pikeplacemarket.org or 206-774-5233.
While we are procuring our delightful bounty of local food + drink for 2018, please drool over our list of last year's vendors:
Savory:
Sweet:
Spirits:
Brews & Beverage:
Wine: