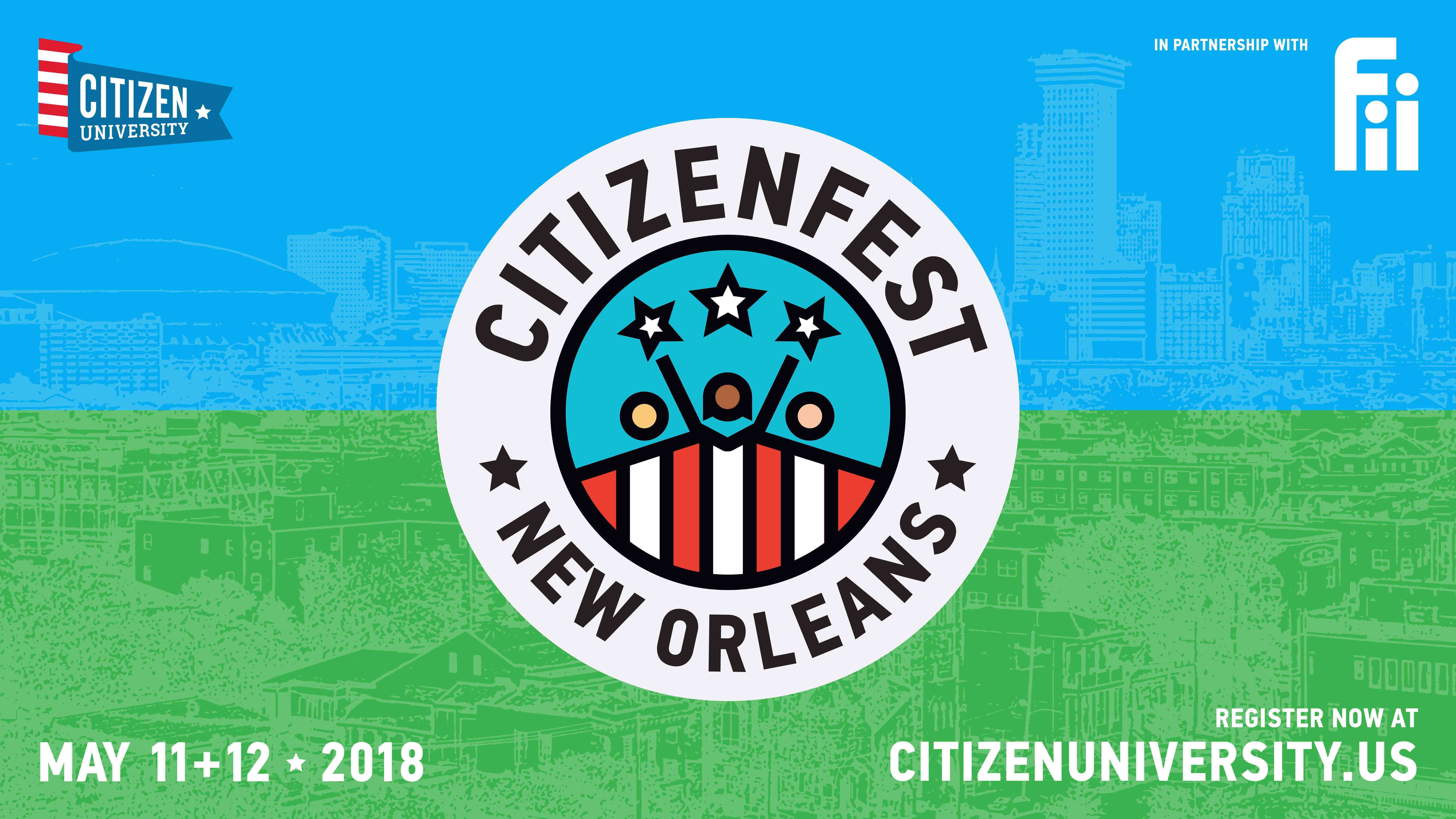 CitizenFEST: New Orleans, LA
Fri, May 11 at 6:30pm - Sat, May 12 at 5pm
CitizenFEST: New Orleans is a free festive learning summit on how to exercise civic power, hosted by Citizen University in parternship with Family Independence Initiative. Activists, artists, and everyday citizens come together for a unique blend of art, creativity, and the concrete skills of effective change-making. Our country needs more people to show up in more places to practice power in more ways. Join us!
Friday May 11
6:30pm - Registration
7:00pm - Program begins
9:00pm - Program ends
Saturday May 12
8:30am - Registration and refreshments
9:00am - Morning Plenary program
10:30am - Morning Workshop
12:00pm - Lunch
1:00pm - Afternoon program and workshops
5:00pm - Adjourn
5pm-7pm - Happy hour and music
(More information coming soon about speakers, workshops, and more!)
—————-
How do you get your voice heard? How do you change a rigged system? How do you stir others out of apathy or connect with those with whom you disagree? We'll tackle these questions and more in a day and a half of skill-building workshops, artistic performances, and deep community conversations. Participants will leave with practical strategies of civic power to apply in their own work, new connections with community members, and new ideas and inspiration for the work at hand.
Our goal is to make registration as accessible and inclusive as possible, which is why it's free to attend CitizenFEST. In turn, we ask that if you sign up, you are committing to attend for the entire time, and that you do so with an open heart and mind, and a spirit of joyful collaboration.
Learn more about Citizen University: www.citizenuniversity.us
Learn more about Family Independence Initiative: www.fii.org