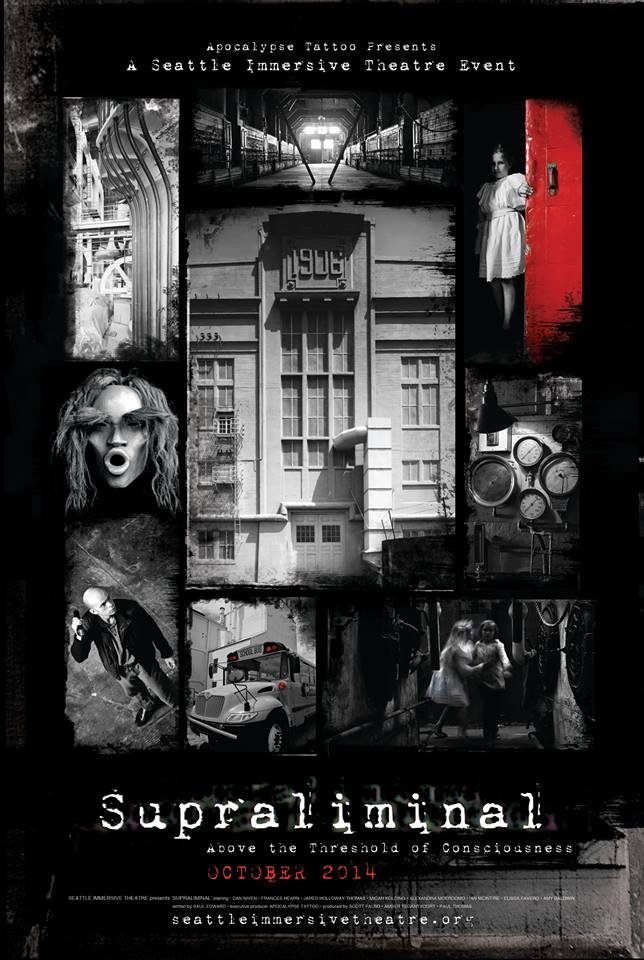 SUPRALIMINAL (adj. above the threshold of consciousness)
Fri, Oct 3, 2014 at 7:30pm
Audience size will be kept to a single bus load per performance.
Age 13+, non-ADA.
"Supraliminal" (adj. above the threshold of consciousness) is a world premier play commissioned by Seattle Immersive Theatre, revolving around multiple existing locations. The show will start in an actual college lecture hall where the audience/class will begin a Parapsychology Integrated Studies course taught by Prof. Marcus Cadman, Prof. Elizabeth Jensen and well-known Northwest psychic Miles Zaniel. The class/audience will be transported (via school bus) to the Georgetown Steam Plant for the field investigation element of the course. There, they will witness an ongoing investigation of paranormal and psychic phenomena.
"I shall not commit the fashionable stupidity of regarding everything I cannot explain as fraud." – Dr. Carl Jung, 1919
Environmental theater is, by nature, unconventional. For this performance we will be transporting the audience via bus to and from a field investigation location different from the point of arrival. While breaks will be provided, departures from the site will only happen under emergency circumstances.
All environments in this production are non-ADA. You will be required to walk a few hundred yards throughout (slowly, with rest periods provided) as well as ascending and descending two flights of stairs. Several portions of the production take place two stories above ground level in a 108 year old industrial plant, requiring signature of a waiver.
Your safety is of utmost concern and safety protocols are being pursued vigorously.
In addition, this performance contains moments of intense theatricality; including fearful, scary and startling events. Please take this into consideration before purchasing tickets. If you have specific questions or have need of special accommodations, please contact us prior to purchase.
seattleimmersivetheatre.org