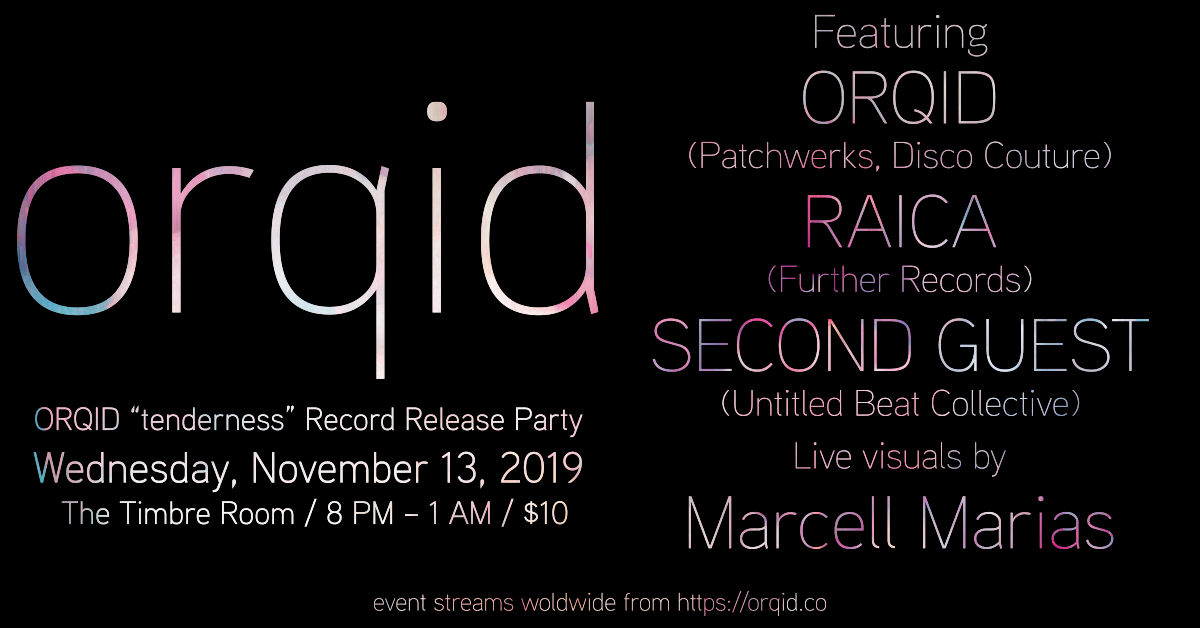 ORQID Record Release Party
Join us for a special evening celebrating the release of the new ORQID ambient pop album, "Tenderness." Copies of the new record as well as other goodies will be available at the show, and you and get them before the official release date of November 15.
Featuring a mix of DJ and live electronics from:
ORQID (Patchwerks, Disco Couture)
Over the course of a career spanning three decades, Pacific Northwest producer Tom Butcher has issued more than two dozen genre-defying releases under multiple aliases. As CODEBASE, he was signed to legendary German techno label Force Inc. Music Works, where he was remixed by the likes of Swayzak and Stewart Walker. More recently, he became the co-founder of Patchwerks, a Seattle-based retail shop that creates community around the love of synthesizers.
Butcher's latest solo project ORQID combines the solid synthesis and cool craftsmanship of his earlier projects with a lavish sensuousness. On "Tenderness," the title track of his new EP, Butcher delivers a disarming call for open-hearted vulnerability over a slick, R&B-informed groove. "Our Love," meanwhile, takes cues from both disco and dub, inhabiting a sweaty nightclub shot through with rose-colored light. The rest of the EP is a spacious journey through four instrumental tracks: the lofty, searing kosmische of "Ritual," the pulsing bass and opalescent drone of "Melting Heart," the chittering liquidity of "Analytica," and the sweeping, portentous spirit bath of "Civilizations."
Tenderness is an exercise in exquisite subtlety that rewards headphone listening, but is best enjoyed with someone you love, or hope to.
RAICA (Further Records)
Pacific Northwest mainstay and superstar CHLOE HARRIS's talents include mastery of selection and mixing in her DJ sets, and her original music pushes the boundaries of what the future sounds like, from deep soundscapes featuring expert sound design to innovative rhythms with percolating modular synthesizer. Harris and her husband Mark run the cutting-edge record label Further Records, an acclaimed imprint of well-curated music as well as one of the best emporiums of vinyl records anywhere.
SECOND GUEST (Untitled Beat Collective)
Playing together for the first time are RAE LOKEE and HANNAH CARLSON, each talented musicians in their own right. SECOND GUEST brings together their wicked combined virtuosity and knowledge of electronic music to a power duo sure to delight and inspire.
Visuals by Marcell Marias
Live streaming worldwide at http://orqid.co

Timbre Room
1809 Minor Avenue
Seattle, Washington