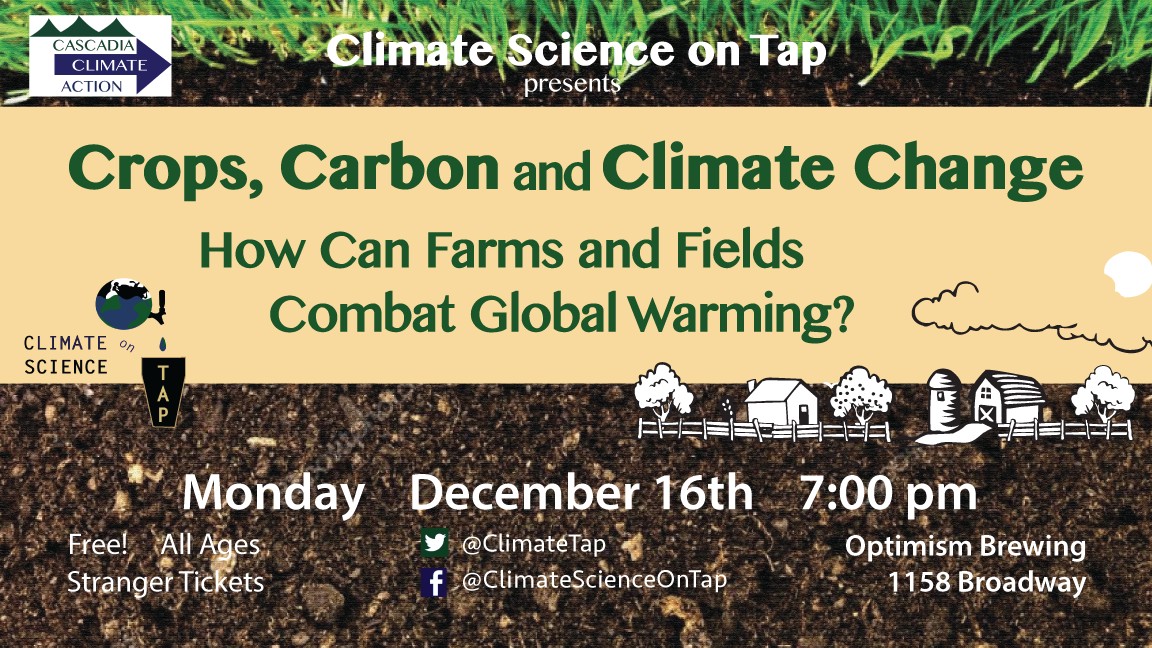 Climate Science on Tap presents
Crops, Carbon and Climate Change


How Can Farms and Fields Combat Global Warming?
Mon, Dec 16, 2019 at 7pm
All ages, Food truck, Beer,
Can regenerative farming and smart agriculture policy help fight climate change? What's the role of crops and intensive grazing in carbon sequestration? And can we develop solutions with bipartisan support? Join our panel for Climate Science on Tap as we discuss the future of farming in a warming world. Meet the experts! Listen to riveting presentations! Engage in a Q & A about their work! Stick around to learn how you can get involved! There will much food for thought.
Panelists presenting will include David R. Montgomery, Ph.D. geomorphologist at the University of Washington* Greg Rock, MS Sustainable Energy Engineering and CarbonWA Policy Chair,* and Aaron Varadi, Farmer, Program manager & Lead Instructor, The Organic Farm School. Moderated by P. Sean McDonald, Ph.D., UW Program on the Environment.* Other farmers and agricultural experts will be in attendance, representing groups such as The Tilth Alliance and Neighborhood Farmers Markets.
Enjoy the fine Optimism beer and the evening's food truck. Come early to ensure a good seat and time to meet others there to get informed and involved in moving policy on agriculture toward being a mitigation option for climate change! It's going to be fun!
* Affiliations provided for identification purposes only. Books by panelist David Montgomery will be available for sale at the event.