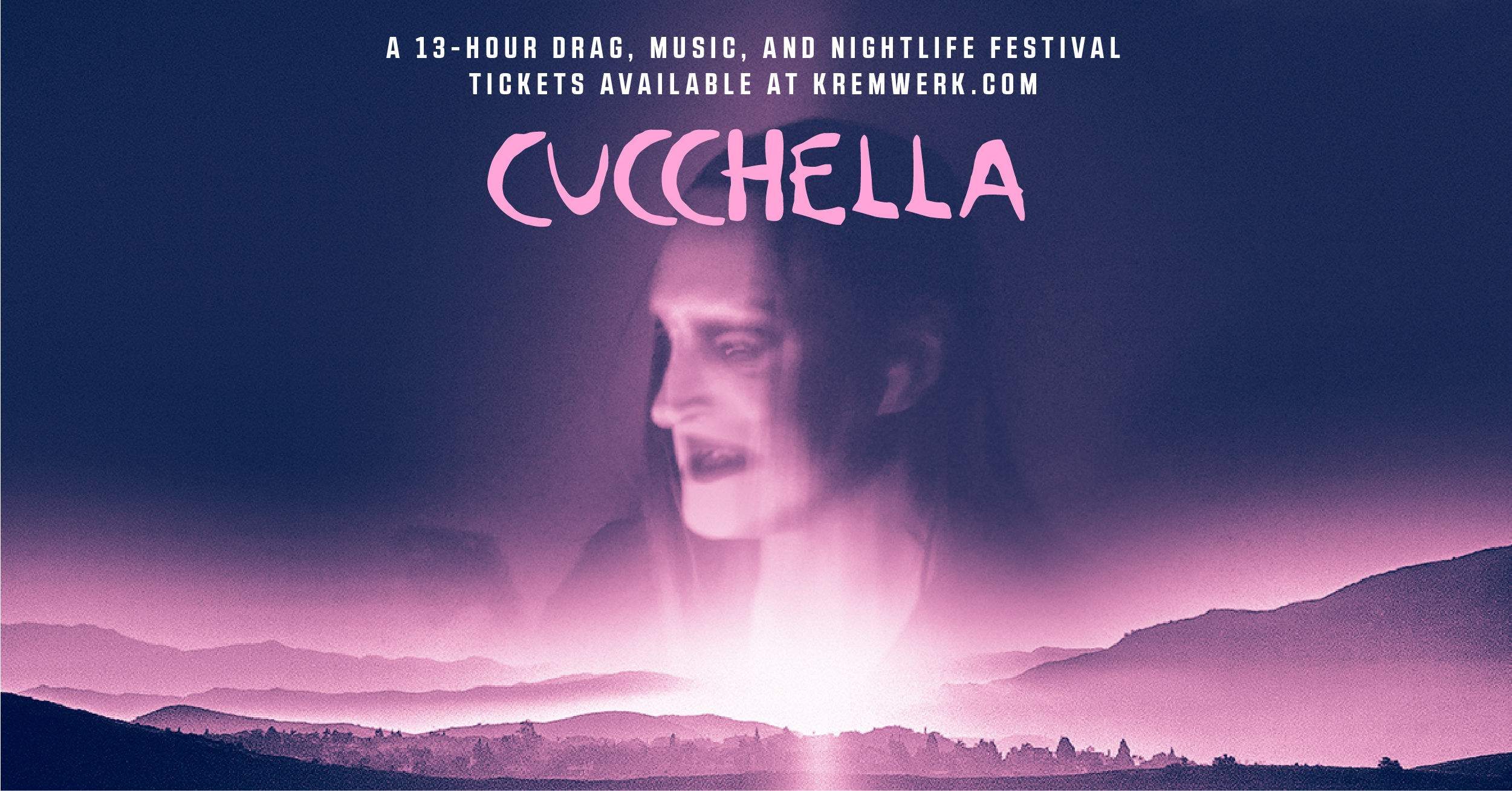 Cucchella
THE CUCCHELLA DRAG, MUSIC, AND NIGHTLIFE FESTIVAL (COMMONLY CALLED CUCCHELLA OR THE CUCCHELLA FESTIVAL) IS THE FIRST PERFORMANCE ARTS FESTIVAL HELD AT THE KREMWERK/TIMBRE ROOM COMPLEX IN SEATTLE, WASHINGTON. THE FESTIVAL FEATURES THREE PARTIES OVER A 13 HOUR SPAN, WITH DOORS OPENING AT 7PM AND CLOSING AT 8AM THE NEXT DAY. CUCCHELLA SHOWCASES LEGENDARY DRAG ENTERTAINERS AND CELEBRATED DJS AS WELL AS EMERGING LOCAL DRAG ARTIST.
~~~~~~~~~~~~~~~~~~~~~~~~~~~~~~~~~~~~~~~~
CUCCI'S CRITTER BARN: CUCCHELA EDITION
DECEMBER 14TH, 2019
7PM DOORS 8PM SHOWS
KREMWERK
PERFORMANCES BY:
BEAU DEGAS
COOKIE COUTURE
EUCALYPSTICK
ISSA MAN
KYLIE MOONCAKES
LAVISH LEONE
MERCURY DIVINE
MISS TEXAS 1988
MONDAY MOURNING
ROWAN RUTHLESS
VINCENT MILAY
UH-OH
ÜMLAUT
URETHRA FRANKLIN
HOSTED BY:
CUCCI BINACA
~~~~~~~~~~~~~~~~~~~~~~~~~~~~~~~~~~~~~~~~~~~~
QIQI CABARET: CUCCHELLA EDITION
DECEMBER 14TH, 2019
10PM-2AM
TIMBRE ROOM
PERFORMANCES BY:
ANGEL BABY KILLKILLKILL
THADAYUS
AND LADIE CHABLIS
MUSIC BY:
ESSEX
HOSTED BY:
LÜCHI
~~~~~~~~~~~~~~~~~~~~~~~~~~~~~~~~~~~~~~~~~~~~
S L I P: CUCCHELLA EDITION
QUEER AFTER HOURS
DECEMBER 15TH, 2019
2AM-8AM
LATE NIGHT/EARLY MORNING/SUNRISE SETS BY:
LIVWUTANG
GAG RELEX
SHARLESE
4AM SHOWS BY:
AMOANIA
CUCCI BINACA
HOOCHIEPAPA
MILA SKY
ROLLBACK RAVER
MICHETE
VISUAL MOOD BY:
SHANE GENET
EVENT DESIGN BY:
STEVEN DIDIS
ABOUT AFTER HOUR LOCATION
-ADA ACCESSIBLE.
-GENDER NEUTRAL POWDER ROOMS
-OUTDOOR HEATED AND COVERED PATIO
-FREE WATER PROVIDED
-NON-ALCOHOLIC BEVERAGES FOR PURCHASE
-6AM MIMOSAS AND COCKTAILS
-NOT A SCENT FREE SPACE
~~~~~~~~~~~~~~~~~~~~~~~~~~~~~~~~~~~~~~~~~~~~~~~~
TICKETS
-LIMITED EARLY TICKET SPECIALS
-LIMITED TICKETS AVAILABLE AT DOOR BASED ON CAPACITY
-LIMITED FESTIVAL PASSES AVAILABLE
-IF YOU ARE LOW ON FUNDS BUT STILL WOULD LIKE TO ATTEND, A PORTION OF TICKETS HAVE BEEN SET ASIDE. PRIORITY GIVEN TO BLACK AND POC TRANS FOLKS. PLEASE SEND AN EMAIL TO CUCCIBINACA@GMAIL.COM
PLEASE KNOW THAT THIS EVENT IS THROWN BY QUEER PEOPLE FOR QUEER PEOPLE AND THEIR ALLYS. BECAUSE OF THE NATURE OF THIS EVENT, IT IS STRONGLY ENCOURAGED TO GET PRESALE TICKETS OR FESTIVAL PASSES BECAUSE THIS EVENT WILL SELL OUT. ONCE CAPACITY IS REACHED, NO ONE ELSE WILL BE PERMITTED INTO THE VENUES. SAFETY IS THE NUMBER ONE CONCERN AT THIS FESTIVAL. ANY UNWANTED TOUCHING, LEERING, OR GENERAL VIBE KILLING WILL GET YOU KICKED OUT. WE ARE ALWAYS WATCHING.