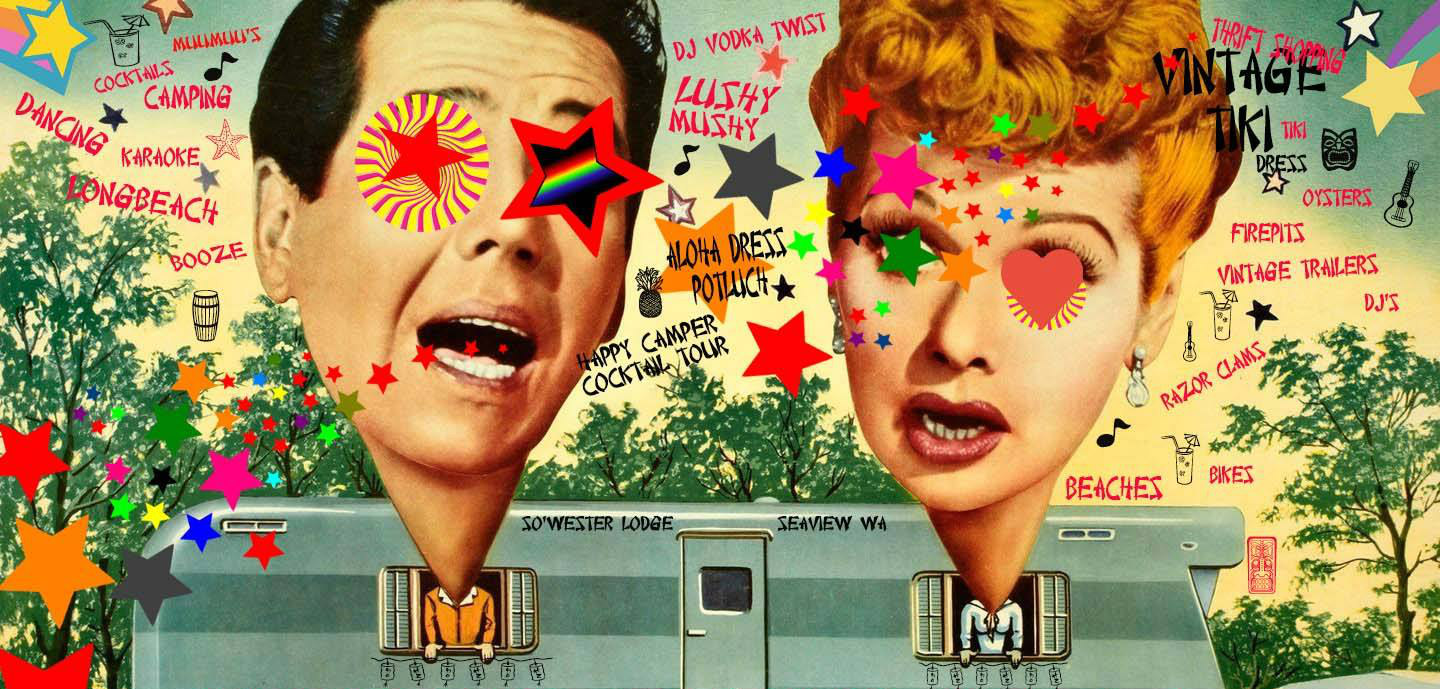 Tiki Trailer Bash 2021
We're back!
We're going to count last year, so please join us for the 6th Annual Tiki Trailer Bash at the Sou'wester resort located on Washington's beautiful SW coast, June 11th-13th, 2021. We will feature DJ Vodka Twist on Friday and Saturday night, with Seattle's reigning kings and queens of pop Music- LUSHY, playing from 8pm-10pm on Saturday night. Aside from the great music you will be able to peruse the grounds and view (and rent!) its 20+ amazing vintage trailers, cabins or camp spots.
Last year was a low-key version for some, others chose to skip the event alltogether and hold tight for 2021. Well, we hope it was worth the wait! If you came last year and used your reservation, you will have to book another at the Sou'wester, either online or by phone. To book your trailer, visit https://www.souwesterlodge.com/ and use the code TIKI. If you'd rather, you may call them at 360-642-2542 or email Souwesterfrontdesk@gmail.com. If you did not attend last year and also did not ask for a refund, then you have a CREDIT with the Sou'wester. You need to call them immediately and verify your reservation OR book for another time. Please do not tarry, as this resort operates on a very thin margin and we need to fill the entire resort for them, to ensure their continued success.
Tickets for Tiki Trailer Bash are $50. This covers facility rental, live music by Lushy and our never-ending tiki ohana love fest at the Sou'wester.
We will be having a safer, saner and somewhat DIY event this year, limited only by our energy and imagination. We plan on being nimble to adjust to a loosening of restrictions but also bearing in mind that things can change in the months preceeding the event.
Friday night is our roving cocktail party. Rather than IN the trailers, these cocktail tastings may be outside near the campfires, as the Sou'wester has added a FIRE RING to many of the trailers. We will send a list of those fire rings and where located and it will be up to you if you decide to host an event at your space. You can either bring firewood from home or purchase in the lodge for $10 a bundle. DJ Vodka Twist will be roaming the resort with his mini-sound system on Friday night. We will not have access to the main lodge this year (unless all restrictions are removed by that time.) We are going to plan on using the outdoor stage. Friday night we'll be having a Hootenanny and that will be either around the campfire or on the main stage. Bring your instruments! The chords were going to be just C,D & G but now I'm told that will not be the case, but it will still be fun to sing along.
You can spend Saturday at the beach, visiting the Farmers Market or antique shopping. Saturday starting at 6pm, we will plan on gathering and dining in an area to be determined for our POTLUCK (weather & governors orders). We may bring all the picnic tables to the center of the main area in front of the stage. If you have a pop-up cabana, please bring it to offer cover from the elements. We are unsure if we can have a potluck at this time, but please stay tuned or feel free to give us your feedback on how to do this fun event safely. If we can't have our usual potluck, we can still eat our "picnic dinner" together in the main gathering area near the stage.
Saturday night, DJ Vodka Twist will again roam the grounds and play DJ. 8-10pm Lushy Lite will be playing a few lounge sets. Since this is outdoors, we need to stop at 10pm and have quiet hours, but we can still have fun around the campfires, as long as we play acoustic or low music.
Sunday morning, we are offering a coffee station, locally made gourmet doughnuts. There is no sit-down service, this is a "to-go" option, 9am-11am.
*Kid friendly! This is camping, after all. Kids 18 & under attending with a paid adult do not require an event ticket, and can participate in daytime activities. Friday Night Trailer Campfire-Hopping/cocktail tasting and Saturday Night Lushy Lite party is aimed towards adults but since this is outside, it's at your discretion if your kids are enjoying the festivities. Some parents "take turns" for the parties, and there are old-fashioned TV's with VCR's to borrow if your kids are old enough to stay in your trailer/cabin/RV alone. We have talked about having a young adult watch the kids, but haven't figured that out yet. Contact us to brainstorm some ideas!
To BOOK a camping spot. RV/Trailer space, cabin, room or suite you MUST book with the resort. Visit the website and enter the code: "TIKI". If you can't find the room or trailer you want, you can call the venue directly at (360) 642-2542. We've reserved the whole resort- you need to book online or call to verify you are with our group. To view the amazing spaces and book your room, please visit http://www.souwesterlodge.com/ and use the code TIKI. They will ask for your credit card to book the room and there is a minimum two-night stay (Friday & Saturday night). If you'd like to come a day early or stay over on Sunday and are having trouble booking online, give them a call directly to book. Many folks find it much more relaxing to come on Thursday night and make a true vacation out of this.
Important: The Sou'wester is hanging on and we need to support them as much as we can. Yes, it's expensive to stay there but it's so magical, we know you'll agree it's a special place. If you need to cancel, please do so NOW so we can rebook the trailer or cabin for our event as we have made a committment to them to fill the resort with our people. If we cannot do that it causes a hardship.
The beloved Sou'wester is a hodgepodge of private cabins, vintage travel trailers, suites and campsites. They are located minutes from the surf and a mere 3 hours south from Seattle, in historic Seaview on the Long Beach Peninsula. Peruse local products at their Honor System Store and The 'Thrifty' trailer. . Indulge in their Sauna & Spa (if open by then!)... borrow a bike to explore the peninsula and nearby beaches. (Some activities are subject to availability and changing governmental restrictions, but it looks like things are opening up.)
Stay tuned for more info soon-"Like" the TIKI TRAILER BASH page on Facebook. Friday and Saturday nights are rustic trailer and camping site "cocktail parties". Bring a pitcher or two of your favorite libation to share and your own cup, glass or tiki mug. We may or may not be able to have our famous Mid-Century Potluck, but let's put that on "hold" for now and revisit that idea closer to the event. Most trailers have small kitchens, as do all of the cabins. Please try to bring your own kitchen stuff if you plan on taking them out of the trailers or cabins. The Sou'wester Lodge doesn't like it when you take those items out of the trailers because sometimes they go missing and then they have to replace them, so please bring what you need to the event. For those of you who haven't been, there's a small supermarket in town that has lots of things and on Saturday, there's a Farmers Market in nearby Ilwaco.
If you don't cook, some folks make pitchers of unusual cocktails to share. If we all use our own Tiki Mugs or cups, this should be safe for all. Alcohol is a disinfecting agent, after all.
When buying tickets, please enter all names of your party and email addresses for important messages!
Questions? Email tikitrailerbash@gmail.com
Thanks!