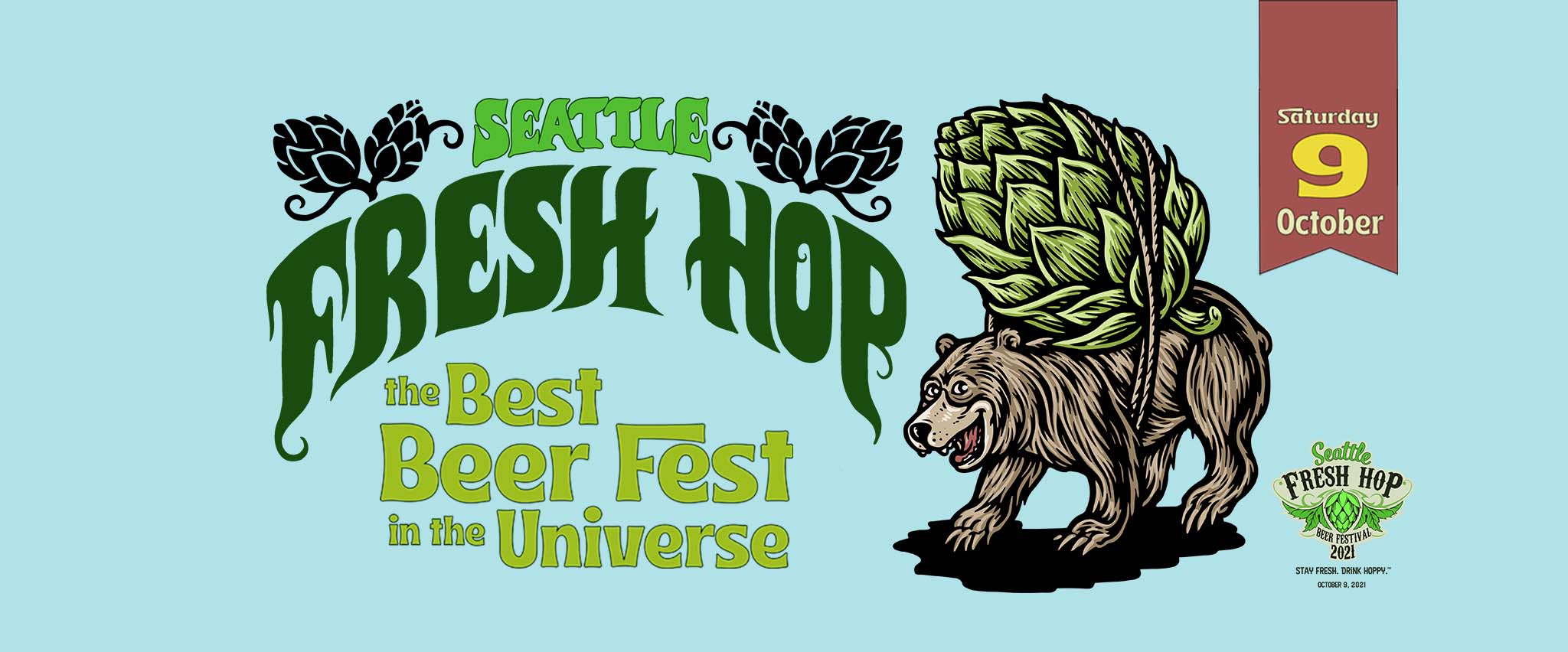 Chump Change Events presents
Seattle Fresh Hop Beer Fest 2021


The best beer fest in the universe™
Oct. 9, 2021 Valid for 1 tasting session.
21+
fresh hop
kickass
The Best Beer Fest in the Universe
Amazeballz beer
Sweet souvenir 12oz. mug while supplies last
Kickass entertainment
Free parking
Seattle's Magnuson Park
Food trucks, and other tasty food
Games and competitions
Hoppiest Dog competition SESSION ONE
Online ticket sales have ended, but tickets may still be available at the door.
PLEASE NOTE: tickets available at the door
SESSION ONE (Noon-4PM) and SESSION TWO (5-9PM) Tickets still available at the door while supplies last.
Arrive early to guarantee your limited edition souvenir 12 ounce mug (comes in three colors). Box office ticket sales open at 11:30AM.
Session ONE Gates open at Noon (Early Entry) and 1PM (General Admission)

Session TWO Gates open at 5PM (Early Entry) and 6PM (General Admission)
---
Traffic Advisory:
Montlake Bridge is closed this weekend by WSDOT find alternate routes. From I-5, take the 45th St exit East.
---
It's all about the beer.
Seattle Fresh Hop returns Oct. 9 bigger and better than ever to celebrate the fresh hop season with the best brewers of the Pacific Northwest! Combine the best brews in the world, amazeballz entertainment, sights you can't unsee, smells you wish you never did and thrills beyond belief. Seattle Fresh Hop, quite simply, is the most kickass beer fest in the universe. Learn more: FreshHop.com
When and where?
Seattle Fresh Hop is October 9, 2021 from Noon to 9 pm.
Hangar 30 at Magnuson Park • 6310 NE 74th St. •. Seattle, WA 98115
Two sessions, one mission.
Seattle Fresh Hop has two sessions:
Session 1: Noon - 4 pm - Fido Friendly!
Session 2: 5 pm - 9 pm
Our mission is to give back to our community, so you can feel good knowing that drinking good beer = doing good. Seattle Fresh Hop is a benefit for Chump Change Foundation.
How it works.
Seattle Fresh Hop is a tasting event that uses script. Tastes are served only into an official Seattle Fresh Hop souvenir tasting glass (included with your online ticket while supplies last). Designated Driver tickets are sold at the door. Kickass food trucks will be serving tasty treats for purchase onsite.
Additional Script may be purchased onsite:
1 4oz taste: $3.00
10 4oz tastes: $30.00
15 4oz tastes: $40.00 ($5 savings)
What is fresh hop anyway?
A Fresh Hop (also referred to as green or wet hops) are un-dried, raw hops picked from the bine and used in the brewing process usually within 24 hours. Hops are a perennial plant thus fresh hops are only available during the hop harvest season which lies around mid-August to late September in the northern hemisphere. This is the epicenter of hoppy brews and Seattle Fresh Hop is where you taste it all.
Trust us, it's delicious.
Seattle Fresh Hop. Drink fresh. Stay hoppy.™
Important Notes: TICKETS AVAILABLE AT THE DOOR WHILE SUPPLIES LAST
TICKET TYPES
EARLY BIRD - VIP TICKETS - SOLD OUT
EARLY BIRD - GA TICKETS - SOLD OUT
TIER 1 - VIP SINGLE DAY TICKETS - SOLD OUT
TIER 1 - GA SINGLE DAY TICKETS - SOLD OUT
TIER 2 - VIP SINGLE DAY TICKETS - SOLD OUT
TIER 2 - GA SINGLE DAY TICKETS - SOLD OUT
TIER 3 - EARLY ENTRY SINGLE DAY TICKETS - ON SALE NOW
TIER 3 - GA SINGLE DAY TICKETS - ON SALE NOW
*ticket types may sell out before these dates*
Sorry, no children. All guests must be 21+ and show valid ID.
Rain or Shine there's going to be a party.
No Refunds or Exchanges, All Sales Final.
Sponsors, Media & Vendors please visit our website www.FreshHop.com
Saturday / October 9
Gates Open - 12:00PM
Entertainment Starts - 1:00PM
All amplified music will end by 11PM
Boring FAQ's:
As a reminder, all guests must be 21+ with valid ID on site — no exceptions
No Outside Beverages or Alcohol allowed
No Aggressive Behavior
No weapons (duh-doy)
No Standing or Dancing on the Tables, Benches, or Chairs
No Behavior that is disruptive to other guests' enjoyment of the festival
Bags will be searched at entry
No Children or Babies allowed
Cash and Credit Accepted - contactless payments encouraged
No dogs during Session TWO
Absolutely no marijuana use on site.
Don't be a dick.
CHUMP CHANGE EVENTS FAN HEALTH PLEDGE
We ask that you not attend if any of the following is true for you or anyone in your party:
Within 14 days before attending the festival you have tested positive, or been exposed to someone who has tested positive for, COVID-19;

Within 48 hours prior to attending the festival, you have experienced symptoms of COVID-19 (e.g., a fever of 100.4F or higher, cough, shortness of breath or difficulty breathing, chills, repeated shaking muscle pain/achiness, headache, sore throat, loss of taste or smell, nasal congestion, runny nose, vomiting, diarrhea, fatigue or any other symptoms associated with COVID-19 identified by the Centers for Disease Control and Prevention) that cannot be explained by a pre-existing condition;

Within 14 days prior to attending the festival, you have travelled to any international territory identified by federal or applicable state or local governments as being subject to travel or quarantine advisories due to COVID-19.
Learn more about our Health & Safety Guidelines at https://chumpchange.org/covid-safety