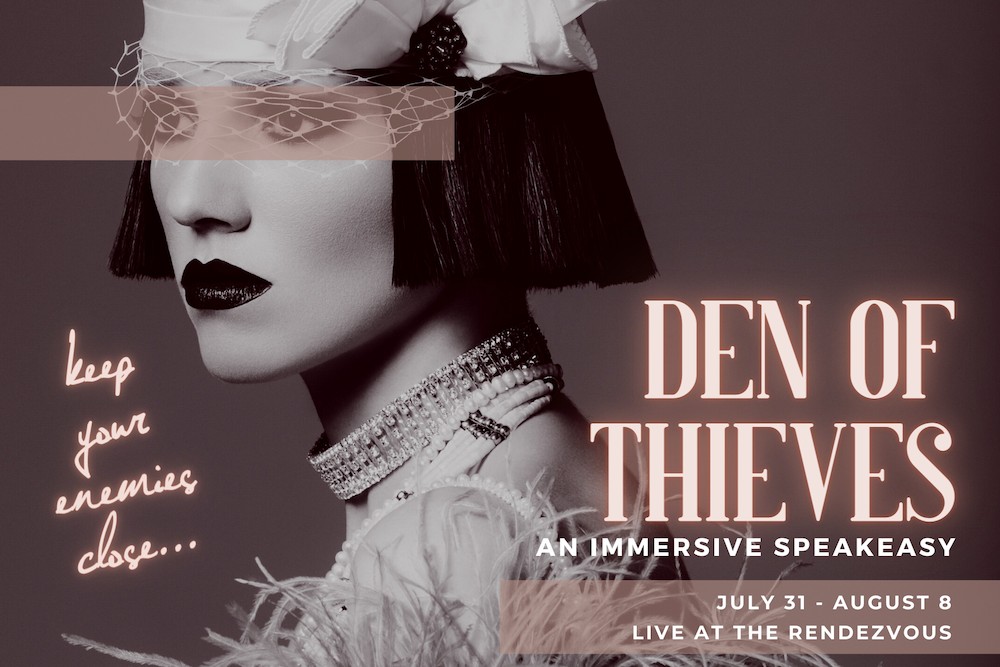 Den of Thieves: An Immersive Speakeasy
IMPORTANT NOTICE: The Rendezvous requires proof of vaccination or a recent negative COVID test for entry to the venue. As with all bars in Seattle, you also need a valid current ID for entry. Please have physical proof with you or have photo/email verification on your phone handy upon arrival.
—-
Den of Thieves transports guests back to the Prohibition Era where you decide who should inherit the empire of the Pacific Northwest's most notorious bootlegger. Schmooze with a cast of lovable villains across three floors of a historic Seattle venue… or simply sit back and enjoy an evening of live music, burlesque, and immersive entertainment.
In life, Roy Olson was an infamous gangster and owner of an illicit speakeasy: THE RENDEZVOUS. In death, his closest friends and family have come together to celebrate his passing and determine who should inherit the criminal empire he left behind.
You're invited to dress in your best vintage funeral glam and join the party where three competing factions vie for control of Roy's estate. Choose between his enterprising mistress, his top lieutenant, and his playboy son—but be careful. Your actions and the allegiances you make will determine how the night unfolds.
ABOUT
In partnership with the Rendezvous, Den of Thieves is a limited engagement event by Marxiano Productions (Bohemia, Seattle Vice) and the instigators at Cat & Canary. Writers Jerome Virnich (Listening Glass) and Julia Nardin (Dump Site) have designed an open world experience reminiscent of HBO's Westworld. Seattle's theatre hitmaker and cabaret impresario, Mark Siano, directs a vibrant cast of characters, each with their own backstory and discoverable secrets.
DRESS CODE
Not strictly enforced, but black cocktail attire preferred. 1920s glam encouraged.
FAQ
Q: How many people will be in attendance?
A: We allow a maximum of 110 guests into the speakeasy per performance.
Q: What time should I arrive?
A: We recommend arriving 20 minutes before the event's start time.
Q: What is the run time of the show?
A: Engagements last roughly one hour and forty-five minutes, but guests are welcome to stay after the show. Food and drinks are available at the bar until the venue closes.
Q: Is alcohol included?
A: No. The Rendezvous will be offering a curated selection of Prohibition-era drinks for purchase at the bar (including non-alcoholic options).
Q: Is it okay if I wear a facial covering?
A: Absolutely. Although our actors will not be wearing masks, your comfort is important to us. Den of Thieves is set shortly after the Influenza Pandemic of 1918, and facial coverings would not appear out-of-place.
Q: What safety protocols are you following?
A: The Rendezvous requires proof of vaccination or a recent negative COVID test for entry to the venue. Physical, photo, or email confirmation is acceptable.
Q: Do I have to interact with anyone?
A: No. With that said, guests can influence the events around them by interacting with our performers and following any prompts they're given.
Q: Is anyone going to touch me?
A: Performers will not touch you without permission, and we ask that you do not touch the performers.