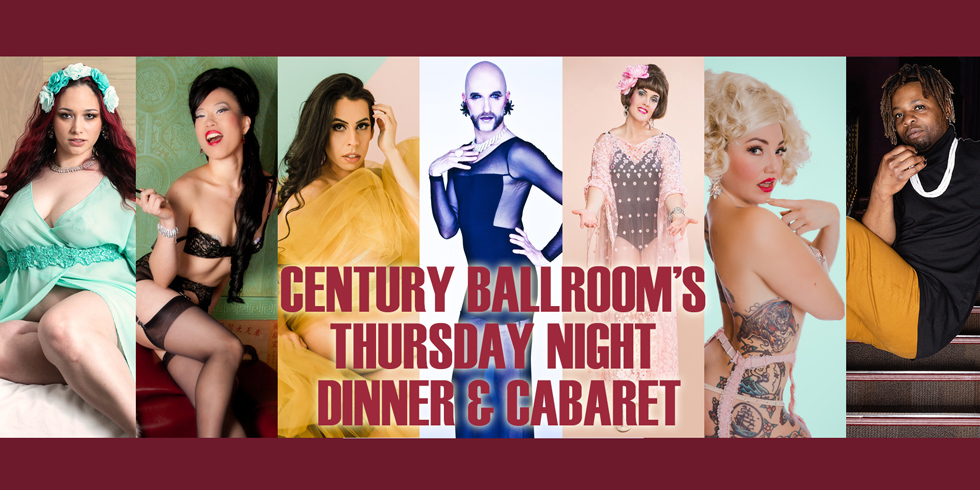 Century Ballroom's Thursday Night Dinner & Cabaret
Century Ballroom is beyond excited to offer cocktails, dinner and a show once again.
With a rotating cast curated by Waxie Moon, you can enjoy it once or come back often.
Each week will bring something from the world of Burlesque to social dance, live music and DJs.
Come for dinner, or just the show. Stay afterwards to hear the DJ and grab another cocktail and say hi.
LINEUP
October 28th
Performers: Moscato Extatique, The Shanghai Pearl, Elsa Von Schmaltz, Waxie Moon
DJ/Sound: DJ Nudie
November 4th
Performers: Dulce D'jour, The Shanghai Pearl, Elsa Von Schmaltz, Waxie Moon
DJ/Sound: DJ Nudie
November 11th
Performers: Moscato Extatique, Ruby Mimosa, Markeith Wiley, Waxie Moon
DJ/Sound: DJ Nudie
November 18th
Performers: Dulce D'jour, Moscato Extatique, Ruby Mimosa, Waxie Moon
DJ/Sound: DJ Nudie
PRICING
Dinner & Show: $60
Show Only: $15
DINING
Make the evening complete by ordering dinner (menu below!) served in the main Ballroom (seating times are 6:00 & 6:15). Make your dinner reservations when you purchase your show tickets. You will select your entree at checkout.
AUTUMN MEAT MENU
APPETIZER
Arugula Salad
Wild Organic Baby Arugula Tossed with Roasted Delicata Squash, Pickled Shallots, Spiced Pepitas, Chevre, Cider Maple Vinaigrette
V, GF
ENTRÉE
Meatloaf Plate
Painted Hills Beef & Carlton Farms Pork Meatloaf, Truffle Mashed Potatoes, Mushroom Bordelaise, Charred Broccolini
DESSERT
Pot de Creme
Rich Chocolate & Coffee Pudding, Irish Cream Whip, Cocoa Nibs
AUTUMN VEGGIE MENU
APPETIZER
Arugula Salad
Wild Organic Baby Arugula Tossed with Roasted Delicata Squash, Pickled Shallots, Spiced Pepitas, Chevre, Cider Maple Vinaigrette
V, GF
ENTRÉE
Autumn Vegetable Ragu
Roasted Brussels Sprouts, Carrots, Turnips, Kale & Tomato Ragu, over Creamy Polenta
V
DESSERT
Pot de Creme
Rich Chocolate & Coffee Pudding, Irish Cream Whip, Cocoa Nibs
No Substitutions Please
PERFORMER BIOS
Waxie Moon has headlined burlesque festivals in Austria, Finland, Canada, Texas, New York, and Washington State. They have been seen at numerous venues throughout Seattle including Key Arena, On The Boards, The Triple Door, The Seattle Rep, ACT Theatre and The Moore Theater. Performance highlights include competing in the "best boylesque" category at The Burlesque Hall of Fame in Las Vegas, being featured in Land of the Sweets, A Burlesque Nutcracker and performing in and choreographing House of Thee Unholy #2, 3, 4 and 5. They are featured in the documentary films Waxie Moon (directed by Wes Hurley, I Ate My Eye Films) and A Wink and a Smile (directed by Deirdre Timmons, Golden Echo Films). They are on faculty at Miss Indigo Blue's Academy of Burlesque (Seattle, WA.) and have taught and lectured about burlesque worldwide. In 2010 they were nominated for a Gregory Award for Excellence in Theater in Washington State. They are also featured in a giant mural in Seattle's historic Pike Place Market.
The Shanghai Pearl is The Tantalizing Temptress from Taipei, Tempestuous Temple of Temptation and Luxe Liege of Lucious Licentiousness! Pearl is celebrated for extravagant costumes, pulchritudinous performances, avante garde concepts, and outrageous humor. They have been featured in the New Orleans Burlesque Festival, The New York Burlesque Festival, Boston Burlesque Expo, Tease-O-Rama, Teatro Zinzanni and The Burlesque Hall of Fame Weekender. Pearl has headlined as close to home as Portland, Oregon, and as far away as Paris, France. The Shanghai Pearl is proud to be an instructor of burlesque since 2006. Learn more at www.TheShanghaiPearl.com.
Ruby Mimosa is the cutie with a booty! A unique mix of athleticism, dance, theatrics, and bubbly charm makes Ruby a Seattle treasure and beloved all over the world. She has been a highlighted performer all over the US, Canada, France, England, Portugal, China, and Australia.
Burlesque performer, creator, producer, educator, tastemaker, and member of 'International Supertroope' The Atomic Bombshells.
Creator and producer of Seattle's BurlesKaraoke; an immersive, interactive, and fully improvisational event where 'you sing, and they tease'. Bringing award winning international burlesque performers from around the globe to 'take it off' while the audience sings!
Ruby has taught classes throughout the US, Vancouver B.C., London and Paris. She has worked with Grammy award winning artists Macklemore & Ryan Lewis, The Seattle Opera, as well as a host of Drag & Burlesque's crème de la crème.
California native Markeith Wiley is a multi-dimensional art maker, who creates out of necessity. Their vast movement vocabulary spans a lifetime of influences. As of late they have been organizing in the streets of Seattle but usually they dabble in dance, sound, theater, a combo of all three or none of the above. Wiley has been an arts educator in Seattle since 2009. When they are not in the studio you can find Markeith at Rainier Dance Center in Rainier Beach as the director of hip hop/street styles dance, choreographing with Seattle Children's Theatre or at Markeith's alma mater Cornish College of the Arts. Markeith has performed or collaborated with Kitten N Lou, Dani Tirrell, On the Boards, the CD Forum & many other national/international artists. Prior to shelter in place Wiley hosted a DJ event at Vermillion Art Gallery & started a monthly performance party at Studio Current called SC Sessions. Wiley was a member of the 2014 City Arts Future List & also graced the cover of the magazine in 2016.
The Them Fatale of Burlesque, Moscato Extatique is a latinx, trans-femm, non-binary classically trained dancer, educator, and award winning choreographer based out of Seattle, WA. This tempting tart is one fourth of world renowned burlesque sensation Mod Carousel and was crowned The Noire Pageant 2020 Duchess of Burlesque. They were voted #35 on the 2020 Burlesque Top 50 list of the most influential burlesque figures in the world. Moscato continues to make ripples in the burlesque community by sharing their gender non-conforming, sexually alluring performance style and classes with festivals and productions across the US, Canada, and Europe.
Elsa Von Schmaltz is the ultimate in artisanal burlesque talent. A delicious recipe of tantalizing tease; comedy + beauty + brains + boobs = one hot pocket of hyper-femme-goddess deliciousness. Making her burlesque debut in the fall of 2004, Elsa has continued for years to bring her brand of salacious sass, effervescent emceeing, and ribald rapid-fire ridiculousness to Seattle and beyond. As the woman behind TWO burlesque personae (Elsa and Ernie Von Schmaltz), her talent spans a wide range of performance and emcee abilities, as well as a very full costume closet.
Using a heavy base of improv, Elsa's emcee stylings are quick and entertaining, yet always to the point. Being the "tasty filling between the layers" is her hosting specialty; highlighting the performers' talents while entertaining with stories, audience interaction, double-entendre and wicked good fun.
As a performer, her slow-burn sensual to the fast and feisty allows range to showcase years of movement training, physical theater and dance. Always multi-faceted, Elsa elicits "pants feelings" with heart.
Elsa is not only an experienced performer, but a highly sought after burlesque performance coach and teacher. Available for private coaching in tease, burlesque movement, character development, stripping technique, costuming, stage presence and act creation, Elsa combines her physical knowledge of movement with the stagecraft of theater. She has been a presenter, panelist and peer review guide many times at Burlycon. She was a lead faculty member of the Academy of Burlesque from 2010—2020.
With smoldering eyes and thick, caramel thighs Dulce D'jour is truly a sweet treat. Since finding burlesque in 2018, this Cuban cutie has stayed busy peeling her way up and down the West Coast. In addition to solo work, Dulce frequently collaborates with other local artists and is a co-founder of Papaya Magic Cabaret, a juicy all Latina burlesque trio.