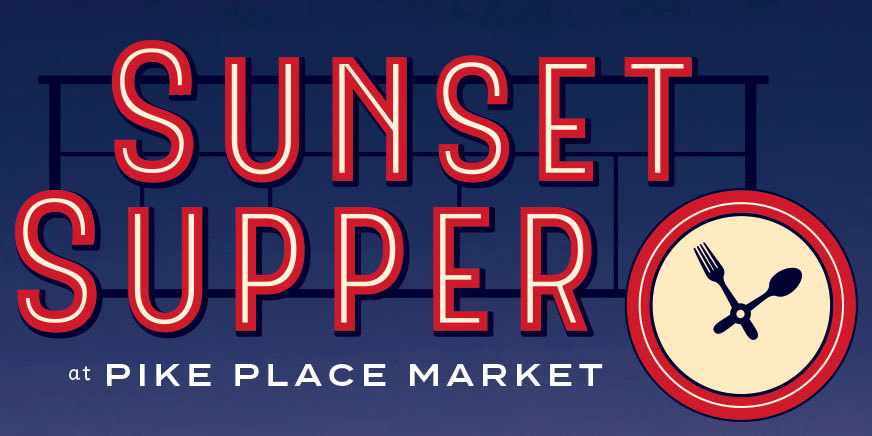 Sunset Supper at Pike Place Market 2022
General Admission
more info
7:30PM General Admission. Enjoy the bounty of fine food, wine, spirits and music under the stars! Open and unreserved bistro tables located throughout the event footprint.
Are You Market? Community Deal
more info
General admission for Market community members. Please enter promo code for discounted rate.
Update 6/5/2022 - MarketFront and Cobblestones patron tables are currently on a waitlist. Please email us at mktfoundation@pikeplacemarket.org to add your name to the list. Please specify if you are interested in a MarketFront table ($5,000), Cobblestones table ($2.950) or Cobblestones patron ticket ($295). A limited number of MarketFront individual tickets ($500) are still available. Thank you!
Sunset Supper at Pike Place Market is THE Party of the Summer!
On Friday, August 19th the Pike Place Market Foundation will bring together 100 of the region's best restaurants, wineries, breweries, and distilleries for Sunset Supper at Pike Place Market, a celebration of local food and drinks in the heart of Seattle's historic Market. Celebrate the 115th Anniversary of the Market complete with a golden raffle, prize wheel, and live music with a backdrop of the sunset overlooking the Puget Sound.
All food and drink are included with ticket purchase. Proceeds benefit The Pike Place Market Foundation to nurture a thriving Market community.
Event tickets are a donation to the Pike Place Market Foundation and are non-refundable. Sunset Supper will take place under any weather condition. If you are no longer able to attend the event and wish to transfer your ticket(s) to another guest(s), please email mktfoundation@pikeplacemarket.org with your replacement guest name and contact information.
Check out our amazing list of 2022 vendors! (As of May 31, 2022)
Savory:
Aerlume
Alderbrook Resort and Spa
Atrium Kitchen at Pike Place Market
Bar Marium
Beecher's Handmade Cheese
Ben Paris
Bonnie B's
Café Campagne
Cedar + Elm
Copacabana
Ivar's Acres of Clams
Kitchen + Market
Le Coin
Maíz
Matt's in the Market
Old Stove Brewing & Pub
Paseo
Pasta Casalinga
Pike Place Chowder
Radiator Whiskey
Seabird
Seatown Rub Shack & FishFry
Shaker + Spear
The George
The Olympic Bar
The Hart and The Hunter
Truffle Queen Gourmet Food & Wine
Uli's Famous Sausage
Sweet:
Chukar Cherries
Ellenos Greek Yogurt
Girl Meets Dirt
Macrina Bakery & Cafe
Raining Cookies
Shug's Soda Fountain & Ice Cream
Sweet Alchemy Ice Creamery
The Confectional
Theo Chocolate
Brews & Beverage:
DRY Botanical Bubbly
Elysian Brewing Company
Fremont Brewing Company
Georgetown Brewing Company
Hellbent Brewing Company
Jellyfish Brewing
Lowercase Brewing
Pike Brewing Company
Republic of Cider
Schilling Cider
Seattle Kombucha Company
Starbucks
Rachel's Ginger Beer
Wine & Spirits:
Armstrong Family Winery
Aquilini Wines
Bodega Garzon
Copperworks Distilling Company
DeLille Cellars
Fast Penny Spirits
Fidélitas
Gard Vintners
Glass Distillery
Reininger Winery
Rocky Pond Estate Winery
Silvara Cellars
Treveri Cellars
VIDO Vodka by Goose Ridge
Westland Distillery
Wild Roots Spirits
XOBC Cellars