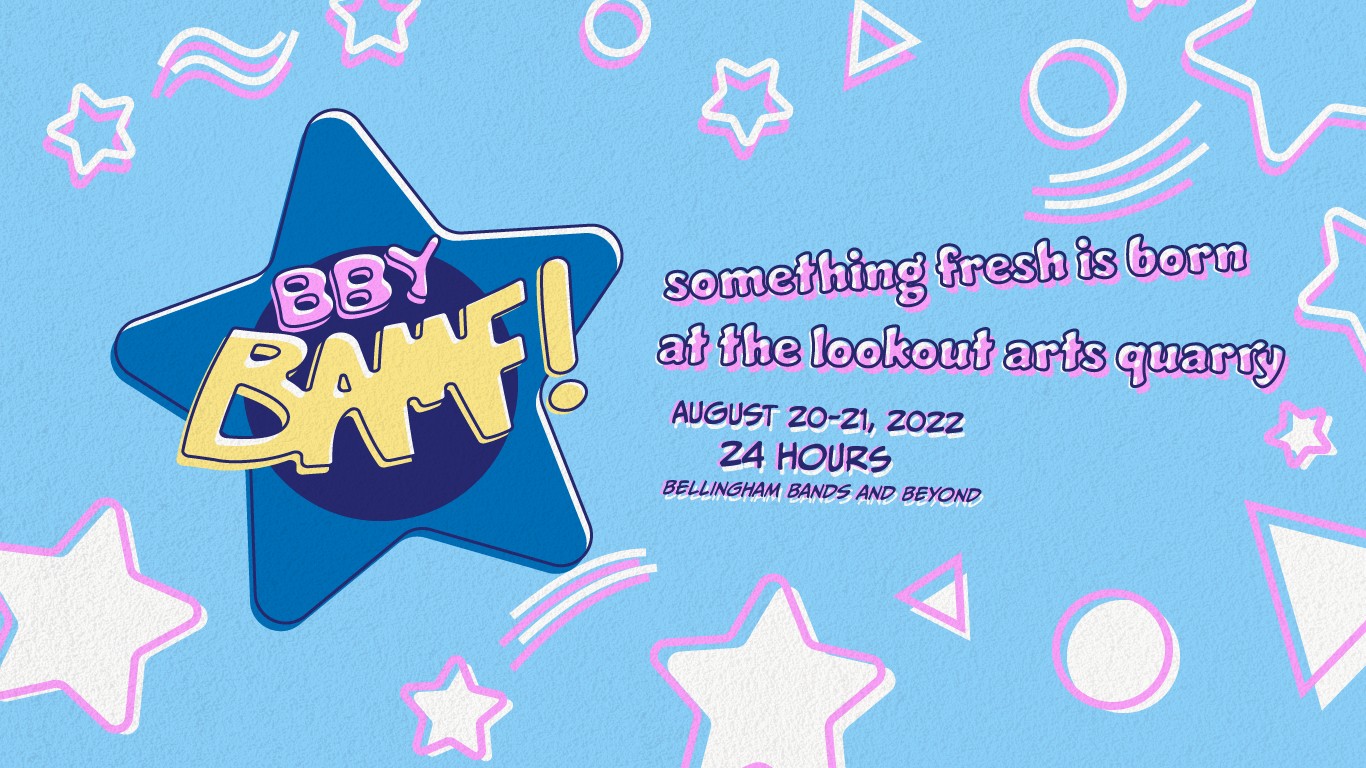 bby BAMF! 2022
Online ticket sales have ended, but more tickets will be available at the door. :)
Welcome to bby BAMF! 2022 - This event is the newly born fresh bby in the BAMF! family! As we come reborn out of the pandemic, we bring you a 24 hour, noon to noon festival experience true to our roots. bby BAMF! is meant to be our homecoming return to live music and we are SO excited to share it with you.
Come join this marvelous festival experience brimming with music, visual art, installations, workshops, food, vendors & more from the Bellingham area and beyond. Hosted at the Lookout Arts Quarry, fifteen minutes south of downtown Bellingham, BAMF! is dedicated to showcasing the multi-faceted talent hidden in our corner of the northwest. We're bringing as many music genres and kinds of art you can think of, fascinating, mind-changing workshops and anything else our community members want to share with you in a format built around pure expression. We reject the notion of only expressing a Subdued Excitement and encourage people to bring their whole selves with open minds and hearts to learn, explore, engage, express, and have fun with their community.
For more information please go to www.bamfbham.com
Camping passes are optional, but are required if you plan to enter the campground! They are per person. You may choose to not purchase a camping pass if you'd like to leave the evening of the festival. Camping passes cannot be purchased without a general admission ticket :)
Parking can only be purchased on-site so please arrive early if you are hoping to secure a camping loop or RV parking spot!
18+ except with parent or guardian. ID will be checked at the door.
Entry begins Saturday 8/20 at 12pm and closes at 10pm. The festival closes at 12pm on Sunday 8/21.
No refunds. If you can no longer attend BAMF! and would like to sell your ticket to someone else, please send an email to the email address below with your name, ticket confirmation number, and the name of the new purchaser. They can pick up their ticket at Will Call.

Have questions? Comments? Need help with ticketing? You can email our Box Office Manager here: bamf.bham@gmail.com