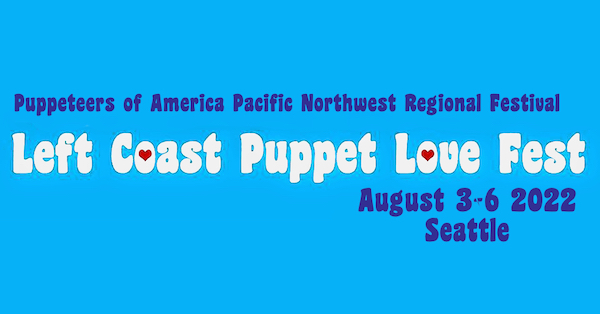 Puppeteers of America Regional Series presents
The Great Northwest Puppet Slam


brought to you by the generosity of The Puppet Slam Network
Fri, Aug 5, 2022 at 7:30pm (Pacific)
Join us for an evening of short-form experimental puppetry showcased in the beautiful Broadway Performance Hall. Lots of fun and too short to suck! This puppet slam is produced by the Puppeteers of America PNW Region and is made possible with the generosity of The Puppet Slam Network.
Featuring:
Conspiracy of Geniuses
Miss Ruby Ross
Works of Gina's
Zoo Pack Puppets
Pacific Puppetry
Whorls of Wonder Puppet Theater
Marionettist Frechettist
Randy Knickers Lost a Bet

Hosted By Randy Knickers and Zane Exactly
Doors open at 7:00 pm.
The Left Coast Puppet Love Fest is dedicated to protecting the health and safety of our attendees. We have adopted the following policies to ensure everyone's safety: Masks are required inside the venue at all times by all event attendees and staff, except when actively eating or drinking where permissible. Any festival attendee or event ticket holder who does not comply with any COVID-related health protocol may be asked to leave the festival or event without a refund. We appreciate your cooperation.