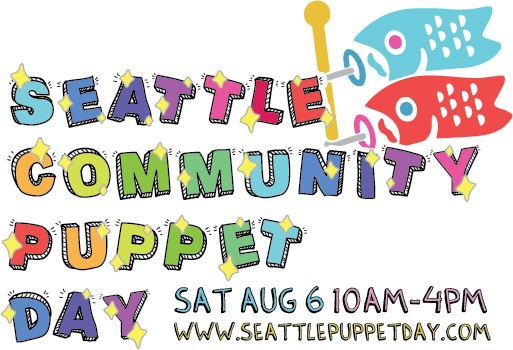 Seattle Puppet Community Day Presents
The 3 Little Pigs (FREE)


by Puppet Art Theater Co.
Sat, Aug 6, 2022 at 12pm (Pacific)
"The 3 Little Pigs" - Puppet Art Theater Co
Three pigs strike out on their own looking to have fun and adventures. But first, they must build houses for themselves. Straw, sticks, and bricks add up to hilarity and mayhem as the Pigs try and out-smart the Big Bad Wolf. Puppet Art Theater Co. uses digital sets and simple animations in combination with hand and rod puppets to create a unique adaptation of the classic tale "The Three Little Pigs".
Art Grueneberger founded Puppet Art Theater Co. in 1996. His company has
eighteen productions that tour across California and beyond performing hundreds
of live and online shows every year. Grueneberger has become a master at
developing marvelous puppet shows that charm and delight family audiences. In
addition to his work for children, Grueneberger has also produced large-scale
theatrical productions for adults that incorporate puppets. He has taught at
multiple colleges and was a featured guest artist at the Eugene O'Neill
National Puppetry Conference. Currently, he is the host of the Puppeteers of
America online program "Meet Our Mentors".
Performance type: Mixed Styles
Doors open at 11:15 am. Funding provided by the Neighborhood Matching Fund from the Seattle Department of
Neighborhoods.
Seattle Community Puppet Day is dedicated to protecting the health and safety of our attendees. We have adopted the following policies to ensure everyone's safety: Masks are required inside the venue at all times by all event attendees and staff, except when actively eating or drinking where permissible. Any attendee or event ticket holder who does not comply with any COVID-related health protocol may be asked to leave the event without a refund. We appreciate your cooperation.