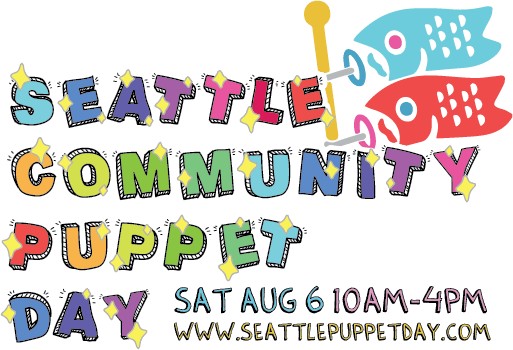 Seattle Community Puppet Day Presents:
Canterbury Tales: A Miller's Tale (FREE & 18+)


Magical MoonshineTheatre
Sat, Aug 6, 2022 at 7:30pm (Pacific)
Please join us as Seattle Community Puppet Day presents a "thank you" party event for our adult volunteers and members of the community who worked so hard to improve the neighborhood. This event deals with mature themes and is 18+ to attend.
"Canterbury Tales: A Miller's Tale" - Magical Moonshine Theatre
In The Miller's Tale, the Reeve insists the Miller is too drunk to recount any tale but the Miller goes ahead, spinning a bawdy yarn about sex, love, infidelity, trickery and midnight shenanigans. Our play proceeds on several levels, with the actors/musicians taking the roles played by both Chaucer and the Innkeeper who encourage the tales, the hand puppets playing the roles of the storytellers, and the beautiful paper scenes and figures telling the tales themselves (when the hand puppets or actors let them!) This is funny, naughty theatre for mature audiences.
Performance type: Mixed Styles
About Magical MoonshineTheatre
Founded in 1979 by Michael and Valerie Nelson, Magical Moonshine Theatre (MMT) performances have been seen coast to coast in the U.S., as well as internationally with performances in 15 countries in 8 different languages.
Michael Nelson, Director and Co-Founder
Michael Nelson studied puppetry at the International Puppetry Institute with the late Jim Henson of the Muppets. Additionally, Nelson has taught puppet theatre arts at the Napa Valley College; was a California Arts Council Artist in Residency; has been a regular writer for the national journal of puppetry; is a past president of the San Francisco Bay Area Puppetry Guild, and is a past-President of UNIMA-USA.
Valerie Nelson, Musical Director and Co-Founder
Valerie Nelson is trained in Montessori method, majored in vocal music, has been and is a member of numerous choirs, and has been featured on a number of recording projects. She co-founded Magical Moonshine Theatre with husband Michael in 1979. She is past faculty member of Tennessee Arts Academy, past workshop director of the National Puppetry Festival, and currently, along with Michael, is a California Arts Council Artist in the Schools.
Doors open at 6:45 pm. Funding provided by the Neighborhood Matching Fund from the Seattle Department of
Neighborhoods.
Seattle Community Puppet Day is dedicated to protecting the health and safety of our attendees. We have adopted the following policies to ensure everyone's safety: Masks are required inside the venue at all times by all event attendees and staff, except when actively eating or drinking where permissible. Any attendee or event ticket holder who does not comply with any COVID-related health protocol may be asked to leave the event without a refund. We appreciate your cooperation.