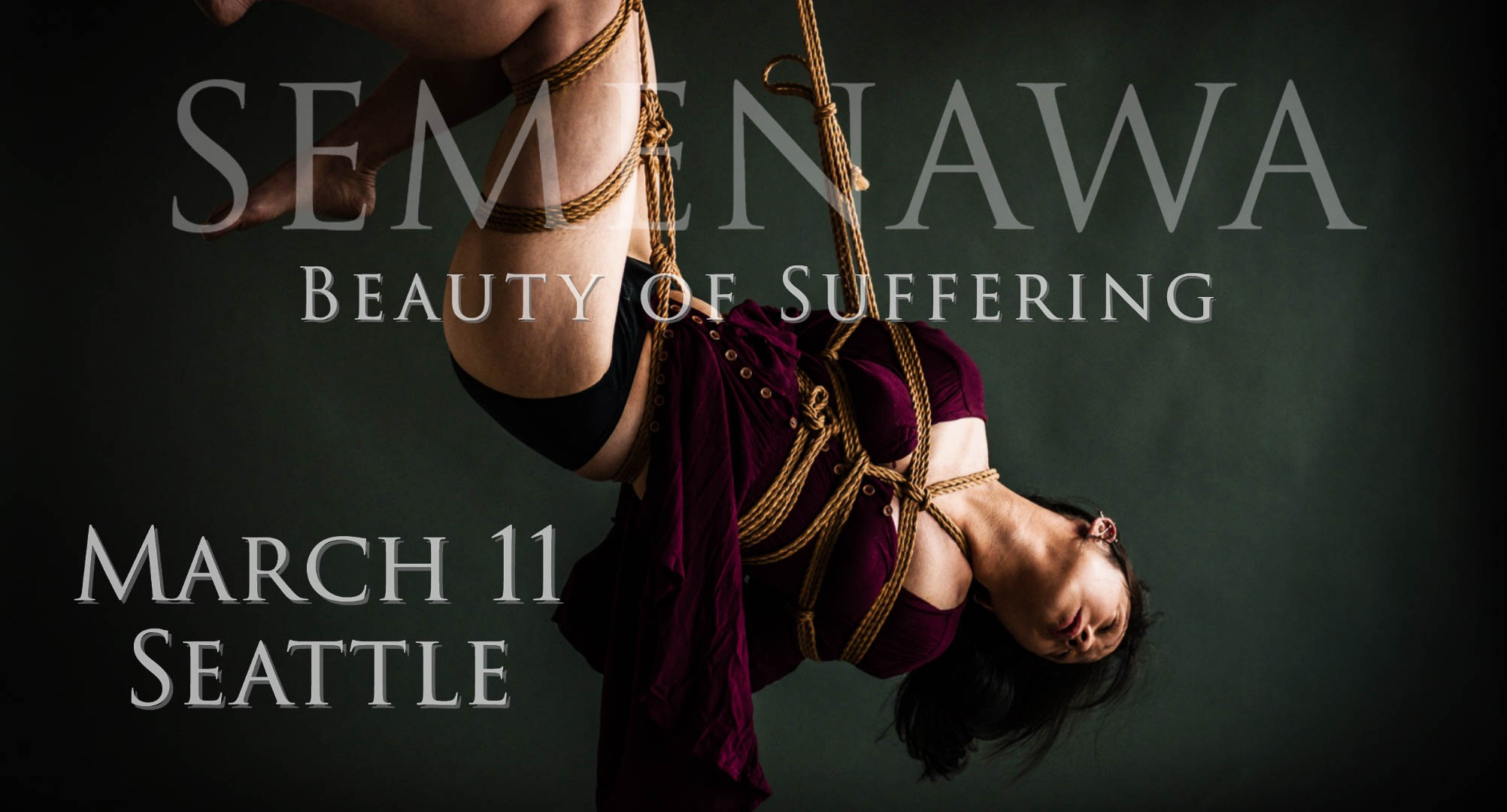 Seattle Shibari Presents
Beautiful Suffering: An Introduction to Semenawa


A Workshop with Jonathan & Sappho

Tying Pair (Admits 2 People)

Semenawa ('Tormenting Rope') is an approach to tying that is both technical and deeply psychological. Jonathan has made this approach an integral part of his own tying, making yearly visits to Japan for formal study and to develop his own perspective. For Sappho, too, semenawa is fundamental to what calls to her in rope bottoming, and she'll be sharing perspectives and insights from that side of the rope.

In this three-hour workshop, we'll explore:
Fundamental concepts of Semenawa, including both floorwork and basic semenawa suspensions using a single-point (in other words, without bamboo)
Tying the stemless gote
Semenawa leg ties
We'll also discuss consent & negotiation associated with rope bondage, as well as anatomy & safety issues
Prerequisite:
Tops should be comfortable tying a structurally solid 2-rope gote shibari (box tie), be competent in basic suspension line locking & management techniques, and have prior experience successfully carrying out basic suspensions forms.
Bottoms should be comfortable being tied in a gote shibari/TK , have ample prior experience being suspended, and be competent in monitoring themselves for nerve/circulation issues & communicating same to the rope top.
My approach to semenawa suspensions put additional pressure on the body, and are potentially hazardous. We will absolutely prioritize the safety of rope bottoms in this course. In practical terms, that means that you should not register for this course if you are brand new to suspensions. Want to be ready for this workshop? Practice!
Due to the detailed & time-intensive nature of this workshop, one person per tying pair will tie.
This workshop is appropriate for all genders, sexual orientations, and body types.
Please bring:
(8-10) 8 meter to 30 ropes, 6mm in diameter. 8mm hemp or jute for the main suspension line is recommended but not mandatory (8mm is stronger/safer as a main suspension line). Got some Hempex or POSH for your uplines? Even better! Its also helpful to have some shorter lengths of rope in your kit. Short on rope? We have 8-meter hanks of 6mm jute available for sale—contact us directly for details.
(6) Pear-shaped or oval climbing carabiners. Your carabiners must be rated for climbing.
Optional Gear: Steel Suspension Ring
Questions about equipment or class prerequisites: contact the instructor at jonathan@seattleshibari.com
To ensure personal attention to each participant, class size will be limited to 8 tying pairs. Due to the small class size, early registration is highly recommended. Please note that no refunds or credit will be issued within 7 days of the event.
Attendance at this workshop will require all attendees to show proof of vaccination. To ensure your privacy, you will do this with Jonathan or Sappho as you arrive.
About the Educators:
International rope artist Jonathan (Seattle Shibari) performs on stage, ties for photoshoots, and teaches the art of Japanese-style rope bondage. Jonathan has taught numerous sold-out workshops, and teaches & performs internationally. He holds a teaching license awarded to him by Kinoko Hajime of Tokyo, Japan, and works to spread appreciation for this beautiful art via his website, SeattleShibari.com.
Sappho is an unabashed lover of rope who brings expertise in Latin dance forms and a spirit of sensual inquiry to her kinbaku. Sappho combines a methodical analysis of physical movement with a deep knowledge of neuro-anatomy in her approach to rope bottoming, and loves to share this knowledge with others. Together with Jonathan, she directs activities at the Portland Shibari Salon. She and Jonathan have taught and performed together for several years in Latin America, Europe, and Asia.