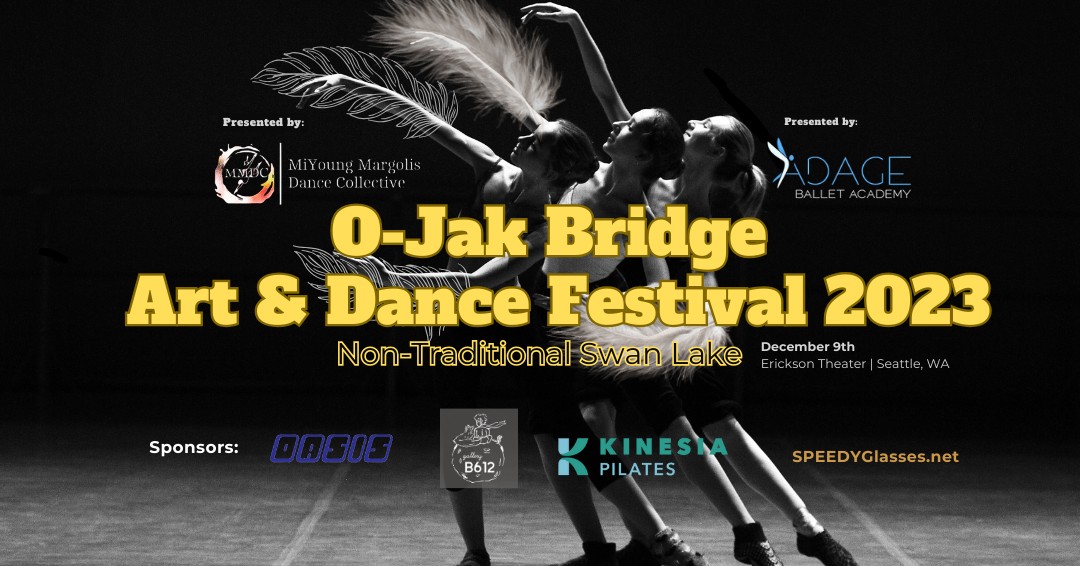 O-Jak Bridge Festival 2023 - Evening Show 7:30 pm
Sat, Dec 9 at 7:30pm (Pacific)
Wheel-Chair Accessible Seating
Non-Traditional SwanLake

Experience Swan Lake like never before!
Our non-traditional dance performance takes you on a mesmerizing journey through reimagined elegance and emotion in the morning or evening – a double dose of enchanting moves awaits you. Don't miss this extraordinary dance experience!
________
We invite you to join us our upcoming annual event, O-Jak Bridge Festival 2023, to be held on December 9th at Erickson Theater in Seattle WA. Homepage https://www.mmdc.dance/o-jak-bridge-dance-festival
Afternoon Show, 3:30 pm & Evening Show, 7:30 pm (Please choose carefully!!)
The primary purpose of the event is to engage the community in a multicultural performance art experience while encouraging local artists to express their natural talents, abilities, and personal voice. Bringing together multiple generations to appreciate our shared heritage and unique identity.
In 2023, O-Jak Bridge Festival Team is very excited to announce that The MiYoung Margolis Dance Collective (MMDC) and Adage Ballet Academy (ABA) are together presenting the new format of O-Jak Bridge Festival 2023. To ensure the success of O-Jak Bridge Festival 2023, we are seeking partnerships, financial support, and key stakeholder's involvement to support and promote this important and unique event.
The O-Jak Bridge Dance and Art Festival 2023 lineup:
Presented by, MMDC, MiYoung Margolis Dance Collective and ABA, Adage Ballet Academy
Featuring:
MiYoung Margolis Dance Collective
MiYoung Margolis - Founder, Artistic Director & Choreographer
Sandy Flores
Ben Chi
Venus Volante
JaeWon Moon
Stephanie Su
HyunJung Jin
Claudia Chang - Junior Lead
Abby Jayne DeAngelo - Owner of ABA & Principal Dancer, White Swan/Black Swan
Guillaume Basso - Artistic Director & Choreographer

ABA Advanced 6 Dancers

ABA Junior Dancers
Guest Dance Company : Korean Traditional Dance Company, MORADO
Christie Lee : Morado Director
Namsook Kwak
Minsoo Kim
Sangmi Jang
Kanghee Kim
Hyunjun Jin
Featured Choreographer : Non Traditioanal 4 little Swan : Kathryn Hightower
Miranda Veenhuysen
Marissa Sandberg
Alyssa Brillinger
Susanna Waldrop (Afternoon show only)
Kathryn Hightower (Evening show only)
Hosted by
Sponsored by
Clinique
Kinesia Pilates
SpeedGlasses.net (choiceofamerica.com)
Oasis Tea Zone
Gallery B612
Please join us in O-Jak Bridge Festival 2023!

About the Name-
O-Jak Bridge refers to the bridge that birds (crows and magpies) make once a year to connect the male and female main characters in Korean traditional fairy tale.

O-Jak Bridge is the setting for Korea's most famous love story, in which a couple is forced to live on either side of the Milky Way, only to be reunited when crows & magpies form a bridge.