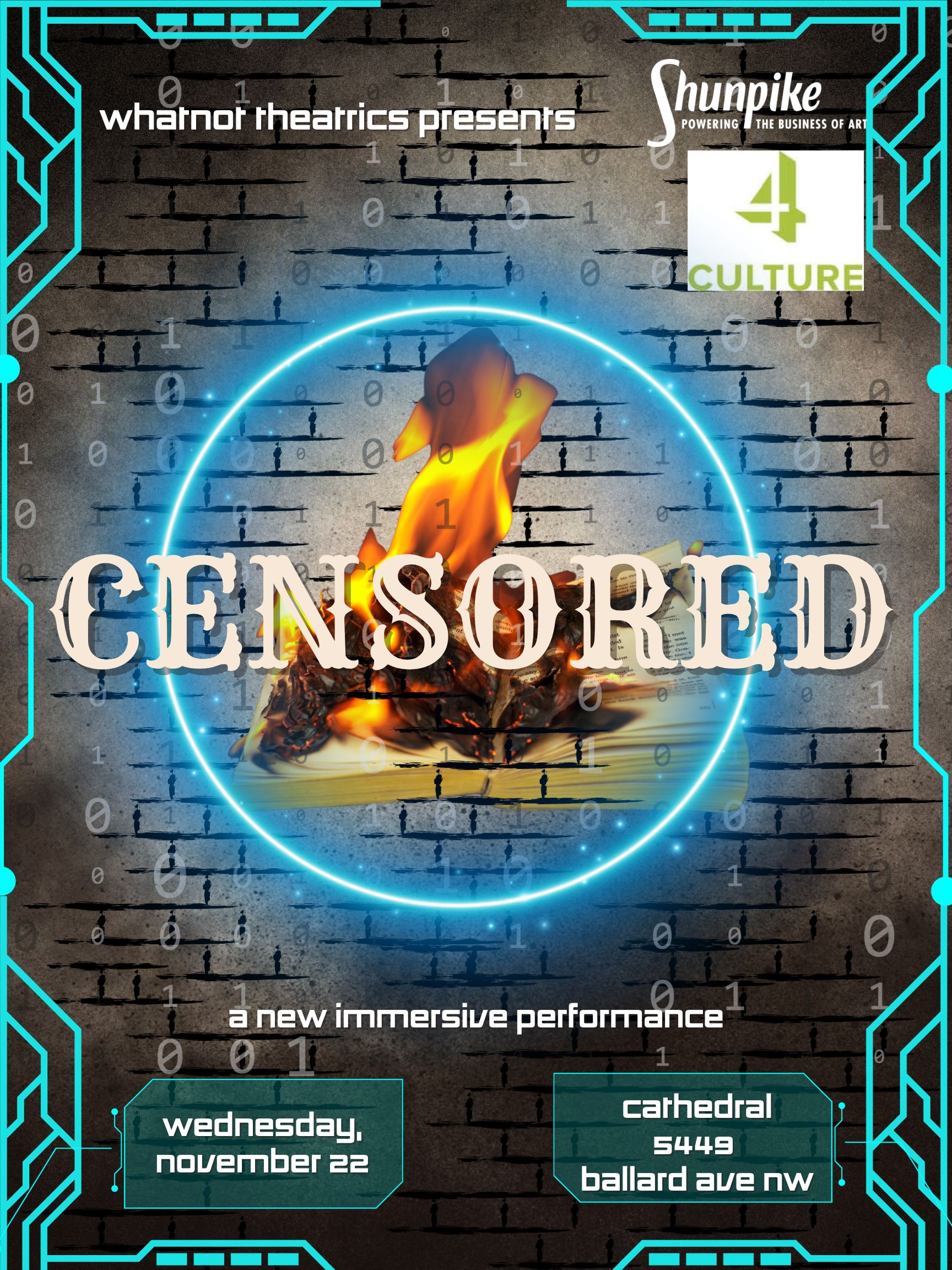 Censored An Immersive Performance
The creator behind Parlor House: Panic of 1893 brings you a brand new immersive theater show
CENSORED
The year is 2048 and artistic expression teeters on the precipice of extinction. The Regime has had an irongrip on creative expression for the last five years and refuses to let anyone perform or create art which has led to the rise of a small resistance. That is except for one day a year on Harmony Day. A national holiday, once intended to foster cultural exchange, now a refuge where artists emerge to reclaim their silenced voices.
This year's Harmony Day harbors a sinister twist. The Committee for Artistic Integrity plots to unleash a malevolent device, poised to unmask the Resistance and quash their defiance. Amid this high-stakes cat-and-mouse game, the Resistance must navigate the treacherous labyrinth of double agents, defy the ever-watchful regime, and fight for their survival. It's a journey through intrigue where words become the last bastion of rebellion. Will you dare to explore this world where the defiant brushstrokes of a new future await?
WhatNot Theatrics is fiscally sponsored by Shunpike and is sponsored by 4Culture
You must be 21 years of age or older to enter the venue
What is an immersive show: Instead of walking in and finding your seat, this immersive show invites you to explore the space of Censored. All aspects of the space are part of the show except behind the bar and unless otherwise noted.
Can I touch the performers? No. There is absolutely no touching the performers.
Can I talk to the performers? Yes, you can engage in conversation with characters. Be advised that the characters will be in character. They may not engage with you or may leave a conversation abruptly.
Can I take video or film? There is no filming inside the space. You can take pictures in the downstairs space only.
Are there stairs? Yes, Cathedral has a set of stairs going from the downstairs space to the upstairs space. There is no elevator or ramp to get from the downstairs space to the upstairs space. At the entrance, there's a ramp to enter the downstairs space.
Is there any age restrictions? This show is for guests 21+
Do I need to bring my ID? Yes, every guest will have their ID's checked to make sure that they are over 21.
I forgot my ID. Can I still come in? No, a legal ID must be presented to Cathedral.
What is your mask policy? We follow King County guidelines. These guidelines can be found at: https://kingcounty.gov/en/legacy/depts/health/covid-19/care/masks As of September 2023, masks are not required to be worn in indoor spaces.
I can no longer attend the event. Can I get a refund? There are no refunds and all sales are final.
Why are there different entry times? To help streamline entering the building and reduce the amount of time people wait in the cold, we've created timed entry to help manage crowd control.
Does the show loop? Censored does not loop. The events of the evening start at 6:30pm.
My timed entry is after 6:30pm. Will the scenes I miss be repeated? No, once a scene has happened it will not happen again. We've reflected this in the ticket price.
Is there late entry? Yes. You may enter any time after your designated entry time.
Is there drinks at this show? Yes, there will be both alcoholic and non-alcoholic beverage options
Is there food? No, there is no kitchen or food service at this show.
We reserve the right to refuse service and may ask anyone to leave at any time without a refund.