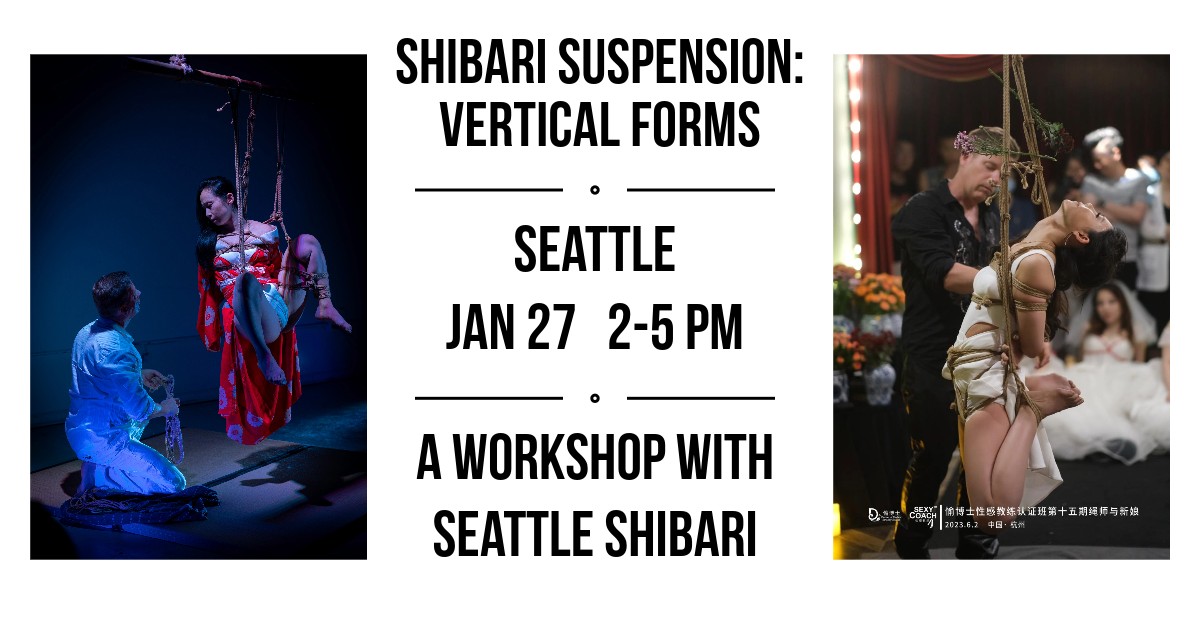 Seattle Shibari Presents
Shibari Suspension: Vertical Forms


A Workshop with Jonathan & Sappho

Tying Pair (Admits 2 People)
Come learn two versatile Kinoko-style shibari suspension forms with Seattle Shibari~
In this three-hour workshop, we will study and practice two beautiful vertical suspension forms: Tate-zuri & Mji-zuri. Both of these suspension forms are wonderful on their own, but they are also great for moving through transitions. We'll cover:
Suspension & Informed Consent
TK Review and the Basic Kinoko-Style Hip Harness
Basic Top Line Techniques
Anatomy & Safety Issues
The M-Suspension & Tate-Zuri Suspension Forms
This workshop is appropriate for all genders, and sexual orientations. To ensure personal attention to each participant, class size will be limited to 8 duos. If you are uncertain if this workshop is physically feasible for you, please message us and we'll be happy to have a phone consult with you.
Due to the detailed technical nature of this workshop, one person per pair will tie. For safety, no late entry will be permitted; doors will be locked at 10 minutes after the start time.
Technical Prerequisites:
Tops should already be comfortable tying a structurally solid gote shibari (TK/box tie) or a structurally solid chest harness in a timely and accurate fashion (7 minutes or less). They should also be comfortable with basic rope bondage techniques such as a reliable, non-collapsing single column tie, basic frictions and lock-offs, be competent in basic partial suspension line locking & management techniques, and have prior experience with partial suspension. They should have awareness of potential nerve compression issues associated with rope bondage, and be confident in communicating about them in an ongoing fashion with the rope bottom.
Bottoms should be comfortable being tied, have prior experience with partial or full suspension, and be competent in monitoring themselves for nerve/circulation issues & communicating same to the rope top.
Please bring:
(8-10) 26' - 30' ropes, 6mm in diameter. Jute or hemp is recommended. 8mm jute or hemp for the main suspension line is also recommended (8mm is stronger/safer as a main suspension line).
Please be aware the both jute & hemp are not load-rated, making suspension inherently hazardous. Students wishing to use load-rated synthetic suspension lines such as POSH or Hempex are most welcome to do so in this class.
We will have some 8-meter lengths of 6mm Hempex available for purchase, which makes excellent toplines and has a tensile strength of 1,142 pounds. —please contact us for details
(4) Pear-shaped or oval climbing carabiners. Contact the instructor if you are seeking recommendations. Your carabiners MUST be rated for climbing.
A blanket
Optional Gear: Steel Suspension Ring
Need Rope? We have high-quality jute bondage rope available for sale that can be delivered to you at start of the workshop. Please contact us for details.
Covid vaccination is required to attend this workshop.
Questions about equipment or class prerequisites: contact the instructors at SeattleShibari@gmail.com
**Please note that this is a small, limited-ticket event, and no refunds or credit will be given within 7 days of the event.
About the Educators:
International rope artist Jonathan (Seattle Shibari)performs on stage, ties for photoshoots, and teaches the art of Japanese-style rope bondage. Jonathan has taught numerous sold-out workshops, and teaches & performs internationally. He holds a high-level teaching license awarded to him by Kinoko Hajime of Tokyo, Japan, and works to spread appreciation for this beautiful art via his website, SeattleShibari.com.
Sappho is an unabashed lover of rope who brings expertise in Latin dance forms and a spirit of sensual inquiry to her kinbaku. She and Jonathan have tuaght & performed together in the Americas, Europe, and Asia. Sappho combines a methodical analysis of physical movement with a deep knowledge of neuro-anatomy in her approach to rope bottoming, and loves to share this knowledge with others. Together with Jonathan, she directs the Portland Shibari Salon.