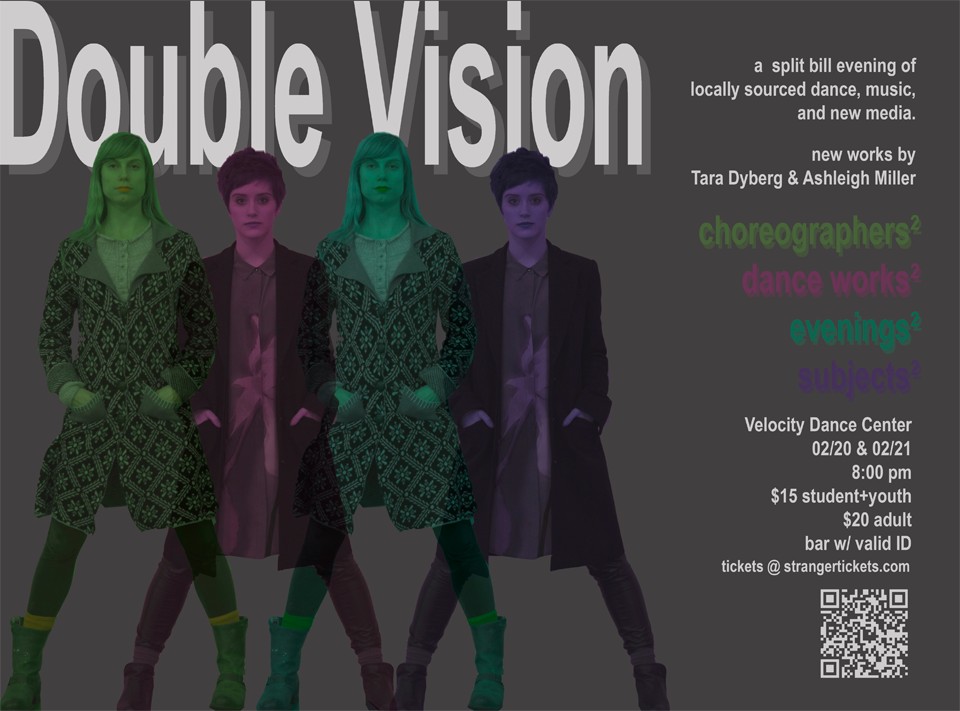 Double Vision
Local artists Tara Dyberg and Ashleigh Miller co-present two evenings of Dance, Music, and Multimedia at Velocity Dance Center. Through original choreography by directors Dyberg & Miller, musical composition by Barry Sebastian and Miller, and graphic designs by Vincent Hill and Miller, the evening weaves through it's program compiled of dual visions from the two choreographers.

About "Double Vision"- The performances are a split bill, divided in near equal halves with Miller opening the show, and Dyberg closing. Two separate works with two performance topics are showcased by each choreographer, thus the doubled visions of Dyberg/Miller. One topic tackles the ever-emerging complications of our finding and maintaining a balance of mental health, the other serves as a lens to peer through, looking at youths today and their relationships to themselves and the world they live in. This double-take on subject matters is similarly expressed through the shared movement styles and choreographic approaches of Dyberg/Miller, producing a fresh and contemporary evening of dance and film. The lending of separate art mediums in collaboration with one another has the combined effect of a seamless evening of dance, music and projections that stands as representation of the emerging talent and diversity of working artists in Seattle.

Dance interpreters: Lucie Baker, Tara Dyberg, Kim Holloway, Ashleigh Miller, Mariko Nagashima, Claire Mitchell, Hannah Reitsma, Katie McEwen

Tickets:
$15 students/youth
$20 adult




About the Artists:
Tara Dyberg was born in Alberta, Canada. She received her dance training in Vancouver, British Columbia from the Arts Umbrella, graduating in 2001. She apprenticed with Ballet British Columbia from 2001-2002, afterwards joining Les Ballets Jazz de Montreal (BJM_danse) where she performed and toured internationally from 2003- 2007. In 2008 Tara returned to Vancouver and performed as a freelance dance artist until immigrating to Seattle in 2012, where she joined and performed with Danielle Agami's company Ate9. In 2013 Tara created her first choreographic work, Net // Works, which was performed at the Fremont Abbey Arts Center, and performed in Seattle and Portland, Oregon as part of the 2013 Seattle International Dance Festival. In 2014 she created "La Fille & Rose" which was performed at the Fremont Abbey Arts Center, as well as for the NorthWest School in Seattle as part of an arts education in schools program.

Ashleigh Claire Miller is a multimedia artist and performer working in dance, visual arts, and music. In 2013 she received her Bachelor's of Fine Arts in Dance from New York University's Tisch School of the arts where she received scholarships and graduated with honors. She has shown live pieces and dance films in New York City and Seattle. Her work has often been accompanied by her original musical compositions and multimedia visual arts pieces. She has worked on films and installations that have shown at the Burgundy Dance Festival (France), the galleries at Columbia University, Tisch Dance, and the NYU Cultural Studies Department. She has performed works by Andrea Miller and Alex Ketley, and been an active member of the New York based company Carol Mendes and Artists. Ashleigh's first evening length work premiered at the FRED Wildlife Refuge (Seattle) in September 2014 and included original choreography, music, and immersive multi-media.