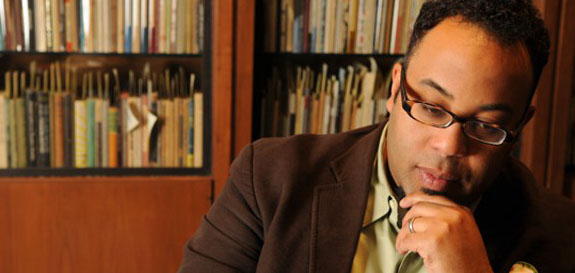 Word Works: Kevin Young on Throwing Your Voice
Young's talk will be about voice and the perils of style, as well as the possibilities of habits and finding new ones. After the talk, the audience will have a chance to ask questions during a Q&A moderated by a local writer, editor, or arts administrator.
---
Kevin Young attended Harvard University, where he studied under Seamus Heaney and Lucie Brock-Broido. Three of his books form what he calls "an American trilogy": To Repel Ghosts, which explores the paintings of Jean-Michel Basquiat; Jelly Roll, a collection of blues poems; and Black Maria, a film noir. His collection of essays, cultural criticism, and "lyrical chorus," The Grey Album: On the Blackness of Blackness (2012), won the Graywolf Press Nonfiction Prize and was a finalist for the National Book Critics Circle Award.