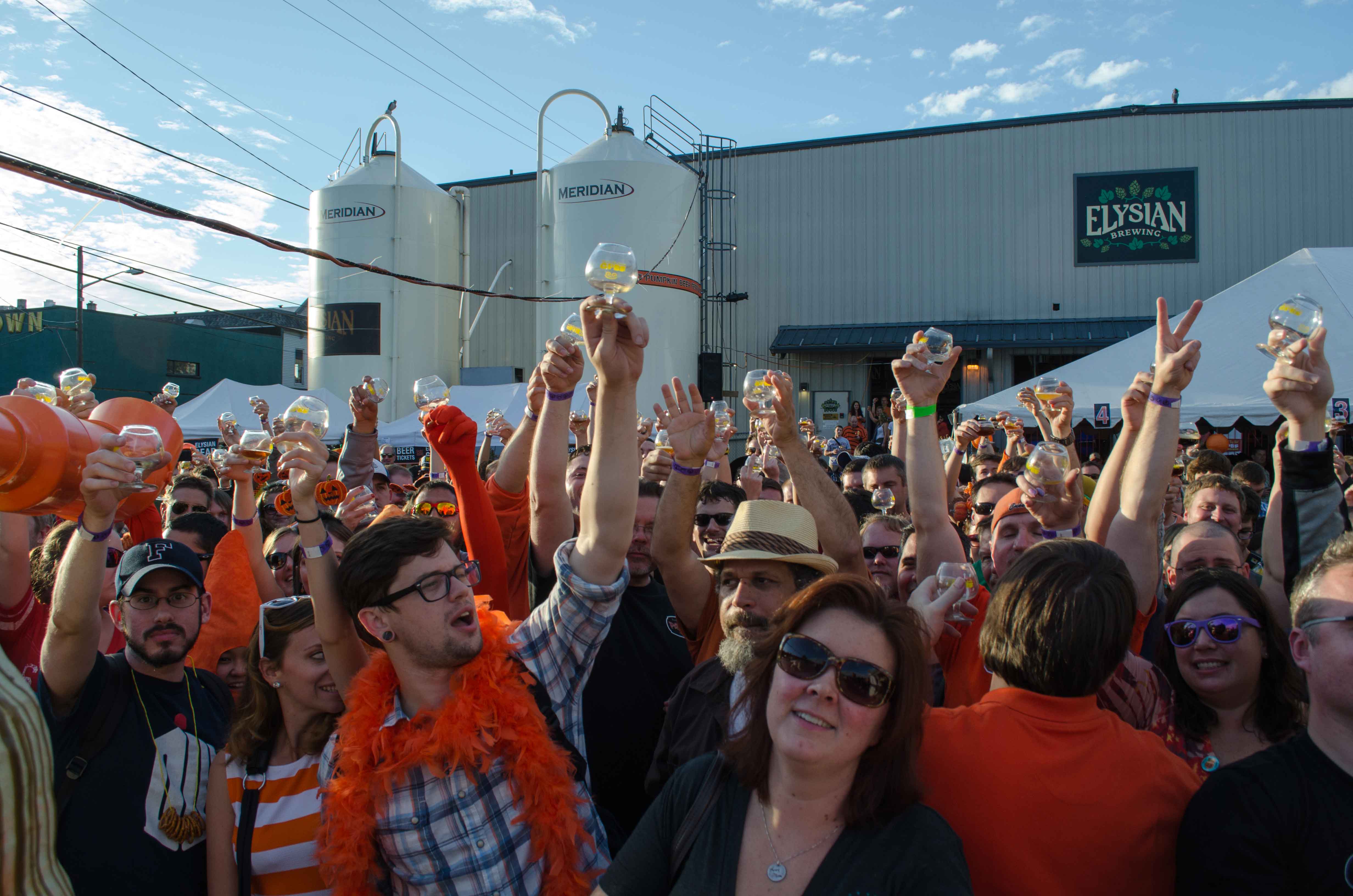 Elysian's 11th Annual Great Pumpkin Beer Festival
Great Pumpkin Beer Festival returns!
The GPBF celebrates the almighty gourd with 80+ different pumpkin beers from across the country, the sporadic sounds of Chaotic Noise marching band, KEXP DJs Stevie Zoom and Riz Rollins, games, Pumpkin Royalty, local food trucks, a costume contest, and more. The highlight of the fest is the tapping of giant pumpkins that have been scooped, scorched, filled with beer, sealed, conditioned, and then tapped to enjoy. GPBF is 21+.

More event details follow, and please also stay tuned to Elysian's GPBF page as we fill in specifics of participating breweries, food vendors and activities. But for now, get your tickets, plan your costume – and we'll see you there!
ABOUT
21+ only Rain or Shine
LOCATION
Elysian Airport Way Brewery :: 5510 Airport Way, Seattle, WA 98108
EVENT HOURS
Friday, October 2 :: 4pm-10pm
Saturday, October 3 :: 2pm-8pm
TICKET OPTIONS AND PRICING
Ticket Price includes a Great Pumpkin Beer Festival snifter glass and 6 drink tickets. Additional drink tickets are sold at the festival for $2 each.

Presale Tickets
$28/day :: Elysian Locations
$28/day + fees :: Online
$50 Two Day Pass :: PRESALE ONLINE ONLY

Designated Driver
$5/day :: DAY-OF ONLY as capacity allows (no drink tickets or glassware included) Non-alcoholic beverages will be available.

Ticket Locations
Elysian Capitol Hill :: 1221 E Pike St, Seattle, WA 98122
Elysian Tangletown :: 2106 N 55th St, Seattle, WA 98103
Elysian Fields :: 542 1st Ave S, Seattle, WA 98104
Elysian Bar:: 1516 2nd Ave, Seattle, WA 98101
QUESTIONS
If you don't see an answer to what you're looking for, please email info@elysianbrewing.com and include GPBF in the subject line, or give us a call at 844-HOP-LINE.