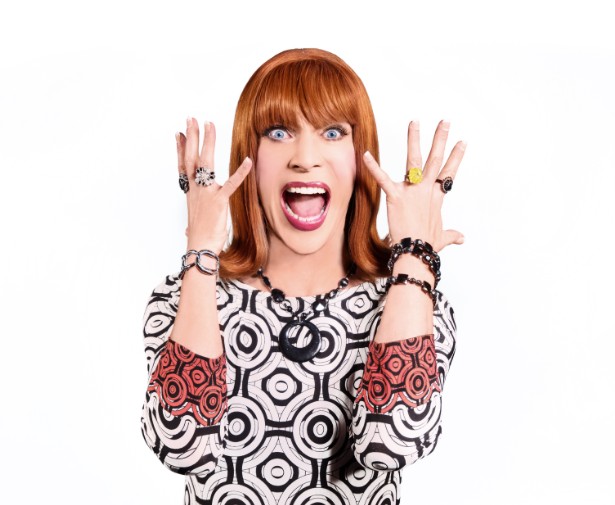 Kendall's DJ and Event & Skyscraper Entertainment present:
Miss Coco Peru: A Gentle Reminder - Coco's Guide to a Somewhat Happy Life


ONE NIGHT ONLY sponsored by SeattleGayScene.com
Sat, Nov 14, 2015 at 8pm
Doors open @ 7pm
21+ only
Online ticket sales have ended, but additional tickets may be available at the door for $25 each.
Ever since becoming a YouTube sensation Coco Peru has been inundated with emails from people of all ages asking her the same question, "Coco, what is the secret to a happy life?" So, being the giver that she is, Coco wrote a new show A GENTLE REMINDER – COCO'S GUIDE TO A SOMEWHAT HAPPY LIFE where, through story and song, Coco shares with her audience a step by step guide that leaves you prepared to enter the world again ready to create your very own "somewhat" happy life. Why just a "somewhat" happy life? Well, let's face it, you wouldn't want to be happy all of the time because, always remember, "happy" people make such a racket.
MISS COCO PERU BIO
Storyteller/monologist Miss Coco Peru aka Clinton Leupp got his/her start as a downtown favorite in the cabaret world of NY after he wrote, produced, directed, and starred in his first show "Miss Coco Peru in My Goddamn Cabaret" over 20 years ago.
On screen, Miss Coco is best known for her roles in Jim Fall's feature film, trick (Sundance 1999) and Richard Day's Girls Will Be Girls. (Sundance 2002) For this film, Coco shared the Best Actress Award with his two co-stars at the HBO Comedy Arts Festival in Aspen as well as the Best Actor Award at LA's Outfest Film Festival. Other film appearances include To Wong Foo, Thanks for Everything, Julie Newmar, Nick and Jane, and Straight-Jacket. Coco can be heard in the Disney animated feature, The Wild as Mamma Hippo! She also appears in the highly-ish anticipated sequel of Girls Will Be Girls which will be released some day, hopefully.
Coco has appeared on TV in two stand-up comedy specials on LOGO: Wisecrack and Dragtastic, How I Met Your Mother, Arrested Development, Twins, Will and Grace, New York Undercover, Detroit 187, several Bravo reality and clip shows, and in an Orbitz commercial that was nominated for a GLAAD Media Award.
Coco's live one-person shows include: "Miss Coco Peru in My Goddamn Cabaret", "Miss Coco Peru: A Legend in Progress" ('92 MAC and Bistro Award), "Miss Coco Peru at the Westbeth Theatre" ('95 MAC Nomination), "Miss Coco Peru's Liquid Universe"('98 GLAAD Nomination), "Miss Coco Peru's Universe" ('99 LA GLAAD Nomination), "Miss Coco Peru's Glorious Wounds...She's Damaged" ('01 LA GLAAD Nomination) "Miss Coco Peru is Undaunted" ('04 GLAAD Award Winner, Ovation Nomination), and the hugely successful "UGLY COCO" and "THERE COMES A TIME" and most recently "SHE'S GOT BALLS". These shows have been performed to sold out audiences in Theatres, Clubs, Restaurants, Ballrooms and Cabarets throughout the US and abroad. She currently has dates scheduled nationwide through 2014.
Coco hosts an on-going live series of shows at the Renberg Theater in Los Angeles called Conversations With Coco in which Coco interviews and celebrates the lives and careers of the GLBT community's favorite icons. Miss Peru's guests include Liza Minnelli, Jane Fonda, Bea Arthur, Lily Tomlin, Karen Black, Lainie Kazan, Lesley Ann Warren, and drag legend Mr. Charles Busch.
Coco's recent online Youtube videos have been seen by over 2 million viewers. Her video "Coco Goes to KMART," in which she searches for Celestial Seasoning Tension Tamer tea, has more than over 700,000 views. For this reason, Coco has had to ask her fans to stop sending her the tea. She has received close to 100 boxes!
Considered The Hostess with that something extra... Coco has hosted dozens of events including: The GLAAD Media Awards in Los Angeles, Night of a Thousand Gowns in NYC, Chicago Takes Off, Hot and Dry in Palm Springs, Gay Days Anaheim, The Black and White Ball in Reno, LA's OUTFEST Legacy Awards, the BALIF (Bay Area Lawyers for Individual Freedom) Dinner in San Francisco, Project Inform's 25th Annual Fundraiser (SF) and Charity Bingo at Harrah's Atlantic City. She has been honored to be involved with countless Gay and AIDS related charities over the years including The Trevor Project, Aids for Aids, and Lifeworks Mentoring. In fact, the list is so long, the Los Angeles Gay and Lesbian Center honored Coco with the Board of Director's Award. The award was presented to Coco by Zachary Quinto (Star Trek, Heroes, So NoTorious).
She is also available for children's parties.