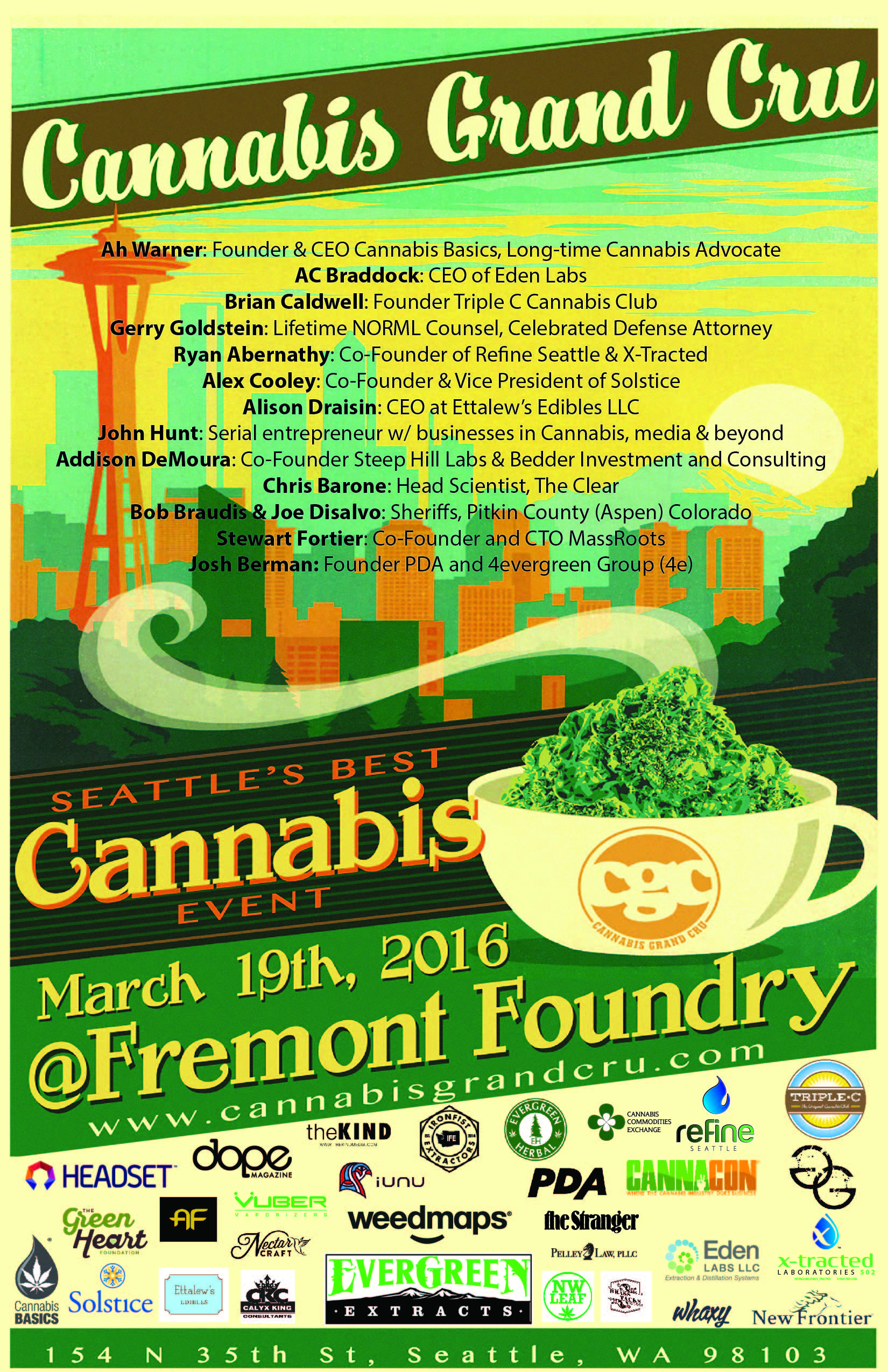 Cannabis Grand Cru Seattle
Sat, Mar 19, 2016 at 10:30am
21+
Rain or Shine
Photo ID Required
Doors at 10:30am
THE EVENT
CGC is excited to return to Seattle for its 2nd Annual Event! The Fremont Foundry will call itself home for this event featuring industry-leading speakers engaging guests in dynamic panels that address the new innovations and movements in the industry. This event is for both the cannabis enthusiast and the industry professional that are looking for a boutique and high-quality experience where they can interact and network with one another. See speakers and session descriptions via links below! More details to be announced shortly.
JUST ADDED. 20 TICKETS HAVE BEEN MADE AVAILABLE FOR CGC'S OPENING NIGHT PARTY AT CENTRAL CINEMA. SEE TICKET DETAILS BELOW FOR THIS VERY SPECIAL SCREENING OF "EVERGREEN - THE ROAD TO LEGALIZATION IN WA" WITH THE STARS AND FILMAKERS!
TICKETS
CANNABIS GRAND CRU AT THE FOUNDRY: Price: $99.00 for General Admission which includes access to all sessions & the Grand Cru Village on Saturday at the Fremont Foundry. EARLY BIRD TICKETS ARE SOLD OUT. ADVANCE TICKETS ARE AVAILABLE FOR A LIMITED TIME LEADING UP TO THE EVENT FOR $79. OUR SPONOSRS DO HAVE SEVERAL DICSOUNT CODES AVAILABLE THROUGH THEIR CHANNELS.
OPENING NIGHT PARTY AT CENTRAL CINEMA - $100. ONLY 20 TICKETS AVAIALBE TO THE PUBLIC.
THE SPEAKERS & SESSIONS
John Hunt – Grimey Gatsby, Serial entrepreneur w/ businesses in Cannabis, media & beyond | Ryan Abernathy – Co-Founder of Refine Seattle & X-Tracted | AC Braddock - CEO of Eden Labs | Brian Caldwell - Chairman, Northwest Producers, Processors & Retailers Association | Alex Cooley - Co-Founder & Vice President of Solstice | Alison Draisin - CEO of Ettalew's Medibles LLC | Ah Warner - Founder & CEO Cannabis Basics, Long-time Cannabis Advocate | Chris Barone - Head Scientist, The Clear | Joe DiSalvo - Sheriff, Pitkin County Colorado | Stewart Fortier - Co-Founder and CTO MassRoots | Gerry Goldstein - NORML Co-Founder & Partner, Attorney at Goldstein, Goldstein & Hilley | Addison DeMoura - Co-Founder Steep Hill Lab & CMO TC Labs | AND MORE TO BE ANNOUNCED! *Speakers subject to change
Click Here to see session descriptions for this event. There will be 10 sessions running concurrently from 11:30am - 7:00pm at the Fremont Foundry. Seating is first come, first served. The official schedule will be released a couple weeks prior to the event. Session topics and content are subject to change depending upon the final speaker line-up.
If you can't find the answers you are looking for here, please contact us.
FREQUENTLY ASKED QUESTIONS
Q) Will tickets be on sale at the door?
A) Yes, while supplies last.

Q) As a guest of the event, will I be able to all sessions?
A) In most cases, there will be concurrent sessions at the Foundry Studio and the Foundry Penthouse Lofts.

Q) How can I make sure I see the session I want?
A) There is enough general capacity in the Foundry Studio (Main Room) to accommodate all guests. The Foundry Penthouse Loft Sessions (Penthouse Chats) have limited seating and will be first come, first served.

Q) Can I smoke at the event?
A) All applicable laws for the State of Washington must be adhered to.

Q) Will there be any cannabis products (edibles/cannabis/any product containing THC) sampled at the event?
A) No. Licensed distributors can only legally distribute at the physical facility that holds the license. CGC strongly upholds and supports all laws and regulations associated with consuming and/or distributing cannabis. Anyone (guest or vendor) in violation of these laws will be asked to leave the event. BUT, there will have swag, t-shirts, discount coupons at local dispensaries, and other amazing things distributed out of the Grand Cru Village.

Q) What is the parking situation at the Fremont Foundry?
A) There are two parking lots adjacent to the foundry. However carpooling and public transportation is highly suggested as the lots have limited capacity. Please check the CGC site prior to attending the event for final details.