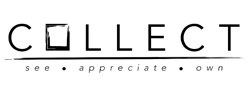 COLLECT see . appreciate . own: Thursday, January 14, 2015 6:30 - 8:30 pm. West Seattle Edition with Special Guest Chef Tarik Abdullah - $50
Thu, Jan 14, 2016 at 6:30pm
January COLLECT: West Seattle Edition
•Vermillion Art Gallery and Bar - Photography by Viola Jean Photography highlighting Shenzhen China.
http://violajeanphotography.com/blog/
•Twilight Gallery and Boutique - Holiday Small Works under $250 and Wild Blossoms: paintings by Arshin Aghashteh.
•Visit the home of Kelly Lyles, painter and Artcar designer who wears and drives her art. Lyles was featured on HGTV and the Travel Channel.
•Visit the studios of Tom and Malayka Gormally. Malayka Gormally's oil paintings "focus on multi-racial and intergenerational family and friend in the arts: hip hop musicians, chefs, writers, actors and artists." Tom Gormally is an award winning sculptor who works primarily with wood and mixed media.
www.malaykagormally.com www.tomgormallysculpture.com
•Tarik Abdullah, a Seattle-based chef known for his exciting pop-up restaurants focused on Mediterranean cuisine, will curate one-of-a-kind culinary experiences to complement each of COLLECT's tour stops. He was chosen by internationally famed cultural figure and chef Anthony Bourdain for last season's competitive cooking show on ABC, "The Taste."
HAPPY NEW YEAR!!
_____________________________________________________________________
COLLECT is a social and cultural event that encourages new potential art collectors to get started on their collection. The goal is to introduce people who haven't felt comfortable or informed enough to approach art in a new way. Smaller galleries are often overlooked but they provide a special opportunity to discover emerging, early and mid-career artists who produce high quality work at a more manageable price point.

CONTACT: collectseattle@gmail.com