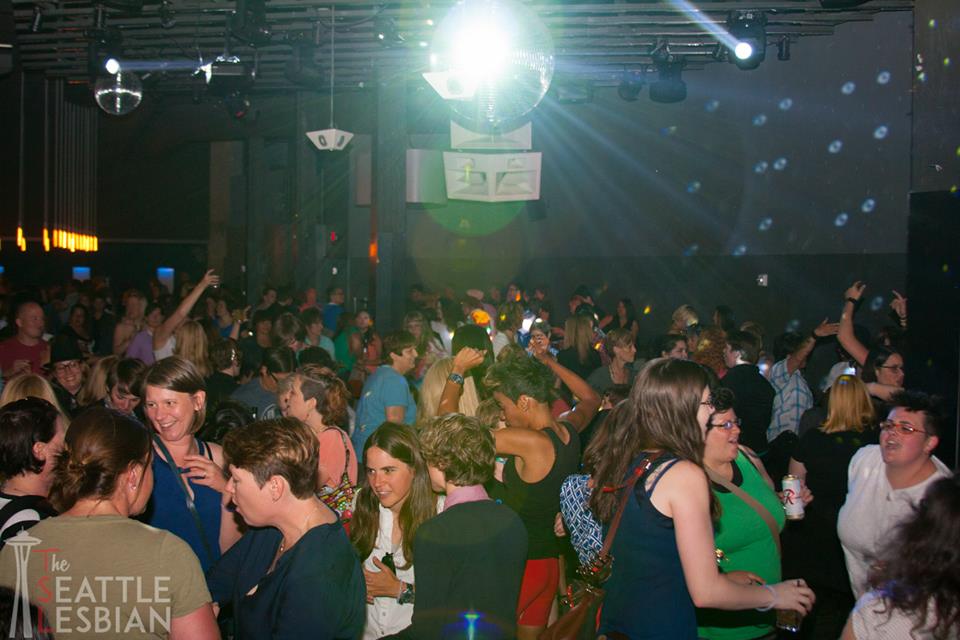 Seattle Women's Pride 2016
Join your favorite ladies in Seattle as we present the Third Annual Seattle Women's Pride on Saturday, June 18! (Hint: It's a full weekend before Pride Sunday - we get the party started early!). THIS EVENT WAS CREATED JUST FOR YOU!

Centrally located on Capitol Hill, Seattle Women's Pride is THE Pride party for lesbians (and their friends) in Seattle! Produced by The Seattle Lesbian in partnership with Eastside Women's Health Center, our sponsors include National Center for Lesbian Rights, Family Equality Council, Seattle Sperm Bank, GO Magazine, Lesbian.com, Seattle Storm, TomboyX, Bride Pride, Seattle Pride, Greater Seattle Business Association, Girls That Roam, Steph Brusig Sports & Events Photography, The Stranger, Seattle Gay Scene, OUTSpoken Radio, Bigger Expectations, and more!

We are thrilled to announce that Dana Goldberg - one of Curve magazine's "Top Five Funniest Lesbians in America" - is our headlining act for 2016!
Your ticket gets you entrance into the entire party, which includes the comedy show. Purchase a VIP ticket to meet Dana after the show!

VIP tickets get you a Meet and Greet pass with Dana Goldberg and event producer Sarah Toce post-show, a swag bag, priority entrance, and more!

Tickets are available via Stranger Tickets.
BIOGRAPHY: DANA GOLDBERG
Raised by a wild pack of Jews, otherwise known as her mother and siblings, Dana Goldberg is a force of nature on stage. She sets the standard for smart comedy, and her timing and tongue-in-cheek edginess is why she continues to collect loyal fans in cities all over the world. Goldberg's quick wit and playful stage presence is spreading like wildfire! Voted one of the "Top Five Funniest Lesbians in America," CURVE Magazine raves, "One of the brightest star in a stellar comedy landscape!" The Irish Post writes, "Dana's sharp, insightful observations are concealed behind an easy-going chatty style. This makes her one of a handful of comics able to transfer their work across the Atlantic."
Goldberg started her comedy career in 2003 in front of 650 people in a sold out theater in Albuquerque, New Mexico. Seven months into her career she was invited to Scotland by Emmy Award Winning writer Paul Wagner to perform with 13 other American comedians as part of the US Comedy Invasion at the Fringe Festival in Edinburgh. After returning to the states, Goldberg began competing in festivals and competitions all over the country. She was one of five national finalists to perform in the "Wendy's Good Taste Comedy Challenge" produced by HBO and TBS in Las Vegas, Nevada as part of The Comedy Festival. In 2005 Goldberg was chosen out of thousands of comedians to participate in the San Francisco International Comedy Competition. In three short years, she was invited to New York City to share the stage with powerhouse comedians Roz G, Laurie Kilmartin and Judy Gold for the 17th Annual Comedy Hour at Caroline's On Broadway on behalf of the Ms. Foundation and Gloria Steinem. Since her explosive start, Goldberg has performed in clubs and theaters all over the country, graced two national magazine covers, and performed in 23 states and 7 countries.
In 2006, just three years after she stepped onto the stage for the first time, Goldberg put on a producer's hat and started the Annual Southwest Funnyfest in Albuquerque, New Mexico. Each year Goldberg hosts the night of comedy to help benefit New Mexico AIDS Services (NMAS). She brings the best national female headlining comics to the Land of Enchantment for a night of non-stop, no holds barred, side splitting comedy. Since its inception, the Funnyfest has helped to raise close to $30,000 for NMAS and has brought in over a dozen comedians from The Tonight Show with Jay Leno, Comedy Central, Late Night With Craig Ferguson, Last Comic Standing, and Comics Unleashed.
In the summer of 2009, Goldberg starred in her comedy special "One Night Stand Up: Episode 4" on the LOGO network; filmed at the Great American Music Hall in San Francisco. Later that year she recorded her debut DVD "Hot And Bothered: Dana Goldberg Live" in Albuquerque, New Mexico. Emmy award winning comedian David Brenner raves, "One of the best ways to beat the recession is with laughs, and Dana Goldberg offers you one of your best chances to get some in her debut DVD." After moving to Los Angeles in the fall of 2009, Goldberg found a new comedy home and it wasn't long before she was headlining nights at world famous clubs like The Laugh Factory and the LA Improv.
Goldberg continues to combine her gift of humor with humanitarian efforts raising over three million dollars to fight HIV/AIDS and joins LGBT communities and organizations across the country to raise national awareness in the fight for equality. Since joining the Human Rights Campaign family in 2009, Goldberg has headlined comedy nights and assisted in live auctions for HRC events across the country in more than a dozen cities. In addition to her hilarious comedy and side-splitting performances, Goldberg has shared the national stage with President Barack Obama, former President Bill Clinton, Shonda Rhimes, Jennifer Hudson, Lady Gaga, Kathy Griffin, and Portia de Rossi just to name a few. As the youngest child in a single parent household run by a Jewish mother in which two of three kids are gay, Goldberg helps keep most of the comedy venues and half of the psychotherapists in the country in business.