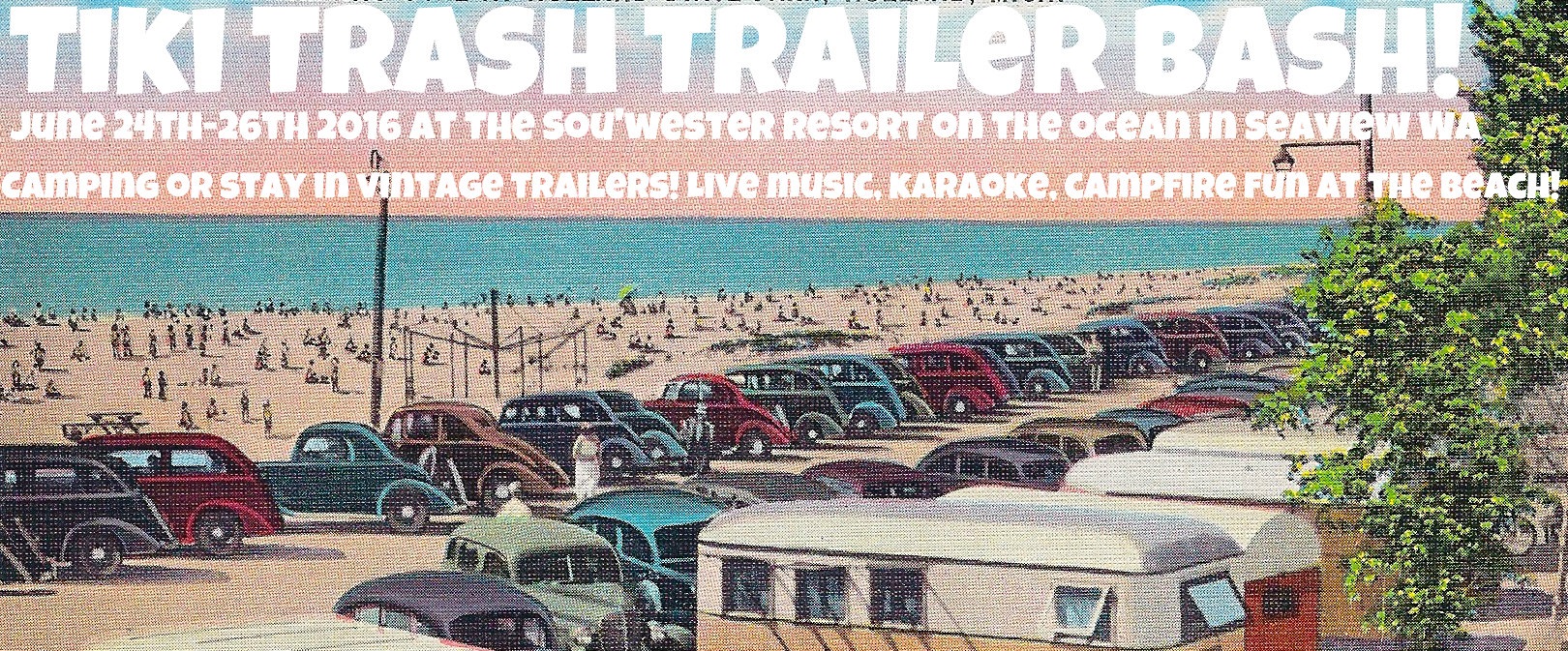 Tiki Trailer Bash w/ Lushy & DJ Vodka Twist
Advance tickets are not available but you may purchase on site for $25 cash or check only (correct change needed)
Join us for the inaugral Tiki Trash Trailer Bash (aka Trailer Trash Weekend Bash) at the legenadry Sou-Wester resort located in the south end of Wasahington's beautiful coast. We will feature DJ Vodka Twist on both nights with Seattle's reigning kings and queens of pop Music- LUSHY, playing from 7-10pm on Saturday night. Aside from the great music in the paviliion you will be able to peruse the grounds and view (or rent!) its 20 amazing vintage trailers, cabins or camp spots. In addition to the fesitivities onsite (including a Sat happy hour potluck) there is a cool divebar and awesome local brewery located just outside the main gate. This could be the coolest roving-style cocktail party of the year folks... Many people are bringing their own cool rigs to sleep and play in- The Elvis Mobile and "1961 Shasta Airfylte Trailer Team" will be in full attendance!
This $20.00 ticket* gets you all the music and helps us cover our basic venue rental costs The price goes up to $25 (cash or check only, correct change) if you wait unitl after Friday June 24, 5pm to buy. This ticket does not include accomodation fee (see below). You must be a guest of the resort and a ticketholder to attend the festivities on both nights:*Youth 18 & under attending with a paid adult do not require an event ticket.
To BOOK a camping spot. RV/Trailer space, cabin, room or suite you MUST call the venue direclty at (360) 642-2542. You will get 10% off regular rates and $30 off any added extra Sunday night stay. You cannot book online as this is a private event and we reserved the whole resort- you need to call to verify you are with our group. To view the amazing spaces available in advance of your call, please visit http://www.souwesterlodge.com
The beloved Sou'wester is a hodgepodge of private cabins, vintage travel trailers, suites and campsites. They are located minutes from the surf and a mere 3 hours south from Seattle, in historic Seaview on the Long Beach Peninsula. Peruse local products at their Honor System Store and The 'Thrifty' trailer. Indulge in their Spa. Borrow a bike to explore the peninsula and nearby beaches..