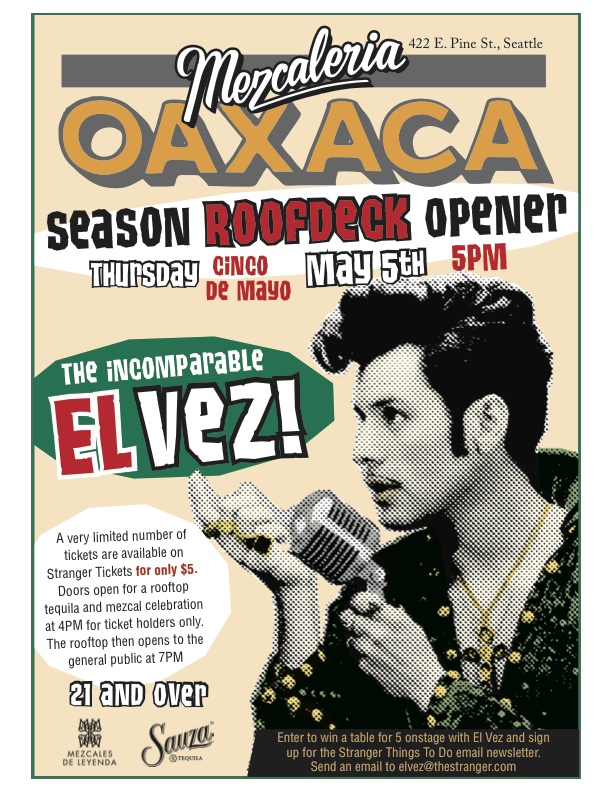 El Vez! Mezcaleria's Cinco de Mayo Season Opener
Dubbed "the Mexican Elvis," El Vez is a Mexican American singer-songwriter and musician who performs and records original material and covers classic rock songs. Mixing the styles of Elvis Presley and various American rock artists with his own Mexican heritage and music, he is known for expressing revolutionary views through the satire and humor in his songs. El Vez got his start in the then Los Angeles-based Latino punk band The Zeros, and played in Catholic Discipline with the folk singer Phranc.
"El Vez is the most radical case of cross-cultural fertilization America has seen since Malinche got friendly with those Spanish conquistadors. But who is this phenomenon? Conceptually, he's the love child of Elvis Presley and Dolores Huerta of the United Farmworkers Union, adopted and raised by Exene Cervenka and The Cisco Kid in a shared child custody agreement. He's as comfortable in a charro suit as he is in a leather jacket. One minute, he's belting out a 60s rock classic like "Walk A Mile In My Shoes," and the next, he's putting a modern spin on a century-old Spanish-language folk ballad like "La Negra." He's a cultural contradiction - a singing and dancing melting pot," noted Don Charles in his essay on El Vez.
To learn more about El Vez, go to http://www.elvez.net.
For more information about Mezcaleria Oaxaca, visit http://mezcaleriaoaxaca.com/.