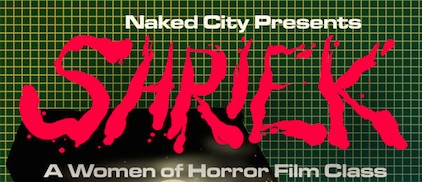 Naked City Brewery presents
SHRIEK September: Ringu, A Tale of Two Sisters + Happy Hour!


now at our new location!
Sun, Sep 11, 2016 at 6:30pm - Sun, Sep 25, 2016 at 6:30pm (Pacific)
SHRIEK: A Women of Horror Film Class has just moved to a new day and venue: second Sundays at Naked City Brewery and Taphouse! SHRIEK is a community education series that examines the roles of women in horror films. In September, discussion leaders and film buffs Evan J. Peterson and Heather Marie Bartels will provide an Asian horror mini-fest, leading the group in a viewing and discussion of two films: Ringu (Sept 11) and A Tale of Two Sisters (Sept 25).
Ringu (Ring) is the story of a journalist who must uncover (ahem) the secret of a video tape that leads to certain death. This is one of the best examples of the Japanese horror trope of cursed media/technology, a widespread trend in J-horror and its Western remakes. Based on Koji Suzuki's horror mystery novels, this iconic film led to the highly successful American adaptation, part of the Western world's J-horror influx of the 21st century. Join us Sunday, September 11! Doors: 6:30pm, Discussion and film: 7:00pm
A Tale of Two Sisters is a Korean film, originally titled Janghwa, Hongryeon, literally translated as "Rose Flower, Red Lotus." Adapted from a Korean folktale, this psychological horror film explores the tensions between two strange girls, their father, and their menacing stepmother. The two films together give us the oppotunity to question, what are the differences between J-horror and K-horror? Are they significant? Join us Sunday, September 25! Doors: 6:30pm, Discussion and film: 7:00pm
SHRIEK is a community class merging film with education and offering an accessible forum outside of academia. The goal is to offer low-cost opportunities to learn about film and women's studies and to inspire more diverse filmmakers to get involved as creators in the genre. Naked City Brewery sponsors the series in their screening room, with film sponsorship from Scarecrow Video.
The Naked City screening room is 21+. Food and drinks are available on site. Please do not bring outside food or drink. We reserve the right to refuse admission to anyone under the influence of extreme drugs or alcohol.
General Admission: $10 per session (register here in advance)
Teachers/Professors, Seniors 65+, Veterans, and Students with ID: $5 per session (register at event)
Low Income Housing / No Housing patrons: free entry
Day-of and point-of-sale registration also welcome!
Naked City Brewery and Taphouse is located at:
8564 Greenwood Ave N
Seattle, WA 98103
Phone: 206.838.6299
Contact wordmercury [at] gmail.com for more info.
Evan J. Peterson is a college professor, author, and journalist. He is a Clarion West alum, and he received his MFA from Florida State University. His writing has been featured in The Stranger, Weird Tales, Queers Destroy Horror, andThe Rumpus. His books include The Midnight Channel, Skin Job, and Ghosts in Gaslight, Monsters in Steam: Gay City 5. He lives in Seattle with his werewolf, Dorian Greyhound.
Heather Marie Bartels is the Managing Director of the Rainier Independent Film Festival, graduate from the University of Washington Cinema Studies department, and host of the film and feminism podcast "Turn Up The Ladybro." She spends most of her spare time introducing the uninitiated to the wonders of horror and finding the best ramen in town.
SHRIEK promotional images designed by Marc Palm