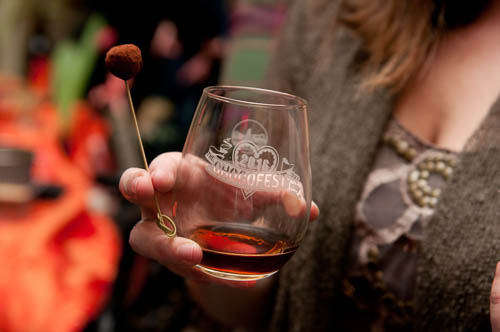 Chocofest
Sun, Feb 12, 2017 from 6pm - 9pm (Pacific)
Fall in love with beer, chocolate and savory bites at Chocofest. This culinary adventure celebrates Valentine's Day in Seattle and is a food and drink lovers delight. Your night will be complete, with unlimited food bites from premiere local restaurants and talented chocolatiers, alongside delicious sips from local brewers, wineries and distillers. There's even a cask beer section, with unique cask beers available for just this one night.
Chocofest benefits Puget Soundkeeper, protecting and preserving the waters of Puget Sound.
Chocofest is a 21+ only event and admission includes all food, commemorative Chocofest glass, 10 drink tickets and live music. Enjoy food, chocolate and drinks from these local favorites at Chocofest, with more being added.
BEER, WINE, SPIRITS & CIDER
Pike Brewing Company, Breakside Brewery, Radeberger, Copperworks Distilling, Naked City Brewery, Click Distributing, Cloudburst Brewing, Bronco Wine, Sidetrack Distillery, Sound Spirits, Old Stove Brewing, Flying Bike Cooperative Brewery, Flying Lion Brewing, Heritage Distilling, Georgetown Brewing, Premium Ports, Niche Spirits, Woodinville Whiskey, Grizzly Ciderworks, Warr-King Wines, Westland Distillery, Schilling Cider, Lucky Envelope Brewing, Ghostfisth Brewing, Finnriver Farm & Cidery, Sky River Brewing, Merchant du Vin, The Shrubbery, Pondera Winery, Fremont Mischief Distillery, Hierophant Meadery, Rooftop Brewing, JM Cellars, Chteau Ste. Michelle and BeeHaven
CHOCOLATE & SWEETS
Balleywood Creamery, Chocolate Krak, JonBoy Caramels, Gelatiamo, Hot Chocolate, Trevani Truffles, Scarlata Chocolate, Theo Chocolates, Fran's Chocolates, Tease Chocolates, Dolcetta Artisan Sweets, Northwest Biscotti, Shug's Soda Fountain, Skagit Valley Malting with Acme Ice Cream and Caffe Vita Coffee
RESTAURANTS, BAKERIES & SAVORY
Lloyd Martin, Gnocchi Bar, Hama Hama Oysters, Trace, Copperleaf Restaurant, Temperance Café & Bar, Macrina Bakery, Hudson Valley Foie Gras, Orfeo, The Georgian, Grand Central Bakery, Laurel's Crown Cheese, Lunchbox Laboratory, Truffle Café, Metropolitan Market and Etta's

Photos by Hannah Letinich