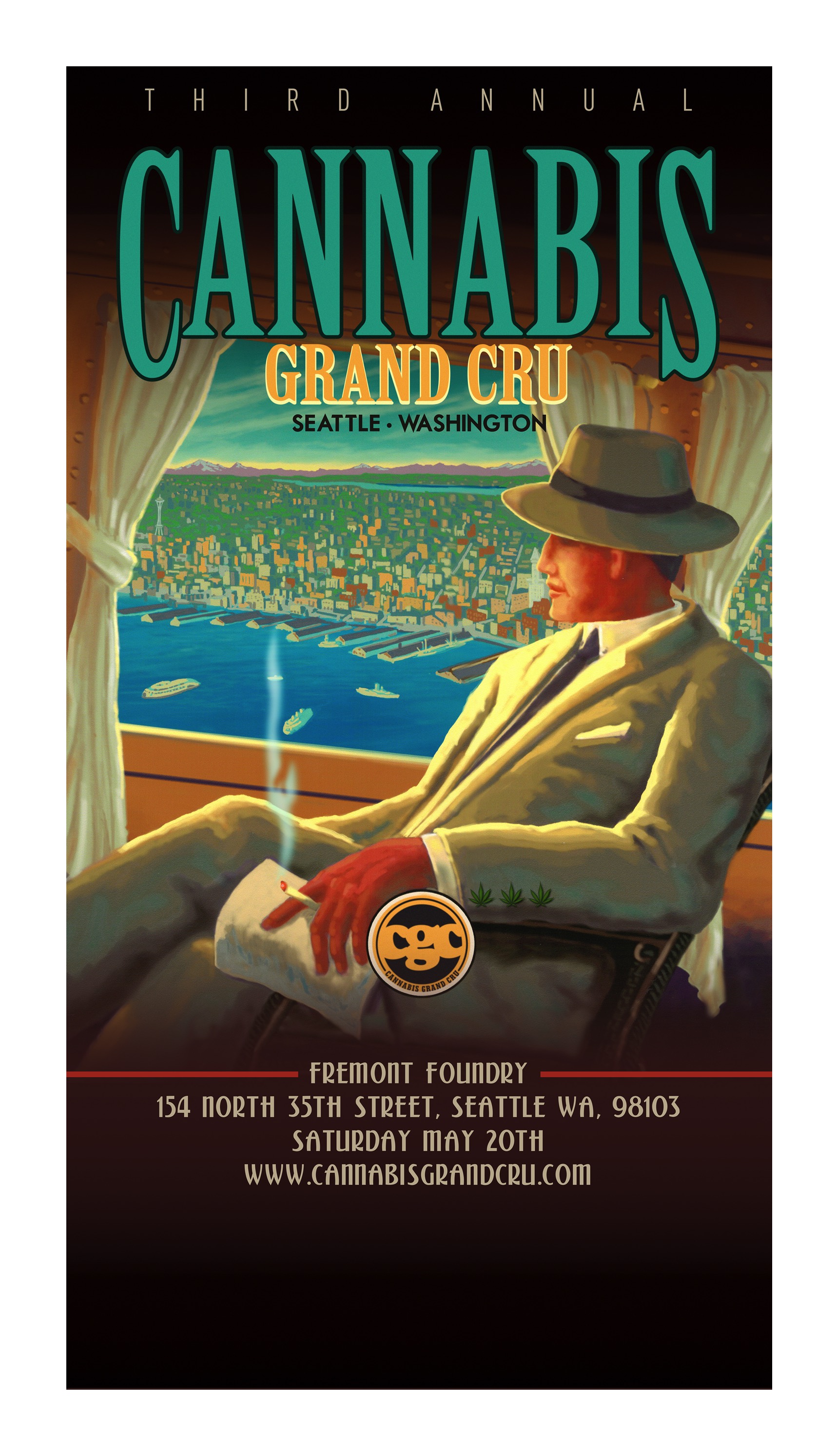 Third Annual Cannabis Grand Cru - Seattle
Sat, May 20, 2017 from 11am - 7pm
Rain or Shine
Photo ID Required
18+
Doors at 10:30am
Event Starts at 11:00am
THE EVENT
CGC is excited to return to Seattle for its 3rd Annual Seattle Event! Fremont Foundry will be home for this event featuring industry-leading speakers engaging guests in dynamic panels that address the new innovations and movements in the industry. This event is for both the cannabis enthusiast and the industry professional that are looking for a boutique and high-quality experience (consisting of panels, demos and workshops) where they can interact and network with one another. The Grand Cru Village consists of the most advanced companies and comfortable setting to engage with these industry mavens and entrepeneurs. See full schedule and speakers at www.cannabidgrandcru.com.
TICKETS
CANNABIS GRAND CRU AT THE FOUNDRY: Price: $59.00 for Early Bird Tickets, while tickets last. $79.00 for Advance General Admission. All tickets include access to all sessions & the Grand Cru Village on Saturday at the Fremont Foundry. Door Tickets will be available the week of the event for $99.00
THE SPEAKERS & SESSIONS
Confirmed Speakers
· Aaron Pelley: JD, NWMJ Law
· Abigail Ross: Founder & Editor-in-chief, Push Mag
· Addison DeMoura: Co-Founder, Step Hill Labs & Head of BD, Advanced Nutrients
· Ah Warner: Founder, Cannabis Basics
· Alex Cooley: Co-Founder & Vice President, Solstice
· Alison Draisin: CEO, Ettalew's Edibles LLC
· Brian Caldwell: President, Triple C Cannabis Club
· Chef Chris Lanter: Proprietor and Chef Cache Cache (4 Star Restaurant) – Aspen, CO
· Courtney Moran – EARTH Law, LLC
· David Cunic: CEO, Pazoo
· David Paleschuck: Author, Entrepreneur & Principle, New Leaf Licensing
· Gerry Goldstein: JD, Lifetime Chair NORML Legal Committee, Esteemed Criminal Defense Lawyer
· Giana Lampreda: COO WAM Oil
· Jared Mirsky: Founder and CEO, Online Marijuana Design
· Jedidiah Haney: Cannabis Advocate
· Joe DiSalvo: Aspen-Pitkin County Sheriff
· John Hunt: Serial Entrepreneur w/ businesses in media, cannabis & beyond
· Joy Beckerman: Principle Consultant, Hemp Ace International
· Matt Gaboury – Calyx King Consulting & Cultivar Farms
· Mike Hydro: Cultivation expert
· Reverend Cannabis: VP of Research and Development, Thinc Pure
· Ryan Abernathy: Co-Founder, X-Tracted & Refine Seattle
· Sara Batterby: President and CEO of Hifi Farms and Founding Chair of the Portland Chapter of Women Grow
· Samual Simonis: Cultivation expert
· Sohum Shah: CEO Cannabis Commodities Exchange, Freelance writer @ The Cannabist, Co-founder CTA

*** More to be announced ***
Session List
Cannabis Capital: A Tactical Guide to Fundraising - WORKSHOP
Learn the critical path to capturing funding for cannabusiness – explore strategies and tips to netting interest and seed capital from a variety of opportunities. Discover the basics of angel investing and how to not only attract but also retain funding and expertise in this arena. From initial concepts through brand planning, external investment and launch – explore in a WORKSHOP setting – bring your personal questions and perspectives!
Cannabis Infused Journeys Through Culinary - DEMONSTRATION
Join us on a journey through cannabis culinary pairings. - come with questions and engage with these accomplished cannabis chefs. The panel will also discuss the current status of mass produced edibles – the positives and negatives of current edible explosion and path to widespread acceptance. Portion control, packaging & access will also be discussed.
Menu and demo TBD - Guided cooking demo(s) - Samples will not be provided
Regime Change and the Federal Landscape – Alternative facts and impact to Cannabis
Cannabis ballot initiatives won in eight of nine states in November 2016 – this is the largest shift forward in legalization, suggesting as a nation, we may have reached a tipping point leaving us speculating if an end to prohibition is near. Simultaneously, as the world watched in wonder, a new regime has been elected to lead the US and the world. What impact, if any, will the new leadership and political climate have on the current state of legal cannabis – must we fear a backward step?
The Future of Extractions
Up to 50% of the cannabis consumed today is not flower! This trend will continue to rise as recreational use and product proliferation expands. Let industry leaders walk you through the world of extractions and applications. Learn from the experts about integrating the extractions process and products into the different regulated markets. Explore challenges, and current approaches from legal, equipment, facility and product standpoints.
Cannabrands and their Form Factors
Learn from some of the industry's top brand owners how form factor and product type play a roll in developing, designing and marketing a cannabis product. The discussion will cover all aspects of brand, as it relates to the many types of products currently available and entering the canna-market. From flower, oil & extracts, tinctures & pills, edibles & beverages to sublingual slips and transdermal patches - form factor plays a major role in everything from distinct use, consumption and uptake to packaging and brand. Come hear what today's top product developers are concerned about and consider when developing new cannabis products.
Hemp – Perspectives, Promise and Path Forward
Hemp has the power to propel our economy, drastically reduce our footprint on the planet and provide us with sustainable textiles and building materials. Learn about the true promise of hemp, from plastics to concrete. Come to understand the current state of legislation, production, access and marketing in Washington and throughout the U.S.
The Economics of Cannabis – Perspective, taxation, illicit trade, and the true cost and potential of Cannabis
Gather details of the evolving landscape of cannabis legislation and taxation across the nation with specific focus on the Pacific North West. Current trends in taxation, impacts on medical and recreational users, resurgence of unregulated trade, impacts to international trade, and a pragmatic approach to taxation.
Brand Creation, Differentiation & Leadership
Learn from dynamic, charismatic brand architects about the struggle to create relevant, authentic brands in the Cannasphere and beyond. Walk the path of entrepreneurship, authenticity and value creation in the complex, cluttered cannabis space. Learn about the tough choices that must be made to differentiate a brand and succeed in cannabis.
The Bleeding Edge of Cultivation
Discover the art of cultivation from expert growers. The panelists have dedicated years to understand how to produce the healthiest, most productive and efficacious medicines – learn how these agriculturists came to love the cannabis cycle and how they have each dedicated their lives to producing and delivering top quality product. Learn about recent advances in lighting, nutrients, and technology that continue to help optimize the growth cycle and reduce the global footprint of production. To include the future of cultivation/Conscious cultivation – path to zero impact cultivation.
Evolution of Medicinal Cannabis, relationship and impact in Big Pharma – Patients, pitfalls and progress
While states may differ on their interpretation of as well as access to medicinal cannabis, 25+ states now allow patients to consume cannabis to treat a wide variety of illness. The picture of access is evolving rapidly within and across states. Explore our learning's including vastly improved affect in the very sick including cancer patients, epileptics, and pain sufferers – learn about the profound, partially unexpected impact across society – lower ER admissions, lower use of prescription pain and anxiety medications. What may be possible when we as a society open our consciousness to the medicinal properties of cannabis – how will our society evolve, how will our 'pill' culture change?
CannaMedia – Our World Re-imagined
In one decade, the smartphone and connectivity have revolutionized the way we interface with one another and our world. We have been re-imagined, beyond social communication and the speed of business, the way we process information has changed. Legal cannabis has emerged in this world of hyper connectivity – learn from the leaders in cannabis media the strategies that have made them successful and get a look into the future.
Cannabusiness Technology, Data & Analytics
The Cannasphere is evolving – with legalization and the influx of technology; tomorrow's cannabis relationships will be reshaped and retooled by technology. Cannabis, long grown and traded away from the public eye, only recently over the counter of a legal dispensary, has already begun trading like a commodity. Take a look forward in the cannabis space through the lens of technology – learn about what's next from some of the leaders of the canna-tech revolution.
***Schedule and Speakers subject to change without notice***
Please contact us info@bluesugarproductions.com with any questions!
FREQUENTLY ASKED QUESTIONS
Q) Will tickets be on sale at the door?
A) Yes, while tickets last.

Q) As a guest of the event, will I be able to all sessions?
A) In most cases, there will be concurrent sessions at the Foundry Studio and the Foundry Penthouse Lofts.

Q) How can I make sure I see the session I want?
A) There is enough general capacity in the Foundry Studio (Main Room) to accommodate all guests. The Foundry Penthouse Loft Sessions (Penthouse Chats) have limited seating and will be first come, first served.

Q) Can I smoke at the event?
A) All applicable laws for the State of Washington must be adhered to.

Q) Will there be any cannabis products (edibles/cannabis/any product containing THC) sampled at the event?
A) No. Licensed distributors can only legally distribute at the physical facility that holds the license. CGC strongly upholds and supports all laws and regulations associated with consuming and/or distributing cannabis. Anyone (guest or vendor) in violation of these laws will be asked to leave the event. BUT, there will have swag, t-shirts, discount coupons at local dispensaries, and other amazing things distributed out of the Grand Cru Village.

Q) What is the parking situation at the Fremont Foundry?
A) There are two parking lots adjacent to the foundry. However carpooling and public transportation is highly suggested as the lots have limited capacity. Please check the CGC site prior to attending the event for final details.