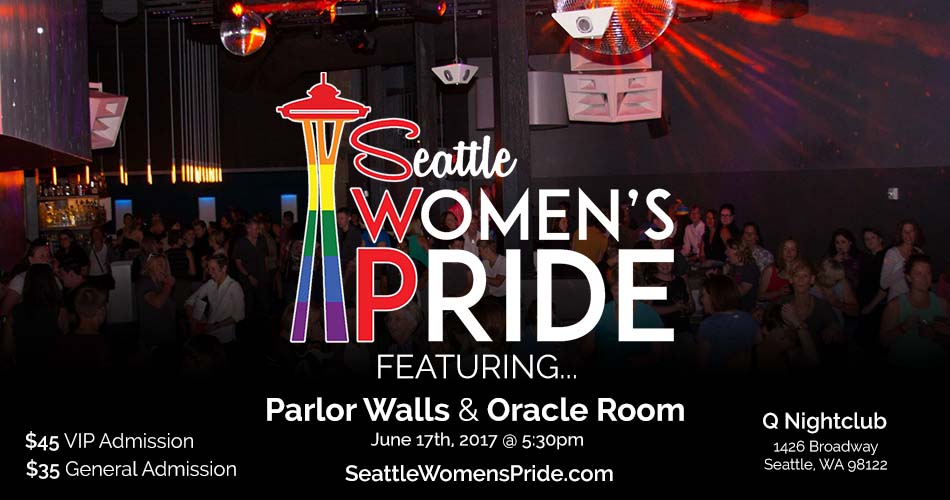 Seattle Women's Pride Music Festival 2017


A Night of Giving with Special Guests!
Sat, Jun 17, 2017 from 5:30pm - 10pm (Pacific)
21+
ASL interpreted
Everyone welcome
VIP tickets are super reasonable and get you a meet and greet, a swag bag, and priority entrance like you're the most important lesbian in Seattle, which you very well may be. ~ The Stranger
Seattle Women's Pride is an annual event produced by The Seattle Lesbian during LGBTQ Pride Month. Everyone is welcome. New this year: VIP Priority Entrance at 5 p.m., coat check, raffle table, t-shirt orders, and BABYCAKES (thanks Cupcake Royale)!
Seattle Women's Pride 2017 is sponsored by The Seattle Lesbian, Eastside Total Health & Lactation, Seattle Pride 2017, Lifelong, Cupcake Royale, Bastyr University, Department of Midwifery, Seattle Sperm Bank, The National Center for Lesbian Rights, Seattle Storm, Fun Home The Musical, TomboyX, Family Equality Council, and Alicia Dietrich, MBA - Windermere Real Estate/South Whidbey. Additional support is presented by Seattle Men's Chorus, Seattle Women's Chorus, Seattle Gay News, Seattle Gay Scene, The Stranger, The Personal Stories Project, Olivia Travel, Lesbians Who Tech, Wckdstreak Pride, and REVRY.
Designated 2017 Charity: Seattle Women's Pride is donating $5 per VIP ticket to ACLU Nationwide!
The Music: After a series of colorful EPs, Brooklyn trio PARLOR WALLS released their debut album, Opposites, on Northern Spy Records in March before embarking on a national tour. Singer/guitarist Alyse Lamb spins and pounces and fires off shards of noise one second, then evilly lingering, noir-ish phrases the next. Drummer Chris Mulligan anchors the music with a mighty rumble and crash while playing synth, ambitiously, with his left hand. Alto saxophonist Kate Mohanty provides a calm yet similarly brooding presence with her resonant, minimalist lines and astringent, boxcutter tone. Their music swims between chaos and restraint, nestling in the cracks of warmth and dissonance. Featured in New York Times, Wall Street Journal, NY Music Daily, Popmatters, and Spin Magazine.
The lush pop of Oracle Room is centered around the lyrics and vocals of New York-based songwriter Alex Nelson, the emotional catalyst for the band's ghostly turbulent electronica.
Past performers at Seattle Women's Pride have included Julie Goldman, Dana Goldberg, Vicci Martinez, and Brooklyn Dicent.
The Awards Presentation is sponsored by Eastside Total Health & Lactation. Honrees are: Seattle Womxn Marching Forward, Repair Revolution and Marination!
Must be 21+ to attend. ASL interpreted.
Everyone is welcome!