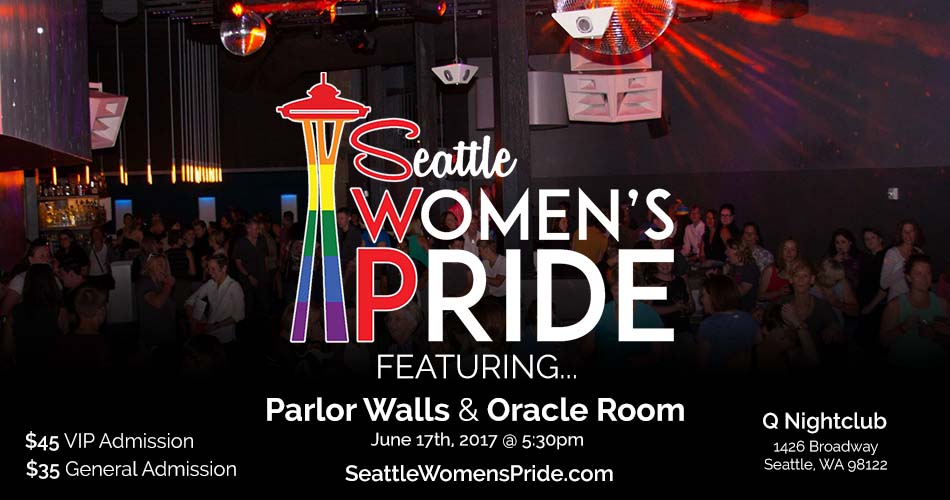 Seattle Women's Pride Music Festival 2017


A Night of Giving with Special Guests!
Sat, Jun 17 from 5:30pm - 10pm (Pacific)
21+
ASL interpreted
Everyone welcome
$40.07

with fees and taxes
VIP - Includes $5 ACLU Donation
$51.22

with fees and taxes
VIP tickets are super reasonable and get you a meet and greet, a swag bag, and priority entrance like you're the most important lesbian in Seattle, which you very well may be. ~ The Stranger
New for 2017: Seattle Women's Pride is donating $5 per VIP ticket to the ACLU!
Music, Dancing, Drinks, Snacks, and Swag - arrive early to take in all the fun! Meet up with friends and make some new ones!
Everyone is welcome!
PARLOR WALLS: After a series of colorful EPs, Brooklyn trio PARLOR WALLS released their debut album, Opposites, on Northern Spy Records in March before embarking on a national tour. Singer/guitarist Alyse Lamb spins and pounces and fires off shards of noise one second, then evilly lingering, noir-ish phrases the next. Drummer Chris Mulligan anchors the music with a mighty rumble and crash while playing synth, ambitiously, with his left hand. Alto saxophonist Kate Mohanty provides a calm yet similarly brooding presence with her resonant, minimalist lines and astringent, boxcutter tone. Their music swims between chaos and restraint, nestling in the cracks of warmth and dissonance.
Featured in New York Times, Wall Street Journal, NY Music Daily, Popmatters, and Spin Magazine.
"Play Opposites" single: https://parlorwalls.bandcamp.com/track/play-opposites
"Birthday" single: http://www.spin.com/2017/02/new-music-parlor-walls-birthday
ORACLE ROOM: The lush pop of Oracle Room is centered around the lyrics and vocals of New York-based songwriter Alex Nelson, the emotional catalyst for the band's ghostly turbulent electronica.