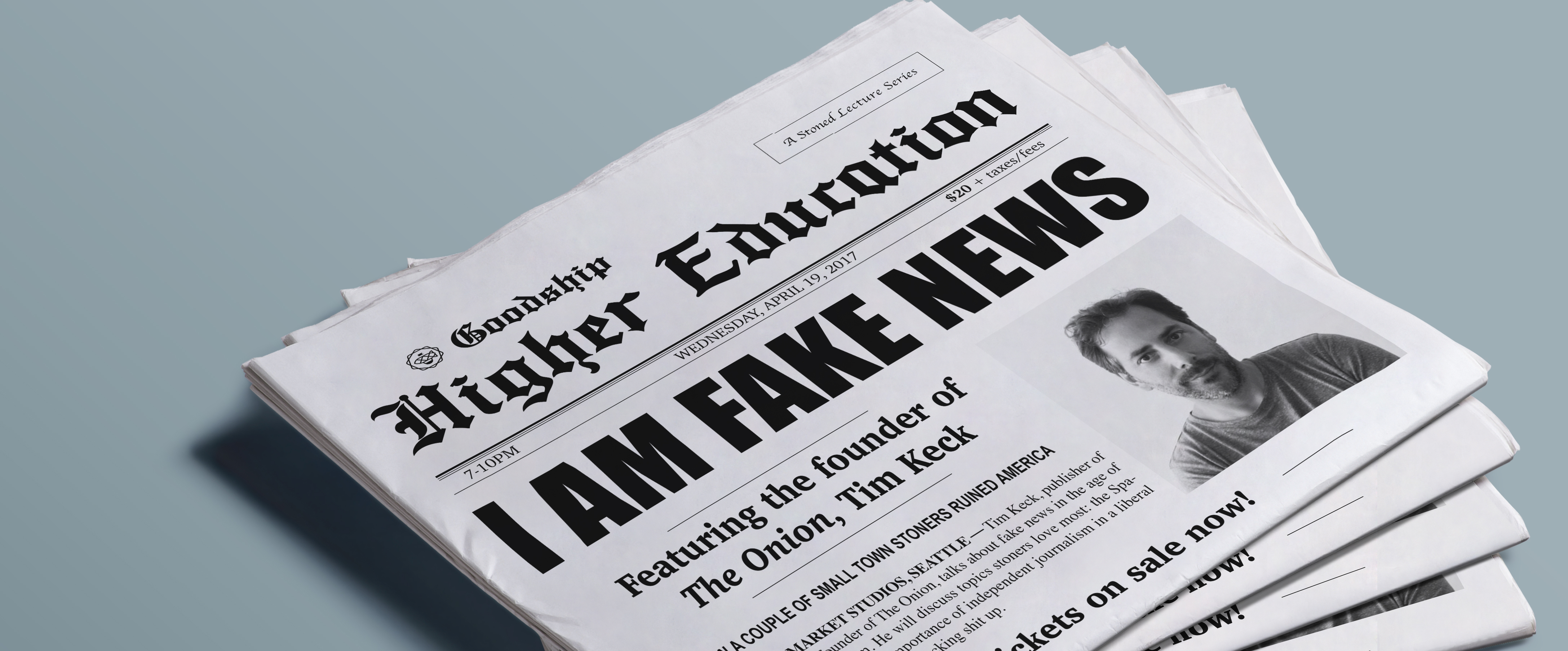 Goodship Higher Education: I Am Fake News
Wed, Apr 19, 2017 from 7pm - 10pm
21+
Must have valid ID for admission
This event is SOLD OUT! To get notifications from Goodship when events go on sale, sign up for our mailing list at thegoodship.com
I AM FAKE NEWS
How a couple of small town stoners ruined America
Tim Keck, founder of The Onion and publisher of The Stranger, talks about fake news in the age of the Facebook algorithm. He will discuss topics stoners love most: the Spanish-American War, the importance of independent journalism in a liberal democracy, and the thrill of fucking shit up.
ABOUT GOODSHIP HIGHER EDUCATION
A heady lecture series under heady influence
In partnership with the Stranger and the Cloud Room, Goodship Higher Education presents intimate conversations with some of our regions most brilliant minds, covering topics from space travel to re-animation to modernist cuisine. Our goal is to present some of the most innovative, mind-bending, revolutionary and extraordinary ideas happening in art, technology, science and philosophy. And we encourage both the audience and speakers to "pre-board on the Goodship." It allows us to look at the world through a different lens, and we think that it is a fun and enlightening experiment to partner heightened states with big ideas.
ABOUT THE GOODSHIP
The Goodship is a maker of legal, adult use cannabis-infused edibles. Founded by Jody Hall, the owner of Seattle's most celebrated collection of cupcake bakeries and cafes, Cupcake Royale, The Goodship brings decades of experience and great taste to their baked goods, chocolate, and confection. And of course, a clean, balanced ride on the Goodship. To find out more about the Goodship and the Higher Education series, visit www.thegoodship.com/higher-education.
You must be 21+ to attend. NO CONSUMPTION OF CANNABIS ON VENUE PREMISES. Goodship events may be video recorded. Goodship reminds you to consume responsibly, and to never consume cannabis and drive.