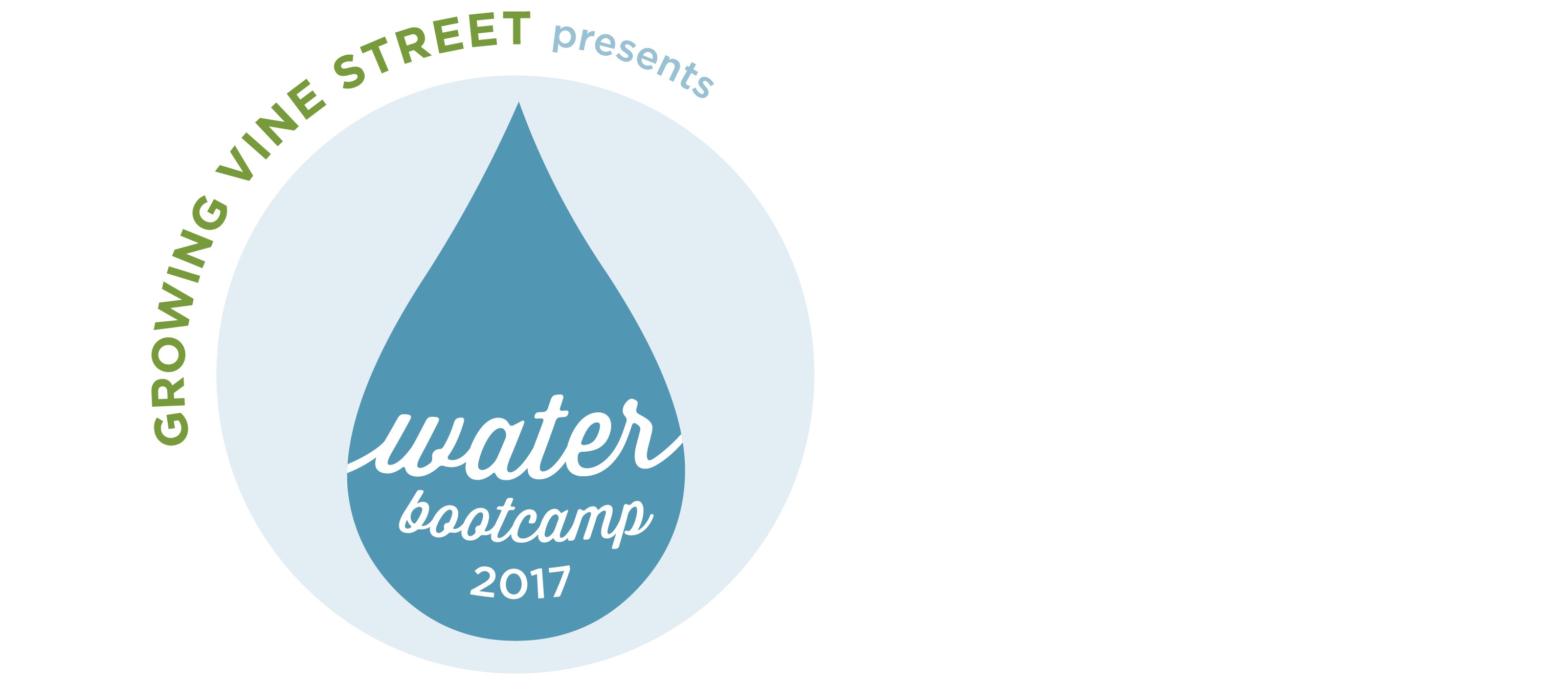 Water Bootcamp presented by Growing Vine Street
Doors open at 12:30pm. The program starts promptly at 1pm.
Online ticket sales have ended. FREE tickets are available at the door. Join us. 415 Bell Street, Seattle WA 98121
Incredible innovations in technology and important changes in policy make it possible for Seattle to strengthen our climate change resiliency and address the profound physical and financial limitations of our existing water treatment infrastructure.
Please join us on Saturday, April 29 from 1pm to 4:30pm at the Belltown Community Center for the first Water Bootcamp presented by Growing Vine Street, a community-based non-profit that has been advocating, raising awareness, and engaging with nature in an urban setting since 1995.
Join leading thinkers for an engaging discussion. At Water Bootcamp, explore actions you can take to preserve the essential water systems that silently support and nourish us everyday.
Our inspiring Water Bootcamp keynote speakers include: Drew Ganges from MKA in Seattle and June Grant, Principal from Blink!Lab Architecture based out of Oakland, California. They will share their visionary designs and innovations to help our current infrastructure function better.
You'll learn about the "Green Machine" and other tools take a direct approach to address water systems and prevent polluted runoff into Puget Sound. You will also hear from Buster Simpson, an internationally recognized public artist based in Seattle, with permanent projects in the U.S. and Canada who was commission to bring the Green Street concept to life to create Growing Vine Street. Meet other "urbanists" who have creative ways to repurpose infrastructure to make Belltown, (and neighborhoods like it) even more livable.
This is just a sampling of the great line up of speakers. Find out more about all of the 2017 Water Bootcamp speakers and agenda for the day by visiting Growing Vine Street.
Refreshments will be provided at this FREE event. Space is limited; please reserve your spot today.
Growing Vine Street's 2017 Water Bootcamp is made possible through a Neighborhood Matching Grant from the Seattle Department of Neighborhoods and support from Project Belltown and Cyclops Cafe & Lounge.
#GrowingVineStreet #ProjectBelltown #GreenStreets