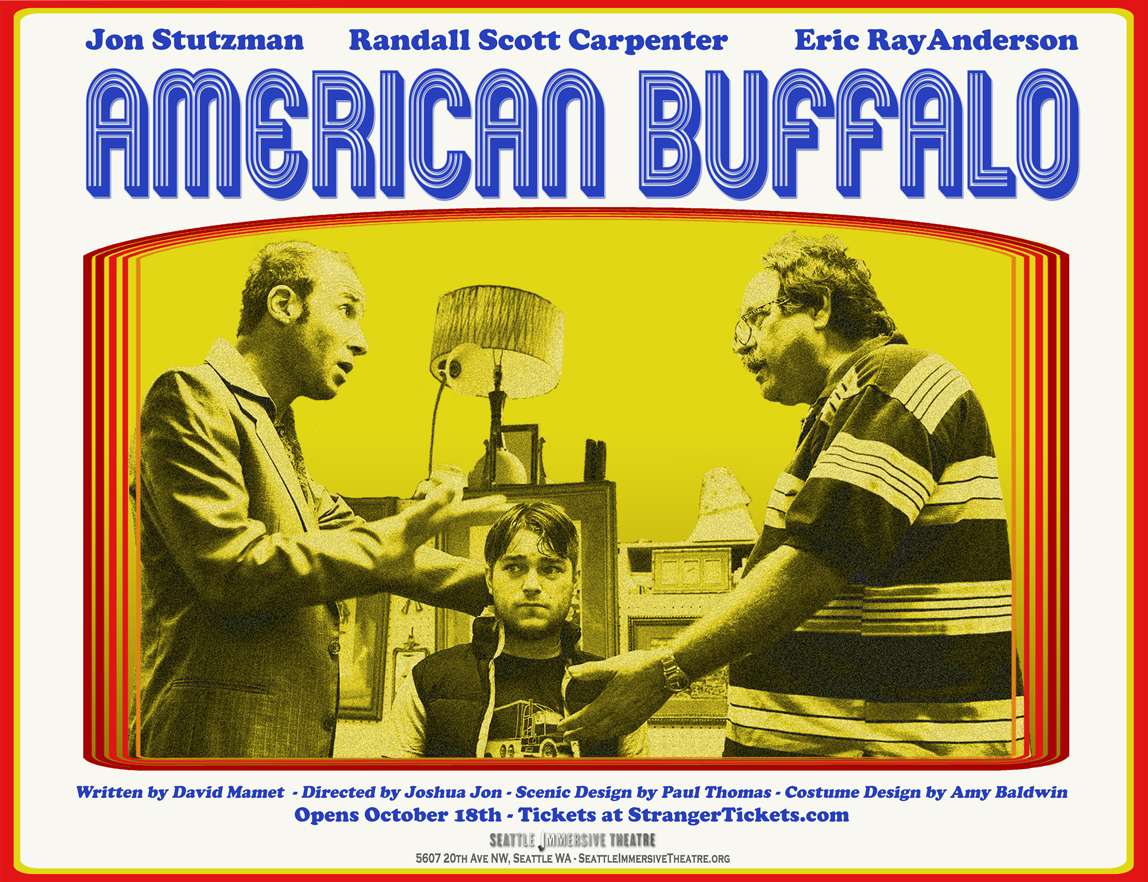 Seattle Immersive Theatre presents David Mamet's
American Buffalo
Sun, Nov 12, 2017 at 2pm
We recommend 13+ for this event due to language and violence.
Because there are people on this street - they want this, they want that.
Do anything to get it.
You don't have friends this life.
This Fall, following in the gritty Seattle Immersive Theatre tradition, we will be presenting David Mamet's contemporary classic American Buffalo. Join Don, Bobby, and Teach at Don's 2nd Hand Shop as they orchestrate a robbery of a rare coin collection, including a potentially valuable Buffalo nickel. The heist begins to go awry when smooth-talking and experienced hustler Teach begins planting seeds of doubt in Don's mind about his protégé, Bobby. Their bonds will be ruthlessly tested as the play explores the capitalistic American dream, the desperation of poverty, and white male fragility.
In true SIT style, award-winning scenic designer Paul Thomas will be transforming an empty Ballard storefront into an appropriately overstocked emporium of wares and antiques. You'll be transported into a timeless Mametverse: a dark, surreal, and grizzly hall inspired by the late 1970's; the ferociously unapologetic style of one of modern theatre's most defining playwrights. Audience members will be carefully nested as the tension and violence gathers at arm's length. Costume designer Amy Baldwin helps complete your immersion into the Mametverse with a snapshot of the inimitable 70s.
The ensemble features some of the finest actors Seattle has to offer: Eric Ray Anderson, under special arrangement with Actor's Equity, as Don (Twin Peaks (Newest),Squire Trelawny in Book-It's Treasure Island) Jon Stutzman as Teach (The Man in SIT's Turn of the Screw), and Randall Scott Carpenter as Bobby (Jamie in SIT's Listening Glass, Michael in Book-It's Howl's Moving Castle). Former Arouet artistic director and SIT alumnus Joshua Jon will be directing the production (Arouet's Caligula & Don Juan in Chicago, SIT's Supraliminal).
Ticketholders are invited to arrive at Don's 2nd Hand Store up to twenty-five minutes before the show begins. Shop and explore the world we've built and find the perfect memento to lay claim to- set pieces will be available to purchase and collect after the run ends.