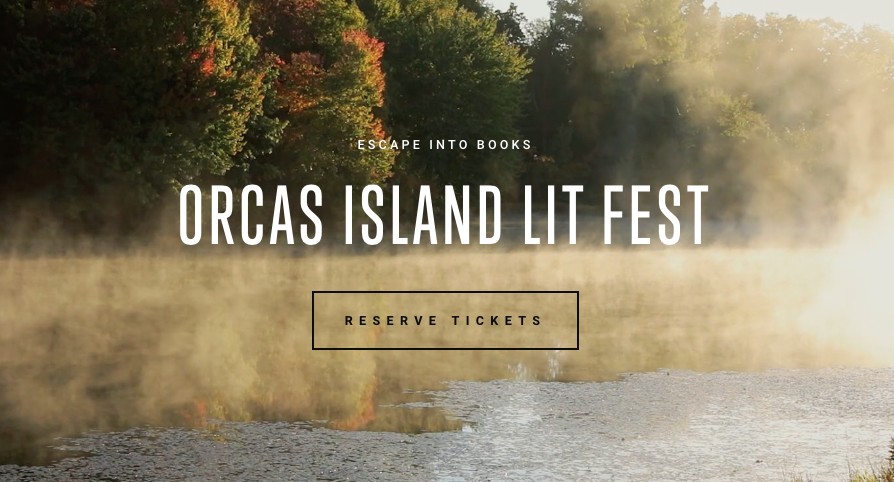 April 13th thru 15th
Orcas Island Lit Festival 2018


Bringing together people who love to read books with the authors who love to write them
Fri, Apr 13 at 1pm (Pacific)
Access to all book panel discussions
Schedule, map & access to Lit Crawl events
Ability to sign-up for writing workshops (all workshop attendees must have a weekend festival pass)
Access to book signings
Access to Book Fair & Bistro
Priority Access to Children's book readings
The Orcas Island Lit Festival is a world-class literary event on one of the most beautiful places on Earth. April 13 to 15, 2018, festival goers will be able to participate in dynamic panel discussions, writing workshops, and our lit crawl, featuring exciting new literary voices, New York Times bestselling and Pulitzer-prize winning authors, beloved regional writers, award-winning poets, and publishers. More info at www.oilf.org
Your Weekend Festival Pass gives you access to all events* Friday, Saturday and Sunday, including the main panel event Saturday evening. Weekend Festival Pass Holders also get priority at paid writing workshops taking place over the weekend. (*excludes the Battle of the Genres, which will be a separately ticketed event)

PANELS + CONVERSATIONS (Specific authors and times for panels will be confirmed by February 15)
FRIDAY 4/13

Evolution, Ecology, Eco-Sapiens: Regional award-winning authors, Thor Hanson and Jonathan White, lead a lively discussion about the evolution of ecology and its intersection with our human culture, ancient and new.
Young Adult Author's Panel: Beloved YA authors Martha Brockenbrough, Jennifer Longo and more, share their work and their writing journey with all ages.
SATURDAY 4/14 + SUNDAY 4/15
The Cultural Divide in Fact & Fiction: Pulitzer prize winners Gilbert King and Adam Johnson, along with New York Times Bestseller Tara Conklin passionately discuss their work in fiction and biographies.
Book To Film: Award-winning actress Miranda Otto (Lord of the Rings, Reaching for the Moon, Homeland), author Willy Vlautin (Motel Life, Lean on Pete), Pulitzer-winner Gilbert King (Devil in the Grove: Thurgood Marshall), and filmmakers discuss the challenges of adapting books into film.
The Evolution of Love, Identity and Relationships in Contemporary Novels: New York Times bestsellers, Robin Sloan and Jamie Attenberg, join award-winning and highly praised authors Scott Hutchins and Kim Fu for a fascinating discussion on everything from gender identity to relationships with sentient and non-sentient identities.
On The Run: Critically-acclaimed suspense-thriller masters Victor Lavalle, Willie Vlautin, Urban Waite, and Samuel W. Gailey contemplate the creating of their popular noir and Grit Lit stories about characters on the run from their past, present, and often times, pure evil.
#METOO: Powerful readings and discussions by critically-acclaimed authors on the highly-charged #MeToo movement, including discussions on sexual assault, misogyny, and the gender power divide.
Family Fest: Come participate in our free Saturday Family Fest with costumed cast members from Willy Wonka and the Chocolate Factory, readings by children's authors and kids, an eco-inspired coloring station, refreshments and more. See details at our Family Fest page.
This Is The Place: Women Writing About Home: Editor Margot Kahn, writers Tara Conklin, Elizabeth Eves and more TBA discuss their highly praised new anthology of powerful, nonfiction essays on race, sexuality and politics.
The Art Of Memoir: Memoirist Iris Graville and top book whisperers and editors discuss the experience and emotional challenges of writing the compelling memoir and share advice on the craft.
Writing the Unspeakable: With award-winning poets Kevin Clark, Jill McCabe Johnson, Tina Schumann. As writers, we often take risks, push boundaries, and give voice to "dangerous" ideas and volatile situations that can upset and even threaten relationships, society, and individual psyches. In this panel, we'll discuss dilemmas surrounding some of the following hot-button topics: Mental illness, Sexual assault, Racism, Personal lives of friends and family, Authorial appropriation, Balancing compassion with honesty and transcending our own fears
The Artful Editor
The Artful Editors (Naomi Long Eagleson, Christina Palaia, and Jonathan Starke) share "How to Work with a Developmental Editor to Produce Your Best Manuscript" and Book Whisperer and editor Ayn Gailey shares how she has helped authors earn critical acclaim, garner top agents, and earn spots on the NY Times, Publisher's Weekly and USA Today Bestseller lists.
Battle of the Genres: Emceed by Jennifer Brennock, this Saturday night event is destined to be more epic than any of the battles taught in your dusty lit class in college, Battle of the Genres awards the least prestigious prize in literature. Yup, all lit and lit lovers are at the mercy of satire in this half-improv, half-spelling bee event that pits poet against proser against (worst of all) dramatist. Let's raise a glass and our skirts to that sly mistress who has seduced us all: lit.