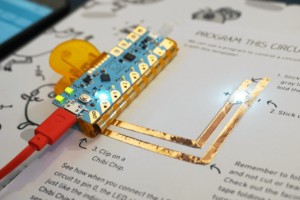 Build Paper Circuits and Love to Code!
Learn how to construct paper circuits and code using the Chibitronics
Creative Coding Kit! First we'll learn the basics of copper tape and
circuit stickers to light up pages in an interactive workbook, then draw
pictures and tell stories using light. Then we'll introduce the Chibi
Chip, a web-programmable microcontroller. We'll show how to upload code,
and then get comfortable with the C-like syntax of the code editor. The
workshop will conclude with exercises building interactive artwork using
paper electronic switches and entry-level C code to blink and flash lights.

Target audience are younger learners who enjoy arts and are curious
about technology, or older artists, crafters and scrapbookers who want
to add a new dimension to their hobby.

You will need to bring a laptop (ideally) or a smartphone with a
headphone jack (iPhone users — don't forget your headphone adapters!),
along with 3xAA batteries and your favorite art supplies, be it coloring
pencils or crayons.
All the electronics, lights, microcontroller, and
printed materials will be provided as part of your $30 registration fee.

For a preview of the activities we'll do in the workshop, watch these
videos:

https://vimeo.com/245953352
https://vimeo.com/246234513
https://vimeo.com/247018381